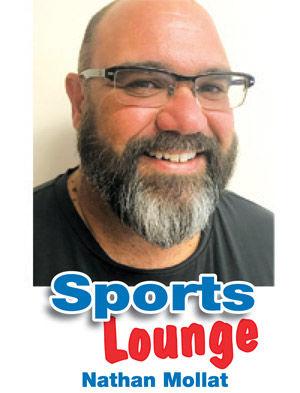 My commute from the far reaches of Alameda County gives me plenty of time to collect my thoughts on any given day, for any given subject. A lot of times, I use it to plan what I'm going to write about in the Sports Lounge.
Considering how the pandemic has affected my everyday work life, I've had think pretty hard to find ideas to fill out this space twice a week.
Today's musing: has anyone else noticed how the nomenclature surrounding sports has changed? It's been magnified during the shelter-in-place orders that have locked down greater Bay Area and the state for the most of three months, but there is a very fine line being drawn to describe what kind of activities high school athletes and coaches are allowed to perform.
Terms such as "practice" and "working out" have been further broken down to differentiate one activity from another. When I was growing up, "practice" was anything done with a coach and your teammates. "Working out" was going into the weight room and pushing iron, or, it was another term for "practice."
Now, "practicing" has been further delineated to "conditioning," which is then followed by "sports-specific training." What the schools in the San Mateo Union High School District started doing Monday, was conditioning work. You know, all those exercises people hate: pushups, situps, planks, etc. "Conditioning" and "training" are often interchangeable, but it means the same thing.
"This is what we'd be doing (conditioning) before spring ball," said Jeff Scheller, San Mateo football coach as he watched the first session of conditioning drills Monday.
Once conditioning/training is done, during normal times, coaches and teams would transition into sport-specific exercises, which consists of working on movements and drill that are used in any given sport.
"Sports-specific training" is closely related to "practice," the period of time when teams are working on plays, tactics and strategies to prepare for the next opponent.
When it comes to "working out," to avoid any confusion, that term has morphed into "lifting" to describe weight-lifting exercises, while "working out" can refer to practice, conditioning or weight lifting. A lot of off-season lifting is done during the summer time, especially for football teams.
So a player or coach's schedule the summer could look something like this:
"In the summer, it's all three: football (practice), running (conditioning) and lifting," Scheller said.
Some of the changing terms has to do with rules put in place by the Central Coast Section, which limits how much work a student-athlete can put in during the week. When "practice" means one thing and "training" means another, coaches try their best to adhere to the rules, doing so with a wink and a smile.
While the SMUHSD has cautiously allowed high school athletes to begin training with teammates and coaches starting this week, the other districts that compete in the Peninsula Athletic League are close behind — with one eye on what's happening in the San Mateo district, and one eye on their own.
Melissa Schmidt, Sequoia High athletic director and the de facto point person for her district's schools, said the plan that the four schools in the Sequoia Union High School District came up with was presented to district officials Wednesday night.
"I think it's being done as an informational item," Schmidt said. "We're still hoping for a Monday (opening), or looking to open as soon as possible, as soon as questions (from the district) can be answered."
Schmidt said she has been in contact with athletic directors at Half Moon Bay and Terra Nova, who told her their plans were being discussed in their respective districts, as well.
Schmidt said the plan being presented is very similar to the model the San Mateo district adopted. But in the Sequoia district's case, there were concerns about who would be administering the pre-training, COVID-19-related safety protocol athletes would need to go through before participating.
Schmidt said the Sequoia district, which uses certified athletic trainers from Stanford Children's Hospital, are working with those trainers to be on site to help with the health checks. Their availability, however, may affect the amount of time on the field.
"We may not be able to be out there five days a week," Schmidt said.
One day. Three days. Five days. It doesn't really matter at this point. All those involved simply want to get back outside and run around with friends, teammates and coaches. All while administrators make sure they're doing it as cautiously and safely as possible.
"Our whole thing has been — don't screw this up," Schmidt said. "If you screw this up now, we have no credibility moving forward."