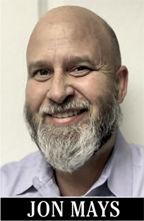 We've all seen the videos of people exiting retail stores with large bags of stolen goods with no one doing anything about it. We've heard of drugstores shutting down locations because of large-scale retail crime.
But is that also the case in San Mateo County? Is crime on the rise?
Not according to District Attorney Steve Wagstaffe, who said crime is overall slightly down here.
Early in COVID, there were reports of citations being issued rather than processing through the jail, and while that does exist, Wagstaffe said, it's not the norm. He points to one man who was cited six times and the seventh time, he was arrested for carjacking — which kept him in jail.
Overall, misdemeanors are slightly down and felonies are slightly up.
"A stat man would call it overall flat," he said.
There has also been a big drop in juvenile crime in the last five years which is down about 50%, he said, which he attributes to diversion programs in which fewer juveniles are entering the jail system because of thefts or fights.
Property crime like car thefts is also down, he said. But it's not all good news. Violent crimes are trending up, including homicides. While homicides were in the single digits in 2016-18, it went up to 11 or 12 in 2019, Wagstaffe said. In 2020, the first six months saw three homicides, then there were 16 to end the year. So far, Wagstaffe said, there were about 13, though just one in July. In the state, homicides are up 31%, with 593 more victims in 2020, he said, so San Mateo County is not alone in the trend.
Reports of sexual assaults and domestic violence are also up but Wagstaffe attributes that to more people reporting the crimes than during the COVID lockdown. But overall, those are level, he said.
Still, the San Mateo County Jail population remains low, Wagstaffe said. It was 1,100 before COVID, then went down to 550. Now, it's about 700. Overall, Wagstaffe said the jail population remains fairly low, which he attributes in part to diversion programs for veterans and those with mental health and drug addiction issues.
"It's working," he said. "I like to think we are hitting that sweet spot."
Right now, a police officer who has been fired for misconduct in California can get another job with another department. Senate Bill 2 would create an advisory board to review allegations of misconduct and have the power to recommend pulling the officer's certification. However, the bill seems to be stuck because there is concern about what constitutes misconduct and the possibility of opening up government agencies to liability and the loss of immunity. The makeup of the advisory board and its powers is also a concern.
Police officers have difficult jobs made more difficult by bad police officers who move from one department to another. There is a process now to take away the licenses of bad doctors but not bad police officers. It will be interesting to see where this bill goes, and if it is changed to address the concerns and defines misconduct worthy of being decertified. It would be a shame if the essence of the bill, removing bad officers' ability to move to another department, does not proceed because there is no agreement on other details that actually broaden its impact beyond its original scope.
The establishment of Assembly Bill 1506 is a positive development. The bill, which went into effect this month, essentially requires the California Department of Justice review all officer-involved shootings. That task previously was taken on by local district attorneys, who could result in uneven investigations depending on the office. This places all reviews under one roof with one set of guidelines with a goal of increased transparency and accountability.
One co-author of the bill also happens to be Attorney General Rob Bonta, when he was an assemblyman and before he was named to the new position.
A quick note on a column I wrote a few weeks back about health care and incorporating the opinions and needs of all when proposing changes. I wrote: "We can provide coverage for those who need it, for a cost that is reflective of their ability to pay." It seems there may have been a misinterpretation in that I was suggesting that the cost reflects the quality of the coverage. I meant nothing like that. I was suggesting that the coverage would be the same, but that subsidies could be used to make it more affordable for those of lower incomes.
Jon Mays is the editor in chief of the Daily Journal. He can be reached at jon@smdailyjournal.com. Follow Jon on Twitter @jonmays.