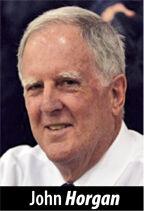 Among its many one-time dining fans, the loss of Nini's Coffee Shop has been tough to swallow. 
Shuttered since mid-March 2020 due, in large measure, to the pandemic, the property, located at 1000 N. Idaho St., is part of a wedge of structures in a northeast San Mateo corner on the Burlingame border just north of the Highway 101/Peninsula Avenue interchange.
And therein lies a looming issue — and it doesn't involve only Nini's. That area on the west side of 101, both north and south of the overpass, is due for major changes.
The aim of Caltrans planners, in cooperation with the city of San Mateo, is to create southbound freeway access to and from Peninsula, eliminating dangerous southbound ramps at Poplar Avenue.
According to online documents available to the public, that means at least some utilization of eminent domain property takings by the government will almost surely have to be employed.
A line of buildings would be threatened with such action in the two listed construction scenarios shown. On the south side of the affected interchange, an entire apartment complex would be in jeopardy in one of the alternative arrangements.
Nini's facilities (including an adjacent warehouse), would not be ticketed for removal (or eminent domain proceedings) as part of either option on the north side of Peninsula.
In fact, new southbound 101 off-ramp access work there would terminate almost precisely at Nini's property line. Other commercial buildings parallel to 101 along North Amphlett Boulevard would not be so fortunate.
Prior to the pandemic, Nini's had been operating at its North Idaho Street location since 1968. It and the warehouse are currently for sale.
The Caltrans project has been met with considerable opposition in the affected neighborhoods. But planning continues.
A CRESCENDO OF CASCADING CHAOS: Where to hide? It has become a nightmare out there this summer. No matter where you turn, threats abound. The news is nothing but grim.
The nonstop doom and gloom promoted by the assembled media are reaching a cringe-worthy crescendo of cascading chaos.
Here's a stark example. Recently, the front page of a leading Bay Area news website featured an array of scare headlines that addressed the following ills in rather shrill fashion: 
Raging wildfires, persistent drought, a heat wave, nagging power outages, accelerating murder rates, incipient sea level rise, an earthquake, escalating inflation and, of course, the pandemic.
What was left? Hair loss, halitosis and hypertension? Maybe those are next on the dystopian agenda. In any event, all of this depressing material was focused right here in the once Golden State, now turning a distinct and depressing brown. Why do we stay here?
The idea seems to be that frightening people is great for the bottom line. Maybe so. Death and damnation seem to sell. If it bleeds, it leads. It's the Old Testament gussied up and brought up to date for a fresh, nervous audience.
Hello, Armageddon. Can't wait for a plague of locusts.
PUT YOUR MASK BACK ON, PAL: We've seen this act before. Surely, you remember; it was back in elementary school. 
Some budding Robin Williams in your classroom made a crude animal sound, scrawled something naughty on the blackboard or let loose a gross little toad or newt to the dismay of the teacher (and perhaps some students).
When no one would admit to the act, everyone paid the price. That seems to be the operating principle of the state and a number of counties, including San Mateo County.
Last week's announcement — that, once again with pandemic infections rising among the unvaccinated, it's strongly recommended that everyone, protected or not, should wear a mask indoors in public indoor places — was right out of that pedagogue's playbook.
The rationale: By having everyone put their masks back on, it makes it much easier to have the unvaccinated, especially the recalcitrant individuals who simply refuse to accept the jab and sometimes lie about their inoculation status, protected.
So, in the end, the vaccinated (88% of county residents 12 and older have received at least one shot) wind up being penalized. It's an upside-down world here in a dysfunctional state of ongoing confusion and contradiction.