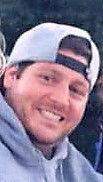 April 7, 1987 – September 11, 2018
Shawn Neal Patterson, 31, passed away unexpectedly on September 11, 2018. He was born April 7, 1987 in Fremont and raised in Burlingame.
He was a journeyman union butcher since high school. He was devoted to his craft, and his passion showed through his work. He was an avid sports fan, but he held a special place in his heart for the Warriors.
Growing up, he loved the Boy Scouts, camping, soccer and basketball. Family was important to him. He was a proud dad and loved family events. Shawn had a way with people and was loved by many. He was a solid rock in his family and would do anything for anyone. He was a charmer and his sense of humor left you laughing. His smile and his laugh lit up the room anywhere he was.
He is survived by his son Kyle, his wife Marissa, his dog Samantha Rose (Sammy); parents Jeff & Chrissy Patterson; siblings Felicia (Steve) & Michael, Unc Unc to Kaylee & Wyatt, grandparents Gloria, Barbara and Don; and many aunts, uncles and cousins who meant a lot to him and loved very much. His time on earth was too short. We're so grateful for the life Shawn shared with us. You are so missed.
Watch, guide, and protect us, along with your family in Heaven who has gone before you. You are in good company. You were a big man here, now you're a bigger man on the big blue team in Heaven. We will forever see your smile and hear your thunderous laugh.
A celebration of life will be held on October 27th, 2018 from Noon to 3:00 p.m. at the Burlingame Rec Center, 850 Burlingame Ave, Burlingame, Calif 94010. Please come share your memories and celebrate this beautiful and kind man. If you would like to bring a dish or treat Shawn would love, please do! Other food and refreshment will be available.