Hidden away on San Mateo's West 25th Avenue, Vinyl Solution Records reveals inside musical memories from various eras.
The shop's owner has a goal, to bring "a wide selection of music to his customers and to make it affordable for their own investments."
And he does. For more than 34 years, Tommy Toonz curates a selection of vinyl, CDs, posters and other assorted music memorabilia.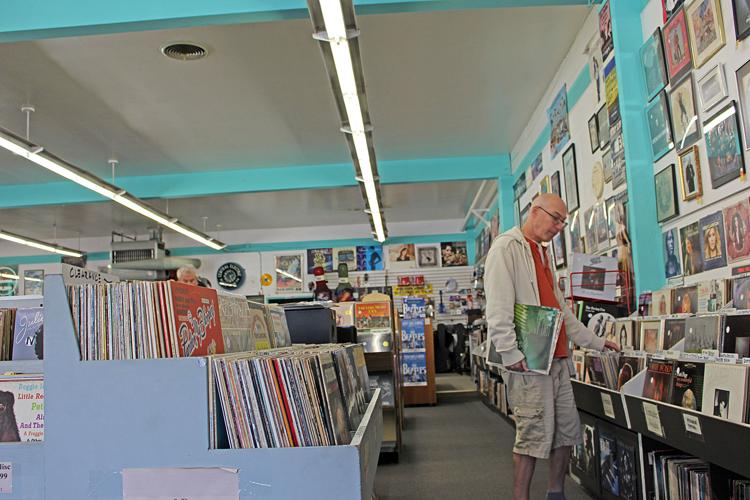 Toonz admits he loved music growing up, but never thought that he'd be selling it to people versus being only a customer himself.
"All my life I've been a big music fan and I've never seen this as my biggest goal," Toonz said.
Toonz worked in air freight at the San Francisco International Airport and found his first part-time record store job at Rod's Records in San Carlos. The owner was eventually approached by the ambitious then employee of the store to purchase the business. By then, he moved it to 119 W. 25th Ave. in 1984 and had finally moved again to its current address 151 W. 25th Ave. in 1990.
His brother Robert Allen has a silent partner since the beginning of Toonz's purchase. Allen has also been in charge of the bookkeeping, the display cases and merchandising.
"At first it seemed like a good idea [having a vinyl business] in the 1990s, but when CDs came in to play for the next 10 years, we all had doubts because now vinyl is in and that is what we all have a lot of," said Allen.
From what Toonz recalls, vinyl came back in 2011 but made a full comeback in 2015, which he said he had predicted.
"I never gave up on them [vinyl] even though I suffered financially. I had a satisfied customer base when CDs were in for about 10 years and then vinyl made its comeback," Toonz said.
One might think this would mean more money for used music shops — especially his — but it is actually the opposite. Yes, the vinyl he was able to collect for more than a decade was cheap and plentiful which helped give a variety to the store. Now with the high demand, it can make it difficult to keep up with certain demands and artists. This could lead customers to buying from other sellers — especially Amazon.
"Before vinyl became popular again, my merchandise would equal 80 percent used vinyl and 20 percent new since for about 10 years when CDs were in allowed me to invest in which would stock on what people wanted to buy. Now that it [vinyl] is in the merchandise is now 80 percent new and 20 used," Toonz said.
Frequent customer Melody Mitchell buys Cuban music from the shop and said Toonz is the type of guy who makes sure to remember what his customer's music tastes are and what could be added to their collection.
"I come in every couple of weeks to buy CDs," Mitchell said.
Toonz keeps up with the current demand of music and knowledge of certain popular artists of today and likes "to give artists a chance." He also likes to make sure that he can sell and trade to a wider audience to serve his customer's tastes.
What makes the store popular as well is that the establishment has collector items including The Beatles memorabilia and other items that can be priced up to $1,000 due to the collector value and rarity of the item.
They acquire turntables from people who are moving or moving on from playing them. The record players are often repaired by retired guys as a hobby. This does not mean that the items in the shop are all expensive. Most are used vinyl, CDs, movies, sold at the 60 percent of the original price so that the customers feel that they are getting a deal. Prices of turntables vary.
Michael Reading, another loyal customer to Vinyl Solution Records feels that the establishment has never disappointed him when it comes to the merchandise.
Reading has been coming to the shop for more than 20 years, doing trade-ins for new vinyl. From what he could recall, Vinyl Solution Records is the last of its kind around here. He still believes that this store is the best kept secret of it all.
"This is the best place in the Peninsula as far as I'm concerned," Reading said. "The prices are reasonable, the people are fun and nine times out of 10, you will walk out with something."