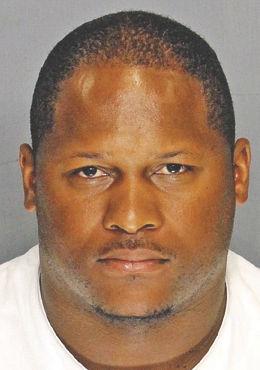 Whether to believe a former San Mateo police officer's testimony that he did not have any sexual contact with four women alleging he sexually assaulted them on separate occasions or the women who have stepped forward to hold him accountable will be up to a 12-person jury next week, when closing arguments are set to draw to a close.
The fate of 35-year-old Noah Winchester may in part depend on how heavily the criminal histories of the women he is accused of assaulting between 2013 and 2015 will weigh for jurors. Charged with 14 felony counts, Winchester has been in custody on $3.1 million bail since his July 21, 2016, arrest and has faced all four alleged victims and several law enforcement officials he once worked with before taking the stand himself at his jury trial, which has lasted for 18 days.
Winchester's defense attorney Paul DeMeester pointed to inconsistencies in the women's statements and to their criminal pasts as potential motives for making up stories about what happened between them and Winchester. But for Deputy District Attorney Alpana Samant, the women had little to gain by reporting the alleged assaults to the police because of their previous run-ins with authorities. Including two drug addicts, an alcoholic on probation and a homeless woman with a felony arrest warrant, all of the alleged victims did not think anyone would believe them if they said they had been assaulted by a police officer, noted Samant.
"He picked these women because these are women no one would believe," she said. "The biggest reason you should believe them is because they don't want to be here."
Samant has alleged Winchester forced a 21-year-old woman he found sleeping in a Sacramento building's exterior elevator with her three children to have sex with him in July of 2013 while he was working as a police officer for the Los Rios Community College Police Department. He is also facing charges for groping a 24-year-old woman found with an Oxycontin pill in a parking lot of San Mateo's Hillsdale Shopping Center in September of 2015. Prosecutors have also alleged Winchester told a 22-year-old woman to take off all her clothes under the guise of a probation search at the now-defunct Motel Avalon in September of 2015 and in October of 2015 told a woman named Sherry C. to follow him from the Motel Avalon to the Coyote Point Recreation Area with the intent of having sex with her.
In her closing argument, Samant alleged Winchester employed similar strategies in each of the encounters he had with the women, such as searching through police databases for their records, identifying a reason why they might fear arrest, not using his police radio to communicate his activities to other officers and isolating the women from any male companions they might have been with when he encountered them.
But DeMeester argued the patterns Samant alleged Winchester employed in these incidents — such as seeking out vulnerable women to rape or assault — broke down upon further examination. He noted the woman Winchester encountered in Sacramento was homeless and was offered by Winchester a place to spend the night in a school district facility, and underscored that it was another officer that initiated contact with the 24-year-old woman and her boyfriend in the Hillsdale Shopping Center in September of 2015, four days after the pair had been involved with a stolen vehicle in Burlingame.
DeMeester added Winchester was trying to determine whether the 22-year-old woman he encountered at the Motel Avalon was engaged in a drug exchange or prostitution at a motel known by San Mateo police officers to attract criminal activity. DeMeester also noted the 35-year-old woman Winchester is believed to have convinced to drive to the Coyote Point Recreation Area had been the cause of a police response to the Americas Best Value Inn at least two times the day before the alleged assault.
"When we look at it, the pattern breaks apart," he said.
DeMeester reminded jurors that the burden of proof lies with the prosecution, which must prove beyond a reasonable doubt that each of the allegations levied against Winchester are true. He questioned the account of the 22-year-old woman Winchester observed sitting in a carport at the Motel Avalon with a man previously convicted of pandering in September of 2015. Acknowledging the woman named Alicia A. said Winchester said her name into his radio to pull up her record, DeMeester noted there is no police dispatch records showing this is how he looked her up in the police databases.
Having been convicted of petty theft in 2009, battery on a police officer in 2010 and presentation of a false identification to a police officer in 2014, Alicia A. could have told her probation officer the story of Winchester telling her to take off her clothes when she was alone in the motel room to distract from any illicit behavior she might have been engaged in that night, argued DeMeester. He also highlighted discrepancies between the timing of the account given by the 24-year-old woman allegedly groped by Winchester in the mall parking lot and that given by the police officer who initiated the stop of her and her boyfriend before leaving the pair with Winchester to begin his birthday celebrations. DeMeester argued the discrepancies show that if the woman's story is true, the other officer would have been there during the alleged assault.
As Winchester's defense attorney, DeMeester urged jurors to consider any doubts he has raised about the women's stories, adding if any of the individual facts necessary to prove one of the charges cannot be proved beyond a reasonable doubt, they cannot find a conviction.
"They must be believed beyond a reasonable doubt before there can be any conviction," he said, of the women.
Though DeMeester described some of the prosecution's evidence as circumstantial, Samant explained jurors need to look at the totality of the circumstances, which include everything from the trauma the women experienced and how that might affect their memories of the assaults and the choices they felt they had before them in the incidents.
Samant explained Winchester is facing several counts of oral copulation and rape with respect to the incident with the 21-year-old woman he found sleeping with her children in Sacramento because the woman told him she not only feared being arrested by him but was also worried her three children would be taken away from her before he forced her to have sex with him in a college facility.
She also pointed to analysis of his electronic devices and showing he searched for terms like "best rape scenes" and "darkly disturbing sex scenes we wish we could unsee" in 2013 as evidence he is excited by the concept of rape. Though Winchester testified that he has a pornography addiction, Samant alleged the searches are indicative of his addiction to rape and the power dynamics and control involved in rape. Describing Winchester as someone the community trusted with a uniform and badge, Samant urged the jury to tell the women who stepped forward he will be held accountable for abusing that power.
"Power does not change people," she said. "Power lets you be who you are. You've seen who he is."