Though the filing deadline for the June 5 primary election isn't until Friday, Deputy Mark Melville isn't waiting until the last minute to join the race to elect San Mateo County's next sheriff.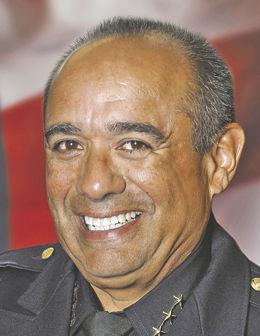 By submitting the last of the paperwork needed to declare his candidacy with the county Elections Office Tuesday, Melville has joined Sheriff Carlos Bolanos in the race for the top leadership position at the county Sheriff's Office.
After almost 10 years with the Sheriff's Office, Melville said he decided to join the 2018 race to give county residents a chance to elect their sheriff, noting Bolanos' appointment to the role by the Board of Supervisors two years ago when his predecessor Greg Munks stepped down before the end of his third term.
Having spoken with county residents since he announced his plans to run last summer, Melville said he's found his enthusiasm for a new approach to the role has been matched by those he's spoken with on the campaign trail.
"It's just new energy," he said. "It's bringing their ideas to the forefront and allowing them to be part of what we do, why we do it and how we do it."
Citing a ground-up management style and preventative strategies for reducing crime, Melville is hoping to breathe new life to county policing. But for Bolanos, who served as undersheriff to Munks for 10 years, experience with the Sheriff's Office, which he said employs more than 800 personnel and operates at a $250 million budget, is what makes him uniquely qualified for the position.
"I think it's important that whoever is the next sheriff has some experience running an organization of that breadth and depth," he said.
Responsible for policing unincorporated areas of the county as well as communities that contract for services such as Half Moon Bay, San Carlos and Millbrae, the Sheriff's Office also oversees the county's correctional and court systems, the area's Homeland Security and Emergency Services divisions as well as numerous task forces such as SWAT, narcotics and vehicle theft.
Bolanos said maintaining the county's track record for safety, investing in tools expected to improve policing and community relationships, such as body-worn cameras, and continuing to develop programs for county inmates to reduce recidivism have been and will continue to be the focus of his vision for the Sheriff's Office.
"We're primarily focused on maintaining the positive relationship that we enjoy with the community we serve," he said.
Topping Melville's priorities for the post is improved transparency and a ground-up approach to staffing, which he hopes will more efficiently leverage the skills within the Sheriff's Office and re-establish trust between citizens and law enforcement. After starting his career in law enforcement as a police officer in Brisbane, Melville served as a police officer in Half Moon Bay and a public safety officer and fire captain in Brisbane before moving to the Central Valley to be a police sergeant with the city of Patterson in 1986.
Though Melville served as the chief of police, city manager and later on as a councilmember for the city of Gustine, he said he moved back to San Mateo County in 2008 to become a deputy sheriff and end his career where it began. Noting his experience working on a beat, in county jails and with the public, Melville said he's positioned to incorporate community input in the Sheriff's Office's operations.
"I operate from the ground up," he said. "I want everybody to be involved in what we do."
Both Melville and Bolanos pegged working with police and fire agencies as well as other organizations working toward public safety, such as county and state parks and the FBI's joint terrorism task force, as critical to the next sheriff's role. Bolanos noted recruiting qualified candidates has been increasingly challenging given the rising cost of living, and that forming a team of officers who visit colleges and police academies in addition to their jobs has helped maintain the necessary personnel.
"Our challenges are the outstanding economy that we have here, housing and the fact that because of those issues, all of the other people who are competing [for] the same candidates are also out there trying to meet that challenge," Bolanos said.
Having served as Redwood City's police chief for 12 years before his service with the Sheriff's Office, Bolanos said his qualifications are unmatched by any candidate running against him.
"I think experience counts," he said. "I've been in this county providing law enforcement service for over 25 years."