Hillsdale was all smiles after Friday's victory on opening night of the CCS playoffs.
The smiles were well deserved. With their 28-7 victory over No. 7-seed Lincoln-San Jose (6-4) in the Central Coast Section Division IV quarterfinals at Mazzoncini Stadium, the No. 2-seed Fighting Knights (9-2) advance to the CCS semifinals for the second straight postseason. It marks the first time in program history Hillsdale has reached the CCS semifinals in back-to-back postseasons.
With no playoffs in the abbreviated 2020-21 season, the Knights last reached the CCS semis in 2019.
"This is big because coach, he told us before, we didn't win playoff games very often," Hillsdale running back Makoa Ah Tou said. "And now that I'm experiencing this and I can see we're winning playoff games, it's crazy."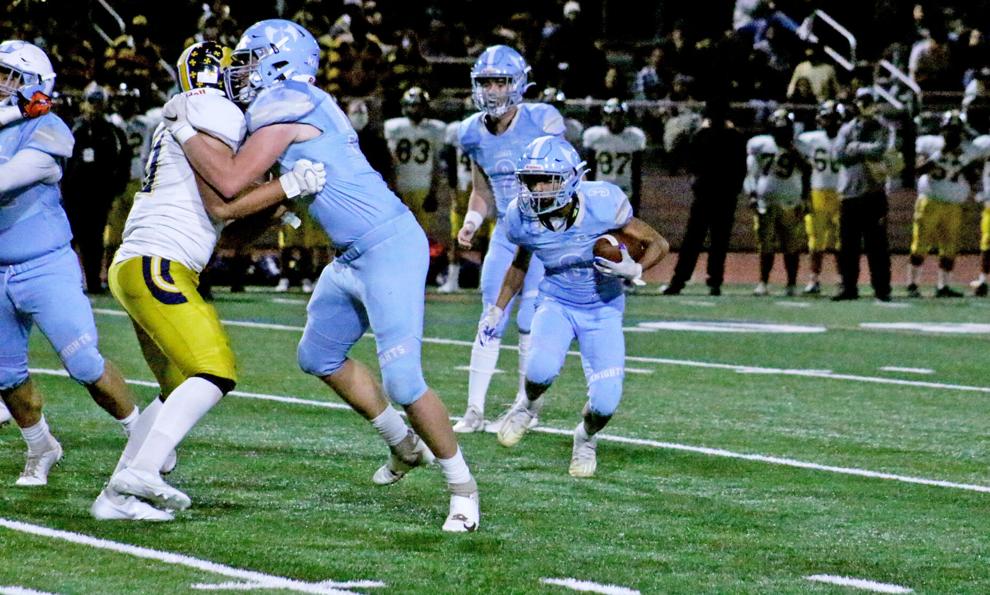 Ah Tou served as Hillsdale's workhorse Friday. Senior running back Josh Violette went down with an ankle injury on the Knights' first offensive series. So, Ah Tou stepped up to shoulder the load, carrying 31 times for 138 yards and two touchdowns.
"He's done his job throughout the year," Hillsdale head coach Mike Parodi said. "He had a few games earlier in the year where he did it. So, now it's just a chance for him to show and do it again. He had a great, outstanding game … and he had a bunch of first-downs when it mattered."
But the showstopper on offense for Hillsdale was the connection between quarterback Liam Smith and wide receiver Zach Leighton.
In an area where senior quarterback standouts include Menlo's Sergio Beltran, M-A's Matt MacLeod and Serra's Dom Lampkin, Smith — still a junior — deserves his due.
"Our kid's pretty good too," Parodi said. "He's done a great job."
Smith connected consistently with Leighton, who totaled five catches for 107 yards and a touchdown. Which of his two best catches should top the highlight reel is debatable.
Three plays after Violette departed, with the Knights facing third-and-3 from the Lincoln 15, Leighton ran a suicide route over the middle, got airborne to haul in a crisp Smith pass, and was upended at the 3-yard line for a first down.
"I was just hoping I didn't get hit too hard," Leighton said of going up for the ball.
As for freefalling to the ground and getting the wind knocked out of him, he said: "There was not a lot of thoughts, to be honest with you. I was just happy I caught it."
Three plays later, Ah Tou banged into the end zone for a 1-yard score to get the Knights on the board.
Leighton showed off his wheels for Hillsdale's second score midway through the second quarter. On second-and-4 from the Knights' 38, Smith hit Leighton for a quick, short screen, and the senior receiver quickly darted up the sideline, did a shifty tightrope walk to high-step past several defenders, then cut back for a 68-yard score to up Hillsdale's lead to 14-0.
"I know it was short yardage, so I really wasn't planning on going all the way on that one," Leighton said. "I got some good blocks from [Danny Aspillera and Caden Wellwood], my other receivers on my side with me. And I just kept making my way forward, and then it just worked."
Then in the closing minutes of the first half, Parodi opted to gamble by letting his offense loose on fourth-and-inches from the Hillsdale 29. Ah Tou answered the call with as 5-yard pickup on a trap play.
"Why not? It's the playoffs," Parodi said. "We felt we had a good look that we liked, so we took advantage of it. I've got faith in our line, and our running backs and QB. So, we decided, let's go."
Then the Knights went on the march, using 12 plays to go 81 yards, scoring on a 3-yard run by the Knights' favorite 5-6, 135-pound power runner, Ah Tou, to go into halftime up 21-0.
"It was a great drive after that," Parodi said. "I think it was a little confidence booster for our kids, too, just to see we're going to keep doing what we've been doing all year. And I think that was a great time to take advantage of it."
Smith finished with a superb completion percentage, going 11-of-13 for 191 yards and two touchdowns. And the range of velocity on his passes was not only vast but showed a knack for consistently throwing the ball at just the right speed — from the touch of a sweet floater over double coverage for a 12-yard completion to Leighton in the second quarter, to two plays later zipping a fastball over the middle for 12 yards to put Leighton over 100 yards receiving on the night.
"It's stuff he's consciously trying to get better at," Parodi said. "I think a lot of trigger guys, they're like: 'Hey, this is what I do. I throw.' But I think he's understanding: 'I can do that. Can I do this now?' … Every week he gets better and better and better, and he's only a junior."
Smith added a 6-yard scoring pass to Aspillera midway through the third quarter. Lincoln — after totaling just one first down through three quarters of play — scored on its final possession on a 3-yard keeper by junior quarterback Tayden Phillips.
Phillips finished with 15 carries for 72 yards and a TD.
Hilldale outgained Lincoln 363-132 in total yards.
With the win, the Knights advance to next weekend's semifinal round. Hillsdale will host the winner of Saturday's matchup between No. 3 Sacred Heart Prep and No. 6 Alisal-Salinas.