The hometown ties for the San Francisco Giants in the 2019 MLB First-Year Player Draft run much deeper than the first-round selection of Serra graduate Hunter Bishop out of Arizona State.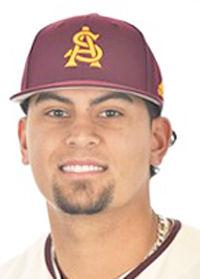 With the three-day draft concluding Wednesday, the Giants selected two of Bishop's former amateur teammates. In the 33rd round, San Francisco selected Serra graduate Nolan Dempsey, a second baseman out of Fresno State. Earlier in the day, Bishop's recent Arizona State teammate, Carter Aldrete, was selected in the 15th round.
While Bishop and Dempsey both grew up Giants fans, Aldrete's allegiances have long tended toward Oakland, as his uncle Mike is the assistant hitting coach for the A's. Those allegiances changed quickly, however, when the Monterey native heard his name called.
"To join the organization and to do it with my best friends, it means so much to me," Aldrete said.
When he signs, Aldrete is a second-generation Giant. Not only did his uncle come up with the Giants and play his first three big league seasons in San Francisco, his father, Rich, played five seasons in the Giants' farm system. He also grew up going to games at China Basin with his mother, Tisha.
"To come back full circle, it's pretty exciting," Aldrete said.
Aldrete played a lot of outfield as a junior this season, though he also saw time at second base. He was listed as a second baseman by the Giants as per his draft announcement.
With Arizona State hitting 96 home runs as a team this season, Aldrete produced nine of them. He hit .288 and took a nine-game hitting streak into the Sun Devils' final regional playoff game, a heartbreaking 13-12 loss to Southern Mississippi, in which he went hitless through five at-bats.
The heartbreaking part, though, was Arizona State led 10-2 in the fifth inning. Southern Miss went on to put up three crooked numbers, though, including three runs in the eighth and four more in the ninth to score a dramatic walk-off victory and end the Sun Devils' season.
"It was tough," Aldrete said. "To put all that hard work in all season, and to play a good game, to be up six runs and not come out on top, it's tough. It's just one of those things … Obviously it's surprising but baseball is like that sometimes. … But I wouldn't trade my experience for anything in the world and, to move on with the San Francisco Giants, I'm just so blessed to be in the position I was in."
Aldrete said he will remain in Arizona for the time being but is eager to get to work in professional baseball.
"I'm ready to sign whenever they have something for me to sign," Aldrete said.
With Aldrete likely to report to rookie camp in Scottsdale, Arizona, he's perfectly placed right where he is. He currently resides less than five minutes away from Scottsdale Stadium, he said.
"I'm quite excited," Aldrete said. "It's so close. I just have to move my locker down the street instead of across the country."
 Second-base depth with Dempsey
The Giants drafted two second basemen among their 40 picks this week. The first was Aldrete. Dempsey was the other, as the offensive middle infielder made a home there for two seasons with Fresno State.
A transfer from De Anza College-Cupertino, Dempsey went on to hit .324 through two seasons with the Bulldogs. A middle-of-the-order presence, he ranked second on the team in 2019 with 57 RBIs.
He closed his collegiate career over the weekend at the Stanford Regional, with Fresno State advancing through the winners' bracket to the championship round before losing two straight to Stanford. Dempsey went 3 for 11, including a home run in Saturday's 7-2 victory.