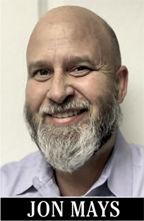 Someone asked me if I think COVID is affecting children's mental well-being, and if it will be long-lasting. My short answer was "yes, very much so, and we will see."
You can see the impacts in overt ways and sometimes subtle. Some kids act out more, and some have new worries about things they shouldn't. I say, COVID will either make this generation of children paranoid or very resilient. It will likely be a combination of both.
Consider the pandemic's impact on you. As an adult, you have developed coping mechanisms and can contextualize threats even though none of us have previously contended with a pandemic. Some buy toilet paper, others read up. Some over prepare and worry, others do nothing or simply proceed with life as best they can. Some do all of these things to varying degrees depending on the day, or the hour.
Now consider the pandemic's impact on children. I recall back in the day when we had rain, there was a discussion at my daughter's day care center about El Niño. Seems many kids were worried that "El Niño" was coming and didn't quite know what that meant. Was El Niño going to get them? The explanation was that it was just rain seemed to placate most, but it was one of those moments that made me realize it's very important how we talk about things in front of and with children.
There are children of parents who overworry about the virus. Children worried they could die from simply going to school. Or children worried they could harm their grandparents with a visit. As adults, we know there is an underlying concern and worry about these things, but we also know we can take precautions and minimize risk. We also know sometimes it's OK to take managed risks. Children may not know that. It's important we contextualize that for them.
Now that we are more than a month into this new school year, some challenges are emerging. Children grown accustomed to remote learning from the cozy confines of home may be having some difficulty adjusting to the formal learning environment of the classroom. Discipline can become an issue, especially as children grow uncomfortable in their masks, cold because the windows are open, frustrated with trying to communicate while wearing masks, or simply tired of living in uncertainty and fear.
There is also the matter of isolation. Missing a full grade of in-person learning means some students lose out on making connections with others they would have naturally. While some were able to pod with close-by friends, others were not. And that means making new friends or maintaining friendships can be a challenge. It's important to talk to children about ensuring no one feels isolated. Inclusion is always a good lesson, but it is even more imperative now.
Already overworked teachers and school administrators are facing new challenges with PPE protocol, testing and social distancing. They were already responsible for the education and well-being of our children, now they are tasked with keeping them from getting an infectious disease. Creativity was already key for teachers, administrators and staff when teaching our children, now they must take it to a brand-new level while also concentrating on keeping themselves and their families safe. It's no small task.
And a noxious TikTok trend of destroying school property certainly doesn't help either.
All this to say that while we are entering a new phase of this pandemic, a weariness is setting in. The buckle-down-and-let's-get-through-this phase is over and now we are in the lingering-trying-to-get-back-to-normal phase. But it's still not normal. We may be feeling confident here in San Mateo County, where the vaccination rates are high and the case counts are dropping. But if our eyes are constantly on other parts of the country, and our discussions at home focus on high case counts and despair elsewhere, chances are that could wear on our children and cause new anxiety. It's OK to stay abreast on this topic — the more information the better — yet it is also key to know how discussing it can affect others, and even ourselves.
So please, if you have children, take a few moments daily to check in on their mental state. It doesn't have to be official, in fact, it's better if it's not. Just ask them how things are going, listen, and show them love and support. And keep in mind how they might be interpreting how you are feeling as well. After all, giving them a big hug can make you feel better too. And we could all use that right now.
Jon Mays is the editor in chief of the Daily Journal. He can be reached at jon@smdailyjournal.com. Follow Jon on Twitter @jonmays.