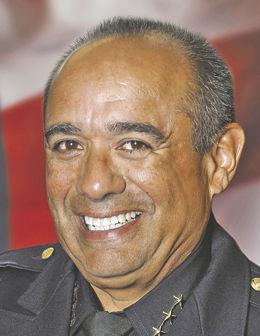 San Mateo County Sheriff Carlos Bolanos denied any affiliation with a far-right militia group linked to the Jan. 6 insurrection of the U.S. Capitol after reports surfaced online that his government email was linked to leaked data collected from the organization. 
"I'm pretty sure they're not interested in having someone with my political views associated with their organization," Bolanos said. "It's laughable." 
Bolanos was appointed to his role as county sheriff in 2016 after more than 30 years experience as a law enforcement officer. In 2018, he was elected to the role and is currently running to defend his seat. 
Allegations that Bolanos was affiliated with the Oath Keepers, a right-wing militia group with connections across the nation, were first made online. 
Publicly available portions of the hacked data, published and being stored by the anti-secrecy organization Distribution Denial of Secrets, do include Bolanos' email address within what appear to be failed outreach chains. 
It's unclear whether members exposed in the leak are currently active and if not, when their memberships were terminated. Sensitive materials have also been kept from the public and are only available to researchers and journalists including passwords, decryption keys and financial information. Distribution Denial of Secrets did not respond to requests for access.
Bolanos denied ever registering as a member of the organization. He instead suggested someone else did so as a joke. He recalled receiving an email from the organization a few months ago but said he paid no attention to it, never verified as a member and deleted it. 
Before then, he said his only knowledge of the Oath Keepers was of some of the organization's members taking part in storming the Capitol as Congress was certifying the election of President Joe Biden on Jan. 6, an event he joked he wasn't in attendance.
While unsure of who would have allegedly registered him as a member using his government email, he pointed to the election as a possible explanation as to why his information could be linked to the site. 
"I don't know why somebody would think that's funny but it is political season," Bolanos said. "It's ridiculous that somebody can sign people up for whatever and other people will take that seriously."
David Canepa, president of the San Mateo County Board of Supervisors, said he spoke directly with Bolanos after learning of the alleged connection and was assured by the sheriff that the claims were false. 
"I've known the sheriff to be truthful and I'm going to be taking him at his word," Canepa said. "The sheriff told me he had nothing to do with it and for me that was good enough." 
If further connections between Bolanos and the Oath Keepers were to surface, Canepa said he'd be greatly concerned but doubled down on his support for the sheriff and belief in his denial. 
"We're talking about the association with a right wing group that espouses hate and that for me is a big problem," Canepa said. "What the Oath Keepers stand for is totally against the values of San Mateo County and I feel confident that the sheriff has no affiliation with them." 
(650) 344-5200 ext. 106