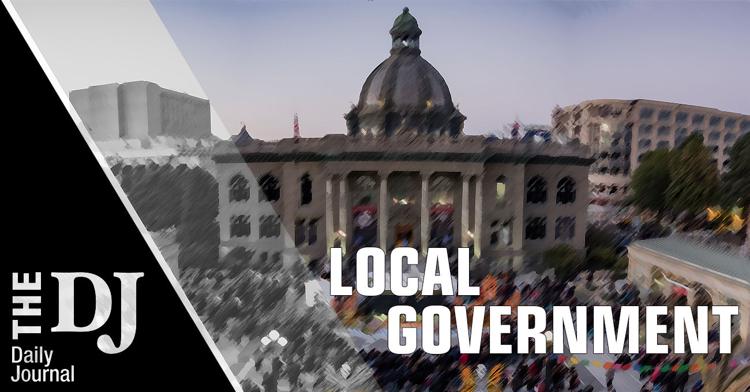 In an effort to balance concerns about impacts to privacy and neighborhood character with the need for housing, the Redwood City Council adopted a variety of new rules that incentivize the construction of single-story accessory dwelling units and limit the height and size of second-story ones.
The council voted 6-1 to amend the city's ADU ordinance at a meeting Monday. Vice Mayor Diane Howard opposed the rule changes because she felt they're too lenient and would still allow excessively large ADUs to be built. Concerns about oversized ADUs, especially in the Mt. Carmel area, are what prompted the council to begin the process of amending the ordinance.
The new rules lower the height limit for ADUs built on top of detached garages from 28 feet to 20 feet, though the city's zoning administrator could allow an increase in roof height based on the slope compatibility with the main home, said Associate Planner Apollo Rojas. For context, the maximum height for single-family homes is 28 feet.
While single-story ADUs can be as big as 700 square feet, ADUs built on top of detached garages can be no larger than 576 square feet. That number was selected because it's the average square footage of a two-car garage. 
State law does not allow a detached garage to be converted into an ADU with two stories of living area, but a garage can be converted into what's called a split-level ADU. A split-level ADU is both a home and a functional garage in one structure, with living space on the ground level adjacent to and also on top of the garage. The upper level of a split-level ADU also cannot exceed 576 square feet and both levels collectively cannot be greater than 700 square feet. 
To minimize privacy impacts, second-story ADUs must have opaque windows when facing immediately adjacent side and rear neighbors, and they cannot have roof decks, balconies or exterior stairs facing immediately adjacent neighbors.  
To incentivize single-story ADUs, the council signed off on lowering the rear-yard setback requirement from 10 feet to 6 feet. ADUs will also be exempt from a 50% rear lot coverage requirement to increase buildable footprint.
Garages and other structures can be converted to single-story ADUs that are no taller than 14 feet and the maximum size of ADA-compliant ADUs has been increased from 800 square feet to 1,000 square feet. 
Redwood City rolled back restrictions on ADUs first in 2015 and again in 2017 to encourage more of them to be built and that's exactly what has happened. Prior to amending the ADU ordinance, the city received about three ADU applications a year. Since 2016, the city has received 146 ADU applications, 19 of which were second-story ADUs above detached garages. Rojas said the height of those second-story ADUs averages about 23 feet. 
The privacy requirements and single-story ADU incentives were almost unanimously endorsed by the council and more than 20 residents who spoke during public comment. It was the rules on ADU height and size that dominated Monday's four-plus-hour discussion.
Resident Janet Lynn described a 23-foot ADU being built behind her home as the equivalent of placing a garage on top of her rear fence with another foot to spare.
"[The neighbors] are all primarily single story homes with detached garages and they're very small — my home is only 1,200 square feet and my neighbor's home is about the same size. You can have up to a 28-foot-high second story [before last night's meeting] in the back of the house and it loses the quaintness of the character," she said. ""[The complaint is about] the encroachment and the privacy and the feeling that — I spent a long time trying to afford our home and it's not easy to move and we're facing the fact that we're losing all the stuff we bought in for."
Lynn also wondered why residents want to build second-story ADUs rather than a 700-square-foot ground level one, claiming that the former is more expensive to construct.
"Why are people not building a regular single-story, which you can have at 700 square feet?" she asked. "It's plenty of room and no one will complain."
Councilwoman Alicia Aguirre acknowledged residents' privacy concerns, but suggested many don't own enough property to build a new single-story ADU in their backyard and building on top of their garage is the only feasible option. 
"Who has that kind of property in Redwood City to be able to just do one story and why are we limiting when we know a lot of people have detached garages where they could do two stories," she said. "We shouldn't just be proposing one type of ADU, we should be proposing what people can have in their homes and what they can afford. 
"A homeowner [wants to build an ADU] for a number of reasons," she continued. "It might be a little bit of income for me, I might want to do it for my family member, someone who's aging who I want close to me but not in my house. A City Council should not limit those opportunities." 
Many other speakers spoke highly of ADUs as an affordable housing option that should not be subjected to any new restrictions in the midst of a housing crisis. 
"ADUs are actually affordable housing in many cases," said Matt Larson during public comment, adding that three Redwood City ADUs are currently being offered on Craigslist at below market rates. "The real problem is not second-story ADUs, it's that there are only three of them available for rent right now. Restricting ADUs really means restricting affordable units. … I urge the city council to look at the big picture tonight, which is not the aesthetic desires of the housing secure but acting on the needs of the many renters in Redwood City who are housing insecure."
Rachel Holt, who also spoke during public comment, countered that ADUs rarely contribute to the city's housing stock and cited seven single-story ADUs near her home that she said are being used for day care, family uses or are listed on Airbnb while just one is being rented to a tenant. Holt added that she knows three homeowners who have been approved or are currently building 28-foot-tall second-story ADUs over newly built 700-square-foot garages and "not one will be additions to the housing stock." 
"Second-story ADUs over detached garages are not the answer to the undeniable housing crisis facing our community and the argument that they are is over simplistic and not supported by existing data," she said. 
Councilwoman Diana Reddy agreed that a majority of ADUs are not being used for affordable housing and suggested allowing additional height or size if the neighbors agree to it and if the ADU is in some way a community benefit.
"How can we change it to where it's the responsibility of the homeowner to let neighbors know this is what I'm doing and I want it to be bigger because I have this plan, because I'm going to be renting to teachers or I'm going to do something special?" she asked. 
A few of Reddy's colleagues offered similar suggestions. Councilwoman Shelly Masur wants to incentivize those who build an ADU and commit to keeping it affordable.
"We could have something akin to a density bonus in terms of total square feet if you made that commitment," she said. 
City Attorney Veronica Ramirez confirmed such an idea is possible and suggested staff would bring back a proposal at a later date. 
Councilmembers also agreed that the noticing for projects such as ADUs should be expanded to more surrounding homes and some suggested the cost of appealing projects is too high. Those two issues will be addressed at a later meeting.
In other business, the council decided to table a proposed selection process for picking the mayor and vice mayor for a later date as the ADU conversation extended late into the night.