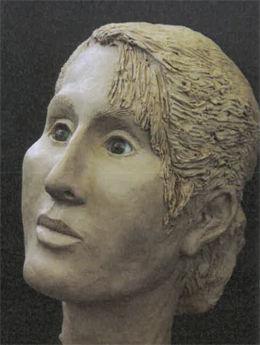 In an effort to piece together the puzzling aspects of missing persons reports, San Mateo County officials are asking the family members to step forward with genetic and other identifying information that could play a critical role in solving the mysteries that surround their loved ones.
The DNA sample collected from a simple swab of someone's cheek is all it may take to link a family member to another profile stored in nationwide DNA databases, a phenomenon San Mateo County Coroner Robert Foucrault witnessed late last year when DNA offered by a Washington, D.C., family was matched with the profile of an unidentified female body discovered in Pacifica in 2006.
Acknowledging the sad discovery family members of 41-year-old Christine Kuhn — whose body was found in remote area off Highway 1 — made more than a decade after they last saw her, Foucrault said the possibility of answering some of the questions surrounding a disappearance has driven him and his staff at the Coroner's Office to host its first Bay Area Missing Persons Day this Saturday.
"It brings relief to the family, it brings closure to the family," he said, adding that in the case of Kuhn, the decomposed state of her body left the cause of her death unknown. "They don't know why she died, but they were able to find closure."
Between technological advances allowing for detailed analysis of DNA information and those making it possible for X-ray imaging to capture a medical device's serial number, Foucrault said the time is right to ask family members to provide what could be the missing piece to the puzzle of one of the 100,000 missing persons reports nationwide.
Tasked with the responsibility of identifying dead bodies and determining the cause of death, the Coroner's Office takes several steps to identify a body before DNA information is needed. Visual identification, fingerprints, dental records and unique characteristics such as tattoos or medical devices like hip replacements or breast implants are among the ways a body can be identified, said Foucrault.
But when Coroner's Office staff exhaust those methods, Foucrault said they create a DNA profile for the body, which becomes part of a database the state Department of Justice manages, in the hopes a match can be made with DNA information a member of the person's family has submitted to authorities. Even with improvements in the collection and use of DNA, Foucrault acknowledged its effectiveness can be limited by the fact that the information needs to be compared to profiles already existing in the system.
"The DNA is only as good as what's in the system," he said.
Though law enforcement agencies fielding reports of missing people are trained to ask family members to enter a cheek swab sample or turn over items like a toothbrush or hairbrush their loved one was known to have exclusively used, those pieces of information don't always make it into databases used to identify missing persons, said Assistant Coroner Emily Tauscher.
Whether it's because family members aren't aware of the implications of having this information on file or the limited resources law enforcement agencies have to follow up on missing persons reports, Tauscher said counting on having a DNA profile from a missing person's family isn't a sure bet.
By asking family members — especially children and parents who share at least 50 percent of a missing person's DNA — to provide samples or X-rays, medical or dental records and other identifying information, county officials will not only have an opportunity to bolster DNA databases but also create a more robust picture of their loved one, which can also help connect them to possible leads.
Brisbane Police Department spokeswoman Michelle Moneda said the department is hoping the effort will bring them closer to understanding of how female skeletal remains found wrapped in a comforter and partially buried on a Brisbane mountainside got there. Discovered in 2013, examination of the bones and clothing found at the scene shed some light on who this Jane Doe was — between 33 and 46 years old, between 5 feet 1 inch and 5 feet 9 inches in height, with European ancestry and deceased between 2001 and 2008. Outside of the brand of clothing found with the remains and a healed bone injury from what investigators believe could have been sustained in a traffic accident, little else is known about the woman, said Moneda.
Even with the collaborative effort between law enforcement agencies and the Coroner's Office in finding and analyzing remains that are found, Moneda acknowledged there is a great deal of information not collected in their investigations, a gap she is hoping Saturday's event bridges. Moneda also noted the event could encourage family members who have not reported incidents to authorities or those who have harbored information about someone who disappeared to speak up.
"There could very well be other issues and other cases that we just don't know about that could inspire someone to come forward," she said.
Foucrault said information collected at Saturday's event will be used for identification purposes only and not be accessible to law enforcement's criminal investigations, and added that some of the matches found on DNA databases reveal missing persons are alive but in a hospital or were unconscious for some period of time.
Noting the some 440 active missing persons reports in the county and an estimated 80 sets of unidentified human remains at the Coroner's Office currently, Foucrault acknowledged Saturday's effort may not necessarily shed light on the open cases in the county but could go a long way to inform other investigations across the country. He said his staff has been motivated to highlight the effort as much as they can in the hopes they can help those managing the stress of searching for a loved one.
"We want to make it a priority," he said. "One of the things [we] want to do is put closure on it."
Bay Area Missing Persons Day will be held 9 a.m. to 3 p.m. April 21, at the San Mateo County Coroner's Office, 50 Tower Road. Those with information that could be connected to a missing person are encouraged to bring photos of the missing person, two family members from whom cheek swabs can be collected, X-rays, dental and medical records and any other identifying information. Members of the public can also learn about missing persons investigations and proactive identification steps.