A sweeping proposal for future use of a 92-acre site home to YouTube's headquarters was approved by the San Bruno City Council, marking a key milestone in a lengthy effort by the Google-owned tech titan to expand and improve the area as a campus to accommodate its growing workforce.
The Bayhill Specific Plan lays out a vision to be carried out over the next 20 years, to eventually include up to 2.4 million additional square feet of office space, 573 housing units, redevelopment of an existing shopping center, potential expanded hotel uses and broad upgrades to transportation and other supporting infrastructure. 
"This is a very exciting project and has been many years in the making," Councilmember Michael Salazar said. "There's been a lot of public input, a lot of conversations around this, it's nice to finally be at this point."
YouTube is the city's second largest employer with 2,380 employees, behind only Walmart's e-commerce office with 3,200 employees, according to the city's 2019-20 financial report. The Walmart building is also within the office park, described as San Bruno's premier employment hub.
Current configuration of the park includes 1.6 million square feet of office space surrounded by numerous large surface level parking lots. The redevelopment promises a pedestrian-oriented design, with wider sidewalks, mini parks and gathering areas, bike lanes, and buildings set back from the street often with lush landscaping. Parking will be built 100% underground.
"A big focus of the plan was to make the streets more attractive and walkable and enhance [the] pedestrian environment," said Elaine Costello, a project manager, who noted the site's proximity to BART and Caltrain stations. "This is a uniquely good location for new office development."
The site is also sandwiched between major vehicular transit arteries, flanked by Interstate 380 to the south and El Camino Real and Interstate 280 to the east and west — though YouTube is aiming for less than 43% trips to the site to be made in single occupancy vehicles, representatives said.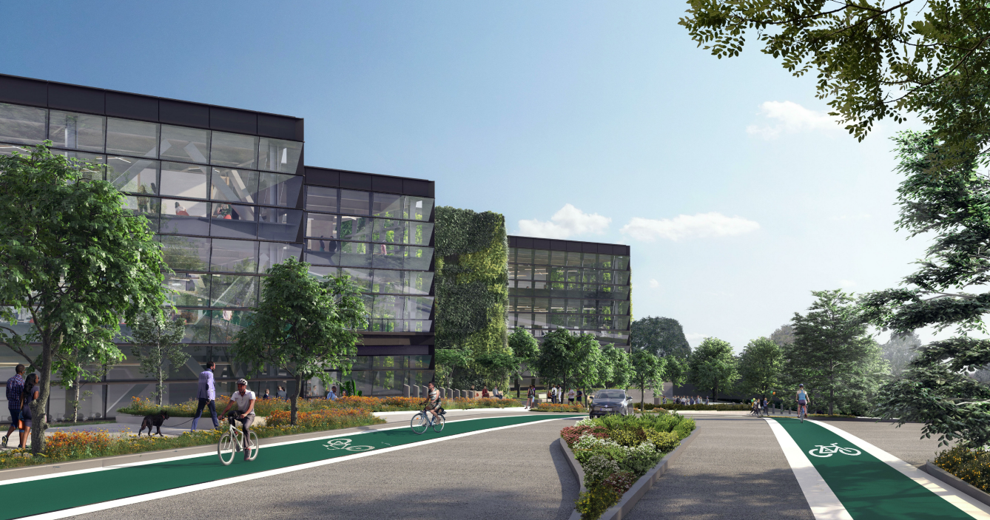 The first phase of the project will construct two three-story office buildings totaling 440,000 square feet and 1,896 underground parking spaces. It will also establish a "transportation hub" area for YouTube employees connecting to shuttles, as well as redevelop a plaza at Cherry Avenue and Grundy Lane and plant 250 or more trees. Two buildings at 1150 and 1250 Bayhill Drive will be demolished to make way for phase two development and allow for temporary parking. YouTube last year already began construction on two office buildings at the westernmost point of the site. 
YouTube is set to pay $56 million to the city, which will cover fees associated with the first phase of construction and part of the second phase, City Manager Jovan Grogan said. In all, the development is expected to be carried out over five phases. Much of the future plans are still conceptual but are expected to bring an additional $74 million paid to the city in fees, according to YouTube representatives. 
The fees comprise community benefit, citywide development impact and area impact fees. A portion of the initial payment, $10.3 million, will go directly to the city's affordable housing fund. 
"A project like this provides us with an economic engine, it provides us with both one-time and ongoing revenue so that we're able to provide housing elsewhere in the city," Councilmember Tom Hamilton said. "By supporting this project, replacing an old office park with a much better one, does not in any way dilute our commitment to providing housing."
Also noted was that YouTube will help foot the bill for other infrastructure needs for the site, including overhauls of systems for water supply, sewage and stormwater.
Of the planned residential developments, the bulk are slated for the southwestern portion of the site along San Bruno Avenue and across the street from an existing residential area.
Transportation infrastructure includes a road diet for Bayhill Drive to go from four lanes to two with the addition of bike lanes, and straightening of Grundy Lane, which is currently kinked. Bike lanes will also be added to San Bruno Avenue between Cherry Avenue and El Camino Real, as well as the portions of Cherry Avenue and Elm Avenue between San Bruno Avenue and Bayhill Drive. 
The City Council unanimously approved a range of resolutions allowing the project to proceed during its meeting last week. The items will be taken up for a second reading and approval during its next meeting Oct. 12.