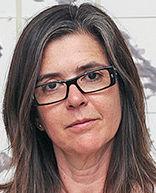 Is it dangerous for you in San Quentin? Is the show ever censored? Is it difficult to get the inmates to open up while they serve time in a maximum security prison?
Those are the sorts of questions Nigel Poor frequently receives when fans of the "Ear Hustle" podcast ask about her experience producing the show detailing the lives of those incarcerated at San Quentin State Prison.
No, no and no are the answers, said Poor, who largely credits the prisoners as well as administration for the success of the story-telling series which has been downloaded more than 7 million times by listeners across the world.
Poor will discuss the podcast, and her process creating it, during a discussion Thursday, Jan. 25, at the Burlingame Library.
As a photography professor at Sacramento State University who first entered the prison years ago to teach inmates, Poor found a community rich with intriguing stories and a desire to share with the world.
"My idea of who was in prison was cultivated by television and bad journalism and fear mongers. I expected uneducated, scary and violent people and that just wasn't the case," she said. "I found people trying their best to make amends and change and grow and do the things that most of us do."
Inspired by her students' experiences, Poor started working alongside prisoners Earlonne Woods and Antwan Williams to collect and record stories. The project became the "San Quentin Prison Report," airing on a San Francisco public radio station.
"Ear Hustle," prison slang for eavesdropping, took shape following Poor and her co-producers winning Radiotopia's competition, which selected the show from 1,500 applicants to join the expansive podcast network.
Since then, the show gained listeners and esteem, as "Ear Hustle" has received rave reviews from national publications such as The Atlantic, The New York Times and The New Yorker, which praised it as one of the best new podcasts.
Burlingame librarian Elaine Tai said her appreciation of the show, as well as its popularity, inspired her to invite Poor in for a conversation.
"The podcast sheds light on a population that we may not like to think about, so it will be interesting to have Nigel join us and share her unique experience and perspective," she said in an email. "I hope the night gives us insight into her use of art as a cause, as well as the complexities of prison rehabilitation, and even podcasting."
During the upcoming event, Poor said she plans to play segments of the show, discuss it with Tai and then field questions from the audience.
Poor said she frequently receives feedback from listeners of all sorts spanning the globe telling her that "Ear Hustle" transformed their perspective on prison, and the lives of inmates.
The input comes from judges, attorneys, victims of crime, those who had no previous interest in criminal justice previously and myriad more who overwhelmingly appreciate the show, said Poor.
"I've been just amazed by it and totally surprised," Poor said of the positive response.
Poor is quick to warn against conflating the show with the true crime genre, which has become increasingly popular with podcast fans in recent years. Instead, she said "Ear Hustle" focuses on the daily lives of prisoners.
Episodes are built around familial issues and relationships between inmates, as well as prisoners seeking ways to pursue personal interests or opportunities for self improvement.
Addressing challenges relatable to the audience can build understanding and empathy for those sharing their stories, which works toward achieving the podcast's mission, said Poor.
"We try to share commonality between the inside and outside, and debunk some of the stereotypes and assumptions," she said.
An episode examining the hardships of finding the right cellmate is an example of an issue easily understood both by inmates as well as listeners outside of San Quentin's gates, said Poor.
"There's prison specific things, but getting along with people and living in a tight space is something that all of us have to deal with," she said.
Through the focus on the intimate elements of inmates' lives, Poor said the prison administration is largely supportive of the podcast and does little to attempt to control its content.
"They never said we can't do anything. I've been shocked by how permissive they've been," she said.
A primary concern for prison officials is preserving safety, said Poor, both for the podcast crew and the inmates. For her part, Poor said she's largely felt secure when recording the show. She added though at times access is limited due to lockdowns or perceived threats, which can complicate the process.
Poor added the more grim elements of an incarcerated lifestyle can serve as a difficult reminder of the differences between her experience and those she spends countless hours with when creating the show.
"When I leave 'oh my God,' I get to go home to my comfortable house and eat a nice dinner and sleep in a cozy bed," she said. "There's guilt around that. There's sadness around it. But the most important thing is getting that work done, getting it out and changing hearts and minds."
"Art, Ear Hustle and Working Alongside Inmates: A conversation with Nigel Poor," will be 7 p.m. Thursday, Jan. 25, in the Lane Room at the Burlingame Library, 480 Primrose Road. The event is free and open to the public.