The volleyballers are Rage-ing at Notre Dame-Belmont High School. That's just the way NDB head coach Jennifer Agresti likes it.
Agresti, who also served as a longtime club coach at Encore Volleyball Club in Redwood City, is now in her second season of running her own club program, Rage Westside Volleyball Club, out of Moore Pavilion at NDB.
After operating with two teams in Rage's inaugural season in 2018, the club now has five teams spanning from 12U to 17U, including a 15U team coached by NDB assistant Kimmy Washington and a 14U team coached by Burlingame head coach K'Lynn Solt.
"It's been such a fantastic road," Agresti said. "I didn't foresee myself doing this because I was happy … and someone said, why don't you try to recruit coaches like you recruit your team?"
While at Encore, Agresti's teams were perennials at the USA Volleyball Junior Nationals — the World Series of club volleyball — including in 2015 when the Encore 16U team took third place in the nation in the elite Open Division. Now, Agresti's Rage team will take its shot at a national crown, as the 17U squad opens play in the Open Division at the Junior Nationals July 1 in Indianapolis.
Rage 17U earned a bid to the big dance at the Far Western Qualifier in Reno, Nevada, posting an 8-1 record en route to winning the Open Division bracket in what Agresti called the team's "last chance" to qualify for the elite field of 32 teams at the July nationals.
Agresti said her 17U team has faced approximately half the teams that will play in the Open Division.
"When you get to that high of level in the country, those matches are very tight matches and they can go either way," Agresti said. "We've been on the lucky side and won 15-13 in the third set, and we've been on the other side where we've lost in the third set. … Everyone can beat everyone at this level."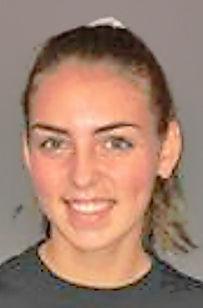 As is standard for Peninsula club volleyball, Rage draws from the greater Bay Area, but features an array of San Mateo County talent — Sacred Heart Prep's Elena Radeff, Mercy-Burlingame's Alister Borabo, Hillsdale's Nadia Barcklay, Menlo-Atherton's Marit Hoyem and Burlingame's Emmy Sharp.
Sharp is in her second year at Rage after playing for five years at Red Rock Volleyball Club in Redwood City. When she joined her new club in 2018, Radeff and Palo Alto's Amelia Gibbs also made the transition with her.
"It was pretty exciting," Sharp said. "There was just a lot of talk about us because we were a new club and everybody was wondering how it was going to turn out."
The trio got off to a nice start, winning the Cal Kickoff last season in their Rage debut as part of the 16U team. They had also won the tournament while at Red Rock with the 15U team in 2017, and won their third straight at 17U this year.
"We call ourselves the three-peat," Sharp said.
Currently finishing up her junior year at Burlingame, Sharp said she plans to return to the varsity team next season after sitting out her sophomore year due to injury. She is looking to continue her playing career at the collegiate level as a beach player, and is committed to the process of applying to Stanford University.
Rage has several committed players, Agresti said. Radeff recently verbally committed to Santa Clara University; Gibbs to Dartmouth University; and Maya Tabron (Gilroy) to University of Colorado. Borabo — a senior who is still age eligible to play 17U this season — will be relocating to play on a full scholarship at De La Salle University in the Philippines.
"This area, I think the kids probably just know who I am," Agresti said, "and when I get to talking to them and they get in the gym, it's over. They want to get to the next level and I know how to get them to the next level."
Rage Volleyball originated in Ripon, and now has two satellite clubs, including the independently run Rage Westside.
Other national tournaments Rage Westside will be appearing in: the 16U squad is slated for AAU nationals in Florida starting June 20. The 15U team will be playing in the USA Division at the Junior Nationals in Indianapolis.