The kids from Capuchino have certainly found some comeback magic.
The last two wins for the Cap softball team have both been of the come-from-behind variety. But Tuesday's 5-3 victory over Burlingame was by far the most exciting of the two.
After Cap starting pitcher Nohemi Livingston and Burlingame starter Kailey O'Connor traded zeroes for five innings, the floodgates opened in the sixth. Burlingame rallied for three runs in the top of the inning, but Cap responded by sending nine batters to the plate in the bottom of the frame to throw a 5-spot on the scoreboard.
"It was so much fun," Capuchino head coach Tanya Borghello said. "We've been struggling a little bit this year. We're very young. So, it's exciting for them to come out on top."
The Lady Mustangs (2-3 PAL Bay, 6-5 overall) are indeed a young team. With just one senior and one junior on roster, Cap is a majority underclassman squad. And it was one of those underclassmen, freshman Jasmine Shapiro, who wielded the heroic swing of the bat.
The stage was set in classic fashion. The bases were loaded with two outs with Burlingame clinging to a 3-1 lead. Shapiro — the No. 8 batter in the order, who entered the day hitting .231 — belted a bases-clearing double to left-center to give the Mustangs the lead.
"I thought it was going to be a pretty big hit … then I was rounding first base and I saw it was still out there," Shapiro said.
Shapiro then helped preserve the lead with some rangy left field defense in the top of the seventh. Burlingame freshman Olivia Fleming led off the frame with a fading looper to left. But Shapiro got a quick first step and needed every one of them as she tracked down the shallow fly on the run with a sweet shoestring catch.
"I thought I was going to have to dive for it," Shapiro said. "But I think I thought I had it."
The out loomed large as Burlingame (2-3, 5-3) went on to put the tying runs on base. But after a walk by Sydney Crespo and a base hit by Samantha Palacio, Cap's pitcher Livingston buckled down to close out the victory. The win breaks a personal two-game losing streak for the sophomore right-hander, who Borghello refers to as a de facto freshman, since Livingston and the Mustangs only played three games in 2020 prior to the pandemic closures.
"She had a bad week last week," Borghello said of Cap's 8-2 loss to Hillsdale last Thursday. "We worked really hard [in practice Monday] on keeping her pitch speeds moving and keep changing speeds. And she did, she had a great game today."
O'Connor was every bit her equal and more through the opening five frames. Burlingame's senior right-hander — who is committed to St. Mary's College on a full athletic scholarship next year — set down 10 straight at one point and went on to strike out eight.
"She's been having a great year," Burlingame catcher Sydney Fleming said. "She's been putting in the work both on and off the field. … Without her I think we'd be a completely different team."
Geographically speaking, Burlingame probably should be without O'Connor. It was a common sight during the pandemic closures to see O'Connor at San Bruno Park honing her craft, working on pitching even if she had no one to throw to. The reason she goes to San Bruno Park is because she lives within walking distance of the park, meaning she lives closer to Capuchino than she does to Burlingame.
Because of a special waiver obtained through the San Mateo Union High School District, O'Connor was allowed to attend Burlingame. Hence the reason she was in the visitors' dugout Tuesday instead of spending the past four years playing at Cap.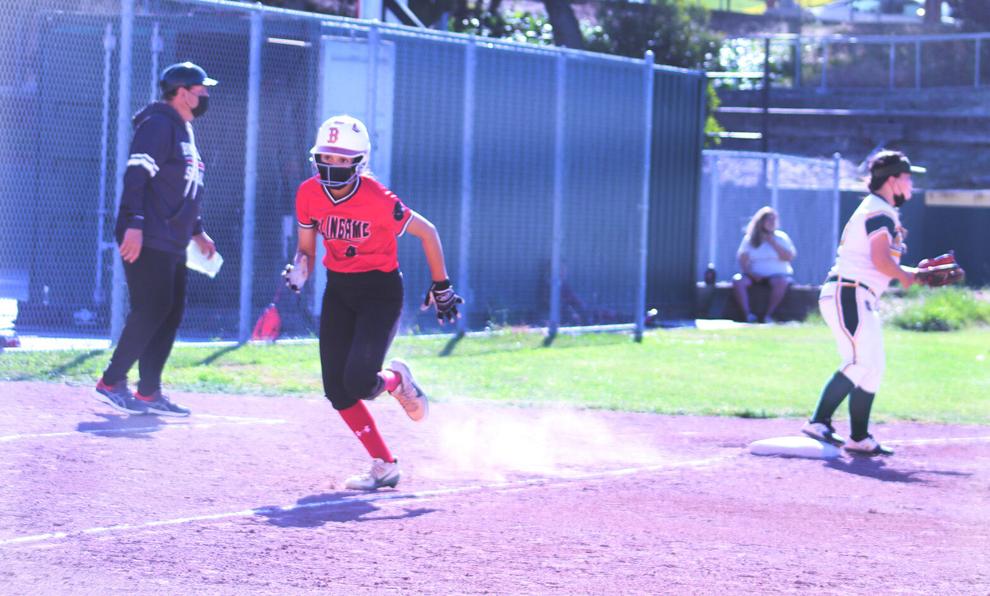 O'Connor helped her own cause at the plate in Burlingame's three-run rally in the sixth. After Palacio led off by getting hit with a pitch, O'Connor socked a double up the left-center gap to put runners at second and third. Sydney Fleming followed with a sacrifice fly to score Palacio. Then an RBI double by Kristen Condon and an RBI single by Amanda Latin gave the Panthers — hitting .305 as a team this season — a 3-0 lead.
"I definitely think it's been a big part of our game," Sydney Fleming said of big innings. "We've been struggling a little bit with coming out and hitting right away. So, it's kind of like once we get that momentum going, we seem to kind of go with it. So, big innings have definitely been a thing for us this year."
But Capuchino's comeback mojo would not be denied. The Mustangs also notched a comeback with last Wednesday in a 7-3 victory over St. Ignatius. "Usually, we don't expect teams to come back and score that much, so it was a little disappointing," Sydney Fleming said. "We've had a lot of close games, and usually we've done pretty good with the teams we have had to create. But I'd like to score more."
Cap sophomore Alexis Centeno — batting .457 on the year — sparked the comeback with a one-out single to right. Livingston followed with a single, and Selah Romero knocked in Cap's first run with an RBI single to center. After a walk to Elizabeth Do, Shapiro cleared the bases with a three-run double. Shapiro then scored when Alexandra Lapiz reached on an infield error.
"They're young, and it's hard to get them up to the level of competition that they need to be at," Borghello said. "They really just stepped up today."
Borghello said all of Cap's players are onboard to play in the Central Coast Section softball postseason if the team qualifies.
"I think it's always fun to play for something," Borghello said. "They're excited to be here. But having the perspective of being able to maybe a have postseason and maybe play for a CCS championship, that raises the bar a little bit."
The SMUHSD is on track to send teams to the CCS softball and baseball tournaments. However, those tournaments largely will be played after graduation and into the summer.
"That's the joy of freshmen," Borghello said. "They don't really have much life besides school and softball. So, we've actually had to kick them out of practice a few nights a week because they have nothing else to do."