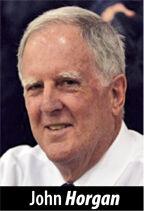 It's getting harder to present seemingly simple activities and artifacts from the past for fresh public consumption.
Our current hyper-sensitive environment requires sometimes uncomfortable context when dealing with what might appear at first glance to be rather innocent and straightforward history. 
That situation confronts officials at the San Mateo County History Museum in Redwood City. They are preparing an expensive and extensive display of 19th century carriages owned and operated by the county's landed gentry.
In one sense, it's going to place a spotlight on symbols of what was the county's original 1%, the monied elite of the grand estates that dotted the Peninsula.
In today's easily offended world, such successful capitalists (some harsh critics might favor the term "robber barons") are viewed with suspicion, if not outright hostility.
So the museum authorities are going to address all of this head-on. Mitch Postel, president of the San Mateo County Historical Association, has provided an explanation and some perspective in the association's latest newsletter.
He carefully points out that the monied captains of industry in question had "regional and, in some cases, national importance." He adds, "Resisting the temptation of a nostalgic treatment, our interpretation needs to give a balanced account of their stories and lifestyles."
In other words, the pluses and minuses attached to these figures, their vast properties and their impact on the budding communities they resided in need to be examined with a critical and unbiased eye. 
To that end, Postel states that the ordinary folks who served the wealthy few, along with other residents along the Peninsula in those days, will also be highlighted in order to address their contributions.
Recounting and explaining history is not a simple matter anymore. Someone is always going to be unhappy with the presentation.
LOCAL HOMEOWNERS SNUBBED: Politics in San Mateo County and the state at large is a one-trick pony. That's a given. Democrats and the zealous left run the show entirely.
Dissenting voices simply lick their philosophical wounds privately out there in the wilderness. They are not a part of the conversation. The results are hitting close to home.
All of our Democratic representatives in Sacramento, both state senators (Scott Wiener and Josh Becker) and all three members of the state Assembly (Phil Ting, Kevin Mullin and Marc Berman), voted in favor of Senate Bill 9 recently. Four of them voted in favor of Senate Bill 10 (Becker courageously abstained).
Both bills are targeted at single-family neighborhoods and the unaware homeowners who dwell there. Both pieces of legislation would make it far easier to construct multiunit housing on land that is currently zoned for single-family homes.
In other words, our legislators refused to protect neighborhoods that, for decades, have been the Holy Grail for families seeking to escape urban living and all of its well-documented ills.
Pleas to oppose both SB 9 and SB 10 (and to allow towns to retain firm and unambiguous local control over real estate development) fell on deaf ears. The betrayal was stunning and, sadly, anticipated. 
The legislation needs final approval via the governor's signature. Gavin Newsom, of course, is facing a recall election next week. Will he sign one or both of the bills into law prior to Sept. 14? Will he wait until the election is in the rearview mirror to address these sensitive measures? Who knows?
As of the Daily Journal's Tuesday deadline, he had not acted. One can hope.
BERNIE SANDERS IS EVERYWHERE: Speaking of politics, a candidate for student body office at Burlingame High School knows which way the winds are blowing along the Peninsula.
She has plastered fake endorsement posters on the campus that feature none other than everyone's favorite socialist, Bernie Sanders.
His decidedly grim and grizzled mug is accompanied by a faux statement backing the teen's election quest. 
Does this mean free stuff for everyone? Do we tax mom and dad to foot the bills? Do we get a monthly check for doing absolutely nothing to earn it? Yeah, baby! Life is good.