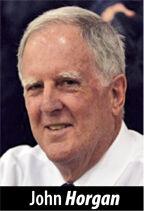 If the myopic politicians in San Francisco and Santa Clara counties were trying to devise a scheme to scuttle a proposed eighth-cent sales tax increase that would greatly benefit Caltrain's strained coffers, they have done their job well.
For weeks, they pressured the third party in the Caltrain operating arrangement, San Mateo County, to agree to alter the system's administrative setup and to limit by strict formula the amount of tax dollars that would accrue to the rail line if the measure proved to be successful at the ballot box Nov. 3.
They succeeded. But they spent so much time bad-mouthing Caltrain's present arrangement, which, in large measure, is overseen by the San Mateo County Transit District, they have planted more than a few seeds of serious doubt about aptly-named Measure RR in November.
If the present SamTrans/Caltrain marriage is so unpopular and unfair (at least as far as the other two parties are concerned), why should voters cast their ballots in favor of the new tax? Why back an inefficient dinosaur, especially during a public health crisis which has significantly reduced the need for the train in the first place?
They would never admit it, but it's almost as though San Francisco and Santa Clara County honchos were working to kill the tax before a campaign to pass it could even get started. The entire exercise has been counterproductive in the extreme.
Now, it's going to be an uphill fight to rebut those debilitating arguments and gain voter approval, particularly during a period of virus-caused pandemic and extreme economic uncertainty.
Crepey skin care, bladder relief and lots more
By definition, a quarantine's long-term mandates, no matter how severe or misplaced, lead to a significant increase in the use of options designed to distract, instruct, inform, amuse and, in general, fill the oodles of available down time, of which we have gobs right now.
One of the most popular alternatives, of course, is cable TV. Frankly, it has been something of a surprise to discover the range of listed programs focusing on personal problems that seem to multiply these days and nights.
Among these are such helpful specialties are programs such as: "Bladder Relief Now," "Prostate Problems?" "I Hate My Aching Joints," "How to Tighten Crepey Skin," "Strengthen Your Pelvic Floor" and "My Feet Are Killing Me."
Hey, bring on reruns of "Pit Bulls & Parolees."
And you thought lawn mowing was safe
Not to belabor the point but a steady diet of mindless TV is rarely recommended for the able-bodied, even during a societal lockdown.
But it's safer than mowing your lawn. A public relations firm has sent out a blurb warning that this seemingly mundane suburban task causes an average of 90 deaths per year in the United States.
That's just one more depressing bit of data during a grim period of wildfires, power outages, spare-the-air days and, of course, a pandemic — not to mention persistent urban violence in a contentious election year.
It's not like we need something else to fret about. The fatality numbers were provided by a government agency that tracks this stuff.
Oh, and one more thing: Snake bites cause an average of six deaths per year as well. So give that rattler on your lawn a wide berth too. You can thank me later.
Cardboard fans make faux presence felt
Here's a morsel of terrific trivia for followers of the San Francisco Giants: With about 15,000 colorful cardboard fans (due to an in-person attendance ban during the pandemic) attached to seats at Oracle Park, the Giants are soldiering on.
Those faux customers (assuming they represent actual season-ticket-holders) would amount to a full-year, 81-game "attendance" of about 1.2 million, a higher figure than 14 separate seasons at Candlestick Park back in the day.
Give 'em all a cardboard bobblehead doll.
RIP, Jefrey Rojas Torres, a San Mateo Bearcat
Finally, we would be remiss if we did not mention the passing of Jefrey Rojas Torres, who would have been a senior at San Mateo High School this fall in the class of 2021.
A student-athlete who was a member of the Bearcats' football program, he died this summer after a lengthy struggle with leukemia. He was buried Aug. 11.
He is greatly missed by his family, friends, classmates and teammates.
John Horgan began writing a neighborhood diary at the tender age of 9 in San Mateo. He's been doing much the same thing as a Peninsula journalist for decades ever since. You can contact him by email at johnhorganmedia@gmail.com.