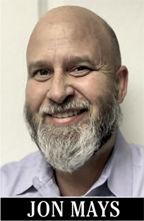 I have followed COVID data in San Mateo County very closely for the past 18 months and I have followed politics in San Mateo County for 24 years.
More on that latter statement in a bit.
When I first started following the data, it was mostly case counts and positives, with testing data. In an early conversation with our Health Officer Dr. Scott Morrow, he mentioned the data weren't the best, but it was what we had. He said the best indication of where we are with COVID was with hospitalizations. So every weekday at around 4 p.m., I check hospitalizations first. There is usually a little lag in the reporting, but the data are solid. It mentions how many people are hospitalized because of COVID. During our biggest surge, in January 2021, it was more than 200. When the number was in the single digits this summer, it was an indication that we were doing pretty well. When it rose as high as 63, it was a sign that things were going in the wrong direction and that the delta variant was emerging as a threat. The number ticked down to the 40s earlier this week, and now is in the lower 30s. That's significant progress and evidence we are heading in the right direction.
There is also testing and what is called our R-eff number. That number indicates how many people will be infected by someone here with COVID. When it was 1.4, that was cause for worry. Under 1 is a strong indication that spread is decreasing. Our current number is .85. In the testing data, there is the positivity rate. While case counts go up when testing rises, such as during the holidays or when school returned to session, an indicator of our direction is the positivity rate. On Sept. 1, our positivity rate was 3.1%, not bad, but higher than it should be. This week it dropped to 1.9%, which is good, but not as good as 1%, or heck, 0%, but we can dream.
There might be other data that indicate and reflect certain trends, but I've found these to be the most accurate.
Ancillary to this are data on our vaccination rates. They got to a high point very quickly once readily available and ticked up to more than 90% of our eligible population fully vaccinated. However, the percentages for Black, Hispanic and Pacific Islander populations above the age of 12 are in the low 60s. Theories on why this is abound but some are a lack of confidence in, or fear of, the government, the fact that many have already gotten COVID and feel the vaccine is not necessary, a lack of access or time or doubts and concerns about the effects. It is incredibly important to keep this in mind when speaking about those who have not gotten the vaccine or when considering rules such as those proposed — and rejected — in Millbrae last week that would require proof of vaccination to eat indoors and outdoors or to access personal services.
That proposal was based on politics, not on health data. That's dangerous, and possibly discriminatory to some in minority communities. We all agree the rules and regulations have been less than perfect throughout the pandemic but, one thing is for certain, they appear to be working. Dr. Morrow and County Health have not been arbitrary and have applied the rules at the appropriate times and when necessary. We grumbled but mostly complied, and have been successful in keeping our case volume relatively low. The delta variant is now on a plateau and concerns about spread at schools have waned. There are more case counts among children because there are more tests of children and asymptomatic or mild cases are being captured by these tests when they might not have been before. And that's good.
We are not out of the woods by any means, and this virus has been known to throw us for loops. Yet, we should continue to adhere to the health officer's guidance and not the unnecessary ideas of politicians that will create unneeded dissent and extreme inconvenience for minimal benefit. If the health officer's work was failing, it would be cause for political intervention. But it's not. Having followed local politics, I can recognize a grandstand couched in community concern.
No, instead, we should follow the guidance of our health officials based on their expertise and see that the time for dramatic moves and further restrictions is past. We look to be winding down, however, it might be best to keep the status quo through winter to assure cases don't tick up again. That means indoor masks in most instances, but no additional mandates or restrictions — especially not politically driven ones.
Jon Mays is the editor in chief of the Daily Journal. He can be reached at jon@smdailyjournal.com. Follow Jon on Twitter @jonmays.