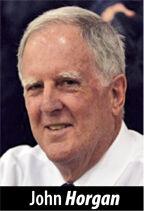 It began as a trickle; then, over time, it became a flood. That's the basic story of enrollment at what was known as San Mateo Junior College.
When the two-year school was founded in 1922, only 35 students were enrolled. Nearly 100 years later, the San Mateo County Community College District educates about 40,000 adults at the College of San Mateo, Cañada College in Redwood and Skyline College in Redwood City. 
The original campus in downtown San Mateo on Baldwin Avenue was actually the home of San Mateo High School. The J.C. shared those facilities for much of the 1920s, until a new high school campus was opened on North Delaware Street.
Through the decades, as the county grew, San Mateo J.C. (its named was changed in 1954) needed three sites (Coyote Point, Peninsula Avenue and downtown). Finally, a sparkling new complex was build in the western hills; it opened in 1963. 
That was followed by Cañada in 1968 and Skyline in 1969. The three colleges are located on a grand total of 395 prime hillside acres. Plans to celebrate CSM's centennial in 2022 are underway.
The story of the community college movement, begun in 1910 in Fresno, is far bigger than that of our own impressive system. Since 1910, the California two-year setup has expanded its reach dramatically.
According to community college officials, there are now 116 campuses the length and breadth of the state. They educate just over 2 million students. This is the largest system of higher education in the United States.
Tuition was free until 1984 when a $5 per unit charge was imposed. Now, it's $46. A discussion of what is now CSM will be conducted Sept. 11 at 1 p.m. at the county's History Museum in downtown Redwood City.   
THE CTA'S CURIOUS POSTURE: A year ago, as the pandemic picked up steam and public schools were shut down, the California Teachers Association became one of the state's key bureaucratic actors in making sure that classrooms would not reopen in any comprehensive way. 
The organization's argument centered on the membership's health and safety, along with the pupils. It focused on all manner of protective health protocol and procedures, especially the need for vaccinations.
Now, however, the vaccine argument is moot when it comes to adults. That well-documented and desired means of securing a teacher's (or anyone else's) well-being in the face of a virus that continues to circulate throughout the state and nation is readily available.
Inoculation against the disease has become the go-to answer, to the point where, just last week, the state's governor ordered that all California health care workers must be vaccinated no later than Sept. 30.
But Gavin Newsom has been reluctant to impose the same requirement for education employees.
The CTA, based in Burlingame, has remained committed only to voluntary vaccinations for its members. A blanket CTA order for K-12 educators has, so far, been conspicuously missing in action.
In a prepared statement late last month, the union emphasized the importance of vaccines but did not mention a membership mandate for a safe return to the classroom.
The CTA, if recent history is a guide, seems to want it both ways.
FANS READY FOR PREP SPORTS: Still in the bailiwick of local schools, the pandemic severely damaged the 2020-21 prep sports season.
For one thing, fans (those not related to athletes' families) found it almost impossible to attend high school contests. That is scheduled to change this month — as things now stand.
Along the Peninsula, it looks like fans, relatives or not, will be permitted to view outdoor contests in person. Masks would be optional. At indoor events, masks typically would be required. 
That's the current plan, even for the San Mateo Union High School District. That district went so far as to ban its schools from playing nondistrict indoor opponents until playoffs loomed this past spring. 
That move eliminated an official Peninsula Athletic League basketball schedule. Unless the adamant unvaccinated minority manages to cause a significant virus outbreak here, the 2021-22 fall season appears to be an encouraging go.
Football openers are set for Aug. 27. Cross your fingers.