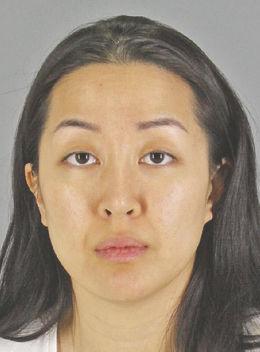 In the month since the long-awaited trial of a Hillsborough woman accused of murder began, family members, friends, criminalists and investigators have been brought to the witness stand to shed light on the 2016 crime that left a 27-year-old Millbrae man dead.
Charged with conspiring to murder the father of her two children, 34-year-old Tiffany Li has watched the testimony of a woman who was dating Keith Green when he disappeared the night of April 28, 2016. She has also taken in the testimony of one of her former co-workers who she collected a rent check from the night of the alleged murder, and watched Green's mother and others she was friends with more than three years ago serve as witnesses.
As the defense attorneys for Li and her 33-year-old boyfriend Kaveh Bayat, whom prosecutors believe pulled the trigger of the gun that killed Green, prepare to rest their cases, the question of whether Li and Bayat acted in concert with 44-year-old Olivier Adella to murder Green will be up to the 12 jurors selected for the trial. Prosecutors have alleged Adella was enlisted by Li and Bayat to dispose of Green's body at a site off Highway 101 in Sonoma County. They had long planned on calling the Burlingame man to the witness stand before he was taken into custody the day the trial was set to start on accusations he attempted to intimidate a defense witness.
In custody on no-bail status for violating the terms of his release from custody, Adella was removed from the prosecution's witness list and may face murder or accessory to murder charges at a later date.
Though prosecutors have alleged a custody battle likely fueled Li and Bayat's plot to murder Green, the defense attorneys for the couple have contended the pair has been wrongly charged with the crime, arguing the evidence points not to their clients but to Adella as the murderer.
Attorney Geoff Carr on Thursday brought Chris Coleman, a senior forensic scientist with the Hayward-based Forensic Analytical Crime Lab, to the stand to describe gunshot residue analysis and noise testing he had done at Li's Hillsborough residence at 625 W. Santa Inez Ave. A criminalist who took samples from Li's garage just after Green disappeared previously testified that gunshot residue was found on a golf bag and a table in the garage of Li's home near staining on the garage floor that tested positive for blood.
With some 24 years of experience doing gunshot analysis, Coleman said he would have done a comprehensive analysis of the entire floor of the three-car garage, noting he would have sampled any crevices in the floor and the corners and walls of the room to see if any gunshot residue had been swept away from the spot where a gun was believed to have been discharged. He also noted firing a gun can produce a cloud of gunshot particles and did not believe the one characteristic gunshot particle and three component particles found on the golf bag and table would be sufficient to prove a gun had been fired nearby.
Carr asked Coleman if he would have searched more parts of the garage than the golf bag and table considering Bayat, who lived with Li in her home at the time, was a gun owner and a SWAT team had gone through the home before the gunshot residue analysis had been done in April of 2016. Coleman said he would have investigated much of the garage and noted gunshot particles are microscopic and can transfer from place to place easily.
Carr also asked Coleman to describe a simulation he ran April 20, 2018, to test the noise produced by firing guns of three different calibers in the garage of Li's home, where it is suspected Bayat shot Green. Coleman said people standing throughout the multiple floors of the home and in the street nearby were able to hear all of the shots fired in the garage that day, and added he dampened the sound with a plastic soda bottle for one of the test shots and tested opening and closing specific doors in the home.
In the weeks since Deputy District Attorney Bryan Abanto alleged in his opening statements Li and Bayat took several steps in the weeks leading up to Green's disappearance to plot his murder, Abanto brought Li's former co-worker Vu Ho to the stand to describe his interaction with her the night Green was last seen. Angela Dunn, a friend of Green's mother who let him move into her Millbrae apartment after his break-up with Li in 2015, said she last saw Green the evening of April 28, 2016, just before he went to the Millbrae Pancake House to meet with Li.
Having previously worked with Li at Merrill Lynch, Ho said he had known her for about four years and would hang out with her socially while they were co-workers and after she left the company at the end of 2015. He said she connected him with one of her family members who owned a Burlingame apartment building at 1800 Trousdale Drive, and noted he typically mailed rent checks to a Belmont address at the beginning of every month.
Ho said Li contacted him in the middle of April of 2016 to let him know the address he should send the checks to had changed, so Ho mailed another rent check for the month of April to an address she gave him in San Mateo. According to Ho, Li directed him to mail the check after he offered to drop it off, and then contacted him after he sent the second check to inform him it was never received. The two made arrangements for Li to pick up the check at his apartment around 9 p.m. April 28, 2016, and Li arrived at around 11:30 p.m. with Bayat since Ho had been out later than expected in San Francisco that night.
Ho said Li and Bayat stayed for some 25 minute at his apartment catching up, and the three called a friend who had recently failed an exam for a financial license while they were there.
Cellphone records showing text messages, photos and videos sent between Li and Green, Li and Bayat and Li and Uta Bredenstein, Adella's wife, have been a focus for both Abanto and the defense attorneys throughout the trial. When Carr cross-examined Sgt. Jon Sebring with the San Mateo County Sheriff's Office, calendar entries on Li's phone showed she had scheduled regular meetings on her calendar so Green could visit their two daughters, including events on dates well after his death. Sebring also testified during Abanto's direct questioning that an April 29, 2016, note was extracted from Bayat's phone after Green's phone turned up in San Francisco's Golden Gate Park and Green never returned to Dunn's home. The note indicates Green's mother was convinced Li was the last person who saw her son, Green had said previously he was going to move to Ohio and Green lied about contacting a drug tester and owed others money. Bayat's note also indicated Green claimed he would never leave the kids, which Bayat wrote was far from the truth.
The trial for Li and Bayat will continue Friday and closing arguments may take place sometime next week.