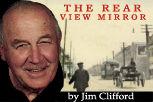 My car has been getting great mileage during the solitary confinement we are all living with, mainly because, like the old Duke Ellington song says, it doesn't "get around much anymore." With the freeway jams of today, my car's idleness is a plus. Looking backward in history's rear view mirror, it is hard to believe there was a time when people looked forward to "going for a drive in the country" which meant the Peninsula.
I ran across a captivating book entitled "Good Life in Hard Times: San Francisco's '20s and '30s." A chapter headed "On a Sunday Afternoon" recounts an auto outing from San Francisco. Although the scenery was spectacular, author Jerry Flamm makes it clear from the start that the driving conditions left a lot to be desired.
"No freeways connected Bay Area Cities in the early twenties," he wrote. To go from San Francisco down the Peninsula on the Sunday family trip meant driving along El Camino Real. One left early in the morning because a trip all the way to San Jose, for example, took a good two hours. A notorious traffic bottleneck existed on the stretch of El Camino Real that dipped down from Colma and ran between rows of cemeteries.
In 1929, the trip from San Francisco was cut back when two long awaited sections of Bayshore Highway opened. The additions enabled drivers to speed down almost seven miles to the South San Francisco underpass from Army Street (now Cesar Chavez) in San Francisco. Motorland magazine described the Bayshore improvement as a new "speedway," gushing that "it is difficult to realize that we have actually reached the era of one-hundred-foot wide pavements" and "wide super-elevated curves negotiable at 40 miles per hour."
According to one news report, 50,000 people witnessed the opening of the section of highway that broke through the wall of hills between San Francisco and San Mateo counties. The Bayshore itself was started in 1924 when El Camino overflowed with the increasing number of cars that families acquired. Fatal accidents were becoming more common.
What were some of the landmarks Flamm took in on his family outing? He saw fields covered with Brussels sprouts, cabbage, cauliflower, artichokes, turnips, carrots and beets. He also noted some "hog ranches up in the heights that would become the site of Westlake development homes."
"Looking toward South San Francisco and the Bay you could see an imposing castlelike structure on a high hill." This was the Reichardt Duck Farm, consisting of 22 acres covered with coops holding thousands of quacking ducks that would end up on the menus of Chinatown restaurants.
The Baden Kennel Club was a draw in South San Francisco, where turnoffs at Orange or Chestnut avenues "were alive six nights a week with the headlights of cars and buses carrying dog racing fans and bettors to watch greyhound races."
Flamm, whose book of recollections was published in 1978, goes on to recount more familiar landmarks: Tanforan race track, the eucalyptus trees that lined the road in Millbrae and Burlingame, and San Mateo Park, which was home to the San Mateo Blues semi-pro baseball team. Now long gone were San Carlos' short-lived "million-dollar" auto race track and Redwood City's pioneering airport.
Driving back to San Francisco one was even more conscious that you were in the country because there was "almost absolute darkness on El Camino Real." The only illumination of some long stretches of the road were the lamps on billboards.
The chapter ends on a poetic note. "Finally you rolled into the sea of light filtering through the welcoming fog of the City — and you were home."
The Rear View Mirror by history columnist Jim Clifford appears in the Daily Journal every other Monday. Objects in The Mirror are closer than they appear.