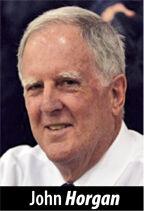 Steve Squires is preparing to leave town. He has to make a clean break by the end of the month on orders from his landlord. The San Mateo rental property he utilizes east of the Caltrain rail line is scheduled for redevelopment.
Squires, a very sharp and spry 84, has been a quiet commercial fixture at the same location on South Claremont Street in San Mateo since 1977 when Jimmy Carter moved into the White House.
Squires' chosen profession: Repairing, restoring, rebuilding, trading and selling antique slot machines. It's a unique specialty.
A visit to his cluttered, cramped, 3,000-square-foot shop last week was instructional. The Squires & Corrie establishment is literally filled floor to ceiling with slot machines, hundreds of thousands of parts and an impressive array of tools and machines. There is even a friendly 42-year-old caged cockatoo that greets customers at the front of the store.
Squires' office defies description. It is a riot of what appears to be splendid chaos and utter disorganization. But that's a false observation. There is method in the seeming madness.
In fact, Squires (his original partner, Glen Corrie, left shortly after the shop, now a veritable musty museum, opened 45 years ago) has his own unique filing system. But only he knows what it is and how it works.
He is in the process of moving his vast collection of slot-related stuff, including at least 150 antique gambling machines, to Stockton where he has a big warehouse and plans for a new, larger shop to augment it.
Squires said he has thousands of clients all over the United States and Europe. "I send out 5,000-6,000 Christmas cards a year," he said. He's a busy guy. He said his shop is "the only place like it in the country."
Squires' customers, for the most part, are individual citizens and collectors. It should be noted that slot machines (they must be at least 25-years-old) are perfectly legal in private residences. And they can be valuable.
Squires said some restored devices (the machines were invented late in the 19th century) can be worth all the way up to $500,000.
His telephone number is (800) 342-6737 if you care to give him a jingle before he departs.
HAPPY THE ELEPHANT LOSES ONE: Pet owners here and across this great land can breathe a sigh of relief, at least for the moment. That's because a New York court has ruled that an elephant living in the Bronx Zoo is not a human being.
Happy, the bulky creature in question, had been represented by animal rights advocates in an attempt to allow her to be moved out of the zoo to a more pleasant and attractive sanctuary.
They failed in their attempt. Happy, the court declared, was an animal without a human mental capacity. Thank goodness. The implications of an opposite decision would have been a problem.
Think about it for a moment. If Happy was declared to have the ability to think critically, reason, argue and somehow communicate, the legal community would have an entirely new (and substantial) clientele.
Lawyers for dogs, cats, dolphins, trout and any number of bird varieties (those foul Foster City geese come to mind immediately, by the way) could wind up with legal representation in courts of law all over the country. TV and radio would be brimming with ads for them. Ambulance-chasing would take on a whole new meaning.
Courtrooms in Redwood City and elsewhere would soon be brimming with all manner of fauna — finned, feathered, hoofed or clawed. Even snakes, salamanders and the unusually intelligent tarantula could receive legal representation for a wide variety of pleadings. Let's picture the scene as the judge intones:
"This court is now in session. I will hear the case of Fido v. Mr. and Mrs. Seymour Suburbanite of Princeton-by-the-Sea on the matter of the canine plaintiff's allegations of a lack of gluten-free kibble, a tight, chafing doggie door and an annoying flea collar affixed by the defendants."
The ramifications of a successful lawsuit would be far-reaching and disturbing. How about a public defender for a criminal coyote or a randy rabbit? The imagination reels.