The excitement amongst San Mateo High School students was palatable Wednesday as dozens worked to unload and count thousands of pounds of food that would eventually be served on the plates of those in need.
The school's annual holiday fundraiser is reaching a peak this week as hundreds of youth aim to reach their goal of raising 100,000 pounds worth of canned food. What started as just a few donation barrels about 30 years ago has grown into a widespread effort where students collect food and monetary donations to support Second Harvest Food Bank and Samaritan House.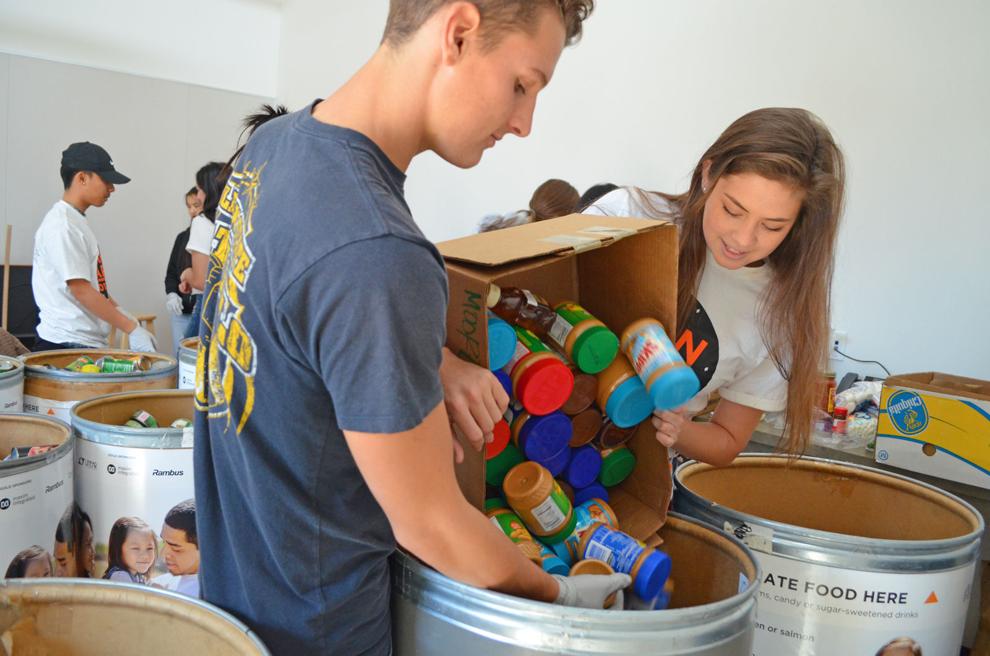 San Mateo High seniors Vida Wadhams and Marina Fess led this year's canned food drive they said is illustrative of the student body's values.
"The school definitely has a reputation for being filled with people who are of service," Wadhams said. "That's because we have a really diverse population both ethnically and socioeconomically, so we just have a deeper understanding of the different needs of people in our community because it's so personal to us."
Sara Cowey, who teaches leadership and has overseen the canned food drive for 18 years, said she's witnessed amazing efforts as the kids strive to improve upon the program year after year. While San Mateo High won a world record for its efforts several years ago, Cowey noted the real prize is the values students demonstrate.
"The kids talk about having empathy towards one another and the people in our community. Regardless of your background, everyone can try to make a difference," Cowey said, adding they "realize it could be anyone that they know, that they meet, that could be struggling with food insecurity. The Bay Area is probably one of the most expensive [areas] in the whole of California, so people are struggling to pay rent, to pay their utility bills, and with food."
Already located in a region where income inequality is marked by the juxtaposition of extreme wealth and low-income service workers, San Mateo High is considered to have the most diverse student body in the San Mateo Union High School District.
About 70 teams comprised of nearly 500 students have spent the last few weeks volunteering their time to collect donations, Cowey said as dozens of students Wednesday carted box after box of canned food across the San Mateo campus. The event's official time frame spans Nov. 11 through Nov. 28, but monetary donations may be offered online through Friday, she said.
As of Wednesday afternoon, they'd counted 97,500 pounds worth of food that included both monetary donations as well as cans, jars of peanut butter, juice, condiments and other edibles. The fundraiser will benefit the San Mateo-based nonprofit Samaritan House, which offers a variety of services from housing to financial assistance to low-income people ranging from seniors to children. Much of the donations will also go toward Second Harvest, which partners with nearly 300 nonprofits in San Mateo and Santa Clara counties to feed hundreds of thousands of people every year.
Clad in Star Wars-themed T-shirts, students this week are focused on the final tally for their "San Mateo High School Strikes Back Against Hunger" fundraiser.
Fess, also a senior, said taking a more hands-on role in this year's event strengthened her communication skills and helped her recognize the value of being innovative. This year, they incorporated a new raffle that raised $1,000. Fess praised the numerous students who volunteer their time and energy to make the event a success. For her, like others, she was eager to make a difference in her community, particularly during the holidays.
"I feel my personal purpose in life is to be that light in someone's life, especially when there's so many families that are enjoying a warm home and a fire, and there's a lot of families who don't even have a can of food to share," Fess said. She hopes students "can be that resource, to be able to provide that during a time when all families should be feeling that. That's really the most important thing that we're focused on."
While the school hosts a variety of annual events, the canned food drive is a popular chance for students to rally in support of the community, Wadhams added.
"This is the event where we literally all get to come together and demonstrate the fact that we care for each other and that we're willing to work hard for each other and understand that everyone deserves to have a certain level of comfort in the resources they have and the way they are able to live their lives," Wadhams said. "I think that's one of the reasons why people get so excited, because it's an opportunity to show love."
The 2017 SMHS canned food drive had a soft Nov. 28 deadline, but monetary donations are accepted through Friday. Visit smhscfd.com for more information.
Twitter: @samantha_weigel