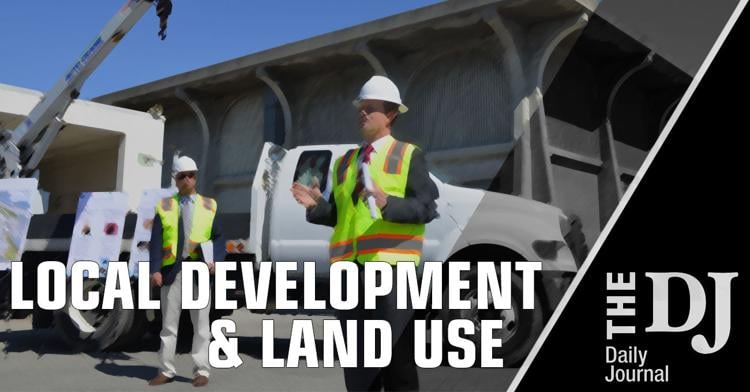 Stanford is gearing up for the second phase of development of its satellite campus in Redwood City with construction expected to begin in the fall.
Plans for the block bounded by Broadway, Hurlingame Avenue, Bay Road and Warrington Avenue — known as block C — were submitted to the city in November. They include two five-story 125,000-square-foot office buildings with amenities and a separate 4,000-square-foot "amenities building" attached to a six-level parking structure that can accommodate 1,086 cars and 63 bikes. The university did not offer further information about the amenities and whether they'd be available to the public.
Those buildings are in addition to Cardinal Hall, a 167,000-square-foot building on the same block that was constructed as part of phase 1. That building, which opened in March, is home to the Cardinal Café, a publicly accessible cafeteria on the first floor, with offices above. 
Phase 1 consisted of three other office buildings, a fitness facility, parking structure and childcare facility.
Planning approval for this portion of phase 2 is expected to come in the spring, with construction beginning in the fall and extending through winter of 2023.
"Redwood City already provides a great place to live, work and play for many Stanford employees, and we look forward to connecting more of our workforce with the civic and cultural life of the city and making further meaningful and lasting contributions to the community," said Stanford spokesman E.J. Miranda.
Stanford's Redwood City campus project, located in the Friendly Acres neighborhood and outlined in the Stanford in Redwood City Precise Plan, was unanimously approved by the City Council in 2013. It includes a grand total of 1.5 million square feet of building space and no housing. 
The block bounded by Douglas Avenue, Broadway and Highway 101 — known as Block E — is being developed by Stanford Health Care and includes construction of a new medical office building adjacent to the existing Stanford Medicine Outpatient Center. It includes up to 228,000 square feet of new medical and clinical; space, integrated parking within the building and a free-standing parking garage as well as open space with outdoor seating and wellness gardens for patients and staff. 
Site preparations and demolition are expected to being toward the end of the year with the new medical office building scheduled to be open for patient care about three years after the start of construction.   
Block D, which is adjacent to Block C, will not be developed until the university determines a use for the approved redevelopment of the site, Miranda said.
Stanford also recently bought a 175-unit apartment building on Franklin Street for its employees and post-doctoral students.