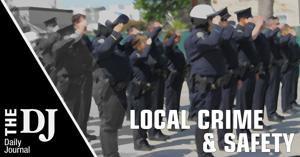 A man who tried to fire a gun that malfunctioned in the course of an armed robbery at a jewelry store in Redwood City in June was arrested Tuesday, according to police.
Officers responded Sunday, June 13, to the jewelry store on the 2300 block of El Camino Real and learned a man had entered with a black pistol which he used to threaten workers while demanding the safe and items from the display case. He racked the gun several times and tried to pull the trigger, but it ejected two live rounds. He then smashed the glass counter top with his right hand and ran out the door. He entered an orange late model Toyota Tacoma on Hancock Avenue and fled, according to police.
On Tuesday, July 20, detectives served multiple search warrants in Redwood City and Menlo Park after identifying a suspect. Angel Veraleana, 27, was arrested at one of the sites for attempted armed robbery, possession of a stolen firearm, brandishing a firearm and burglary. A stolen Sig Sauer pistol was located at Veragaleana's residence. A second firearm determined to be "ghost gun" was located in the carport of a residence that was targeted as part of the operation, according to police.
Anyone with information about this incident is encouraged to contact Detective Brian Luo at (650) 780-7619, or the Redwood City Police Department's tip line at (650) 780-7110.