Sequoia senior MJ Hartman may be more synonymous with the basketball court. Come the fall season, however, she's all in on tennis.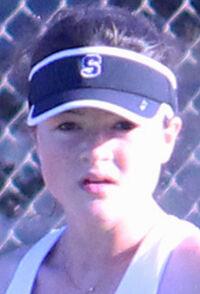 "I love it," Hartman said. "It's always been a focus on basketball season. But I always enjoy the tennis season."
The No. 1 singles player for the Sequoia girls' tennis team, Hartman is leading the Ravens' march to a repeat as Peninsula Athletic League Ocean Division champions. Undefeated through league play, Sequoia hasn't dropped a set to an Ocean Division opponent all year.
The Ravens (10-0 PAL Ocean) are making it look easy, much in part because they aren't getting much pushback in the lower PAL Ocean Division. Several teams aren't even fielding full rosters this season. Sequoia earned another 7-0 victory Wednesday at South City (0-9-1), with the Warriors suiting up just seven players, good enough for four singles matches and one doubles match. Sequoia won both its No. 2 and No. 3 doubles matches via forfeit.
This dominance in Ocean Division play dating back to 2019 speaks volumes as to the disparity between the PAL's lower circuit and the upper Bay Division. During the abbreviated 2020-21 season, Sequoia was only able to field a team by playing other teams within the Sequoia Union High School District, meaning every opponent — Half Moon Bay, Woodside, Carlmont and powerhouse Menlo-Atherton — were Bay Division teams.
"Huge disparity," Sequoia coach Cathy Schechter said. "Last year we were losing matches by a lot. And this year we're winning matches quite handily."
But a couple funny things happened along the way for Sequoia. For starters, the team found a new trio of coaches in Schechter, Alistair Jeffs and Patricia Carpenelli. The Ravens arrived back on the courts in October 2020 and found themselves without a coach, so Schechter and company stepped up.
And while some county schools struggled to fill tennis rosters, Sequoia's varsity numbers grew. The Ravens currently boast 25 players, though they traveled with just nine Wednesday. And while they didn't fair too well against Bay Division opponents last season, the growing pains have helped up their game this year.
"We played up and we got crushed," Schechter said. "It filled us with some humility, but it really helped them with their game."
Sequoia features two four-year varsity seniors at the top of its singles rotation in Hartman and No. 2 Ciara Murman.
Murman has been on cruise control for most of the season, and continued with a dominant 6-0, 6-0 performance Wednesday against Finley Liquete. While Murman's match was the first to be completed, that didn't stop her from getting plenty more reps. The senior spent the next 30 minutes pairing with a teammate to play a quick and competitive 1 on 1.
"Ciara is just a fighter," Schechter said. "She moved the opponent around and she'll stay out there all day if she has to."
Hartman has got plenty of fight in her as well. She showed it Wednesday in her 6-4, 6-3 win over South City's Casey So. In the final game, So led 30-0 but Hartman battled back to break So's serve and close out the victory.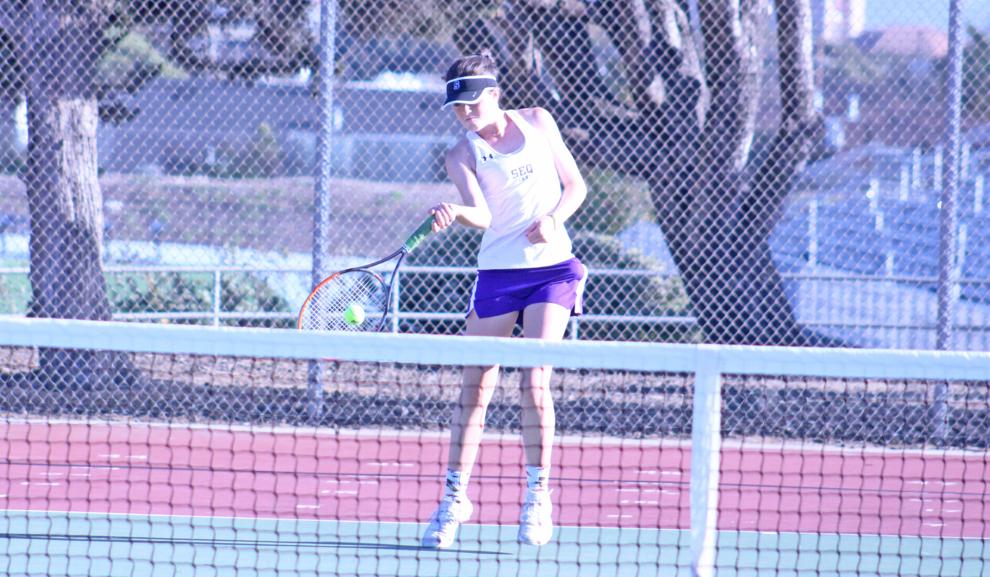 A shooting guard for the Sequoia girls' basketball team, and a member of the 2018-19 Central Coast Section Division I championship squad as a freshman, Hartman is in the midst of two coaching turnovers. Not only did the tennis team bring on a new trio of coaches in 2020, the girls' basketball team saw head coach Steve Picchi step down after last season. He will be replaced by Josh Yee in 2021-22.
Still, Hartman looks forward to dueling in out on the tennis courts in the fall.
"It's fun," Hartman said. "Some of my other teammates haven't seen the best competition. But I always have good matches."
On the No. 3 singles court, Sequoia's Josephine Ollman defeated Lauren Ta 6-0, 6-0; No.4 Asha Smith defeated Jasmeet Ghotra 6-0. 6-0; and No. 1 doubles Tessa Folan and Ciara Carroll defeated Scarlett Huey and Kathleen Kelly 6-1, 6-0.
"I think we've got a really experienced team and a really deep team." Schechter said.
In PAL Bay Division action, Aragon (5-5 PAL Bay) swept singles play to take down San Mateo (1-9).
Aragon No. 1 single Varsha Jawadi defeated Katie Hong 6-0, 6-3; No. 2 Jessica Fu defeated Lian Wang 6-1, 6-0; Anna He defeated Nisha Siva 6-1, 6-0; and No. 4 Simran Bal defeated Nia Balan 6-1, 6-0. In doubles action, Aragon No. 1s Phoebe Lin and Katie Yue defeated Keaton Fritts and Alicia Chan 6-4, 6-4; San Mateo No. 2s Lucy Ko and Zoe Louie-Dor defeated Shreya Arjun and Kexin Zhang 2-6, 6-2 (10-6); and Aragon No. 3s Annie Saban and Mana Ueno defeated Tatum Fritts and Annika Gurnani 5-7, 6-2 (10-6).