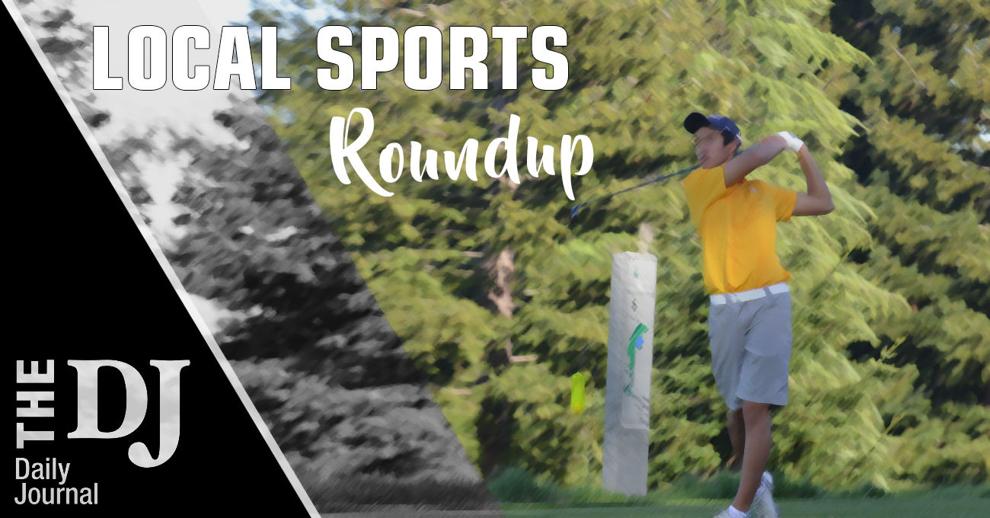 Track clubs rack up All-American honors
Menlo School's Kyra Pretre, Aragon's Emma Madgic and Half Moon Bay's Claire Yerby headlined a strong showing by local athletes during the USATF Junior Olympic Hershey National Championships in Sacramento last week.
That trio earned double All-American honors with top-8 finishes in their events. Yerby and Pretre were joined by Charlotte Tomkinson (Menlo) and Maya McCabe (San Lorenzo Valley) to lead the Menlo Greyhounds club "A" team to the 4x800 17-18 national championship with a time of 9:13.29. The Greyhounds "B" team — which featured Madgic, along with Marisa Castagna (Menlo), Miranda Jimenez (Palo Alto) and Sarah Perry (Woodside) — to finish third in the same event with a time of 9:38.95.
Pretre, Madgic and Yerby came back later to earn All-American honors in the 1,500, with Pretre capturing the 17-18 national championship with a time of 4:46.16. Madgic used a huge kick over the final 100 meters to grab second-place with a 4:47.04, while Yerby's mark of 4:49.37 was good for sixth.
The Greyhounds, along with the San Mateo Track Club, had strong showings in the 15-16 girls' 4x800 relay. The Menlo team of Lucy Paynter (Sacred Heart Prep), Maddie Sanders (Menlo), Meena Baher (Cate High School-Santa Barbara County) and Issy Cairns (St. Francis) finished third in a time of 9:58.88. The San Mateo team — comprised of Janie Morganroth (SHP), Maggie Sena (Hillsdale), Molly Wachhorst (Burlingame) and Morgan Robinson (Hillsdale) — finished eighth in a time of 11:03.40.
On the boys' side, Ishaan Singh (Evergreen) and Mason Elefant (St. Francis) were both two-time All-Americans. Elefant was a part of the Greyhounds 4x800 "A" team which took the 17-18 national title with a time of 7:52.80. Singh was part of the "B" team which finished fifth.
Elefant and Singh picked up their second All-American honors by finishing fifth and sixth, respectively, in the 1,500.
Menlo School goes national, has two named to all-tourney team
The Knights, the reigning CIF Division IV state champs, traveled to Maryland last week to take part in the Under Armour Best of Maryland Basketball Tournament, representing the only team from California and the only squad West of the Mississippi River.
The Knights were 2-3 in the tournament, going 1-3 in pool play before beating Roncalli-Indiana 50-34 in the fifth-place game.
Menlo opened the tournament with a four-point loss to North Central-Indiana, 49-45, a game in which the Knights were just 5 for 16 from the free-throw line.
The Knights bounced back to blow out Morris Catholic-New Jersey, 75-49, with four players scoring double figures. Meaia Makoni led the way with 19 points, Sharon Nejad finished with 18, Avery Lee had 16 and Coco Layton chipped in with 10 points.
Menlo dropped its next two pool-play games, falling to Fenwick-Illinois, 61-48, and St. Vianney-New Jersey, 40-36. But the Knights finished on a high note with the win over Roncalli.
Lee, an incoming junior point guard, and incoming-sophomore center Sharon Nejad were both named to the all-tournament team. Lee averaged 14 points and five assists per game, while Nejad averaged a double-double with 11 points and 10 rebounds.
Serra names Ferdinand new coach
After a year away from the pool deck, Justin Ferdinand will be back on the sidelines this season after he was named the Padres' new head coach.
Ferdinand, who coached water polo and served as athletic director at Half Moon Bay before taking over the AD position at Serra, sat out coaching the 2018-19 season as he adjusted to his new position with a new school.
During his time at Half Moon Bay, Ferdinand took the Cougars from the Peninsula Athletic League's Ocean Division to a third-place finish in the Bay Division in 2016. He led the Cougars to a pair CCS appearances in 2015 and 2016.