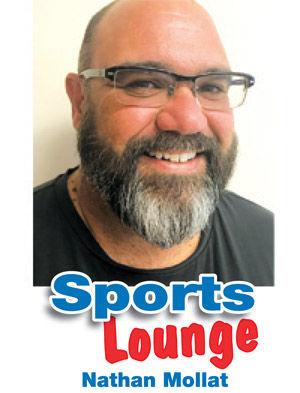 Boy, talk about a weekend news dump, one that changes the landscape of sports talk radio in the Bay Area. 
While many have moved on to streaming podcasts as they sit in traffic or make their super-commute from parts unknown, I'm still a radio guy and these changes are major when it comes to sports talk in Northern California.
First, Greg Papa, who was in the noon-to-3 slot with Bonta Hill on 95.7 The Game, failed to show up for his shift Friday only to stun everyone when it was reported Saturday morning he was joining "The Sports Leader" KNBR 680. Monday, KNBR made it official with a release indicating Papa had been signed to a multi-year deal.
Makes sense. Papa was named the San Francisco 49ers new radio play-by-play man earlier this year, replacing Ted Robinson. KNBR is the 49ers flagship station.
The two radio stations, the only local sports format in the greater Bay Area, continue to have an incestuous relationship as talent from both stations have bounced back and forth between each other over the last several years.
But Papa coming on board at KNBR caused a couple other dominos to fall as longtime KNBR host and Bay Area sports media icon Gary Radnich announced on Twitter Sunday morning that he was suddenly retiring.
Any coincidence that the arrival of Papa results in the "retirement" of Radnich?
But that's not all. Bob Fitzgerald, a KNBR host and longtime Golden State Warriors television play-by-play man (and who, ironically, replaced Papa on the Warriors broadcast) was also let go by station management.
Fitzgerald, a 1986 Serra graduate, started at KNBR in 1990. After a brief stint away from KNBR in the early 2000s, Fitzgerald has since teamed with Rod Brooks to form the "Fitz and Brooks Show."
Fitzgerald's ousting was among the most surprising, although he was arguably KNBR's most polarizing host among listeners. It's a little bit more than ironic that the arrival of Papa signaled the end of Fitz's run, who many believe took the Warriors play-by-play job from under Papa back in 1997. Both are longtime, professional broadcasters, however, and all this shuffling of talking heads is just the politics of the broadcast game.
Not only has the personnel changed, but so have the "teams" on each station. It was reported that Papa will reunite with former 95.7 The Game co-host John Lund to handle the 10 a.m. To 2 p.m. slot at 680. Lund had teamed with Papa when both were at 95.7 before Lund joined KNBR three years ago. Brooks will now team with drive-time host Tom Tolbert, along with Radnich's former partner, Larry Krueger.
At 95.7 The Game, Papa's former co-host Hill, who cut his sportswriting teeth with the San Francisco Examiner covering the high school sports scene, will move to the mid-morning, 10-2 shift with Matt Steinmetz and Darryl "The Guru" Johnson.
Hill should benefit the most as he no longer has to play the punching bag to Papa. Many longtime sports media followers were surprised when Papa selected the relatively inexperienced Hill as his co-host after Lund left the station.
Now we know why. Papa, who loves the sound of his own voice and conveys an air of superiority when it comes to his sports knowledge, rarely gave Hill any credit for any opinion — during the few times Hill could squeeze in a word edgewise.
Papa is as hard-core a sports guy you'll find and he certainly knows his stuff. But that kind of format can be draining hour after hour, day after day, which is why Radnich, in my opinion, was a breath of fresh air. There are scads of in-the-know sports talk hosts, but how many can link a sports personality to a member of the "Real Housewives" television series? That's what Radnich brought to the air.
With his retirement, Radnich completes one of the most beloved stints in Bay Area media history. He announced his retirement from television station KRON last year and his "retirement" at KNBR is the end of an era. He, along with sports talk pioneer Pete Franklin, were at the forefront of KNBR's turn toward all sports talk, all the time. At that time in the early 1990s, sports programming didn't start until noon — preceded by the Rush Limbaugh show and a one-hour cooking show. I used to work with a major general contractor delivering heavy equipment parts around Northern California. The truck I was assigned only had an AM radio. I couldn't WAIT for noon to roll around.
Radnich was the rare sports talk host who didn't get into the nuances of the cover-2 defense for three hours. You could almost hear Radnich winking and smiling on the air. He would be the one with the pop culture knowledge. He was the one who could take the discussion off the rails in a humorous way. At the end of the day, Radnich provided relief from the talk of the San Francisco Giants bullpen or who should start at quarterback for the San Francisco 49ers.
While the personnel may have changed, the format on both stations will remain the same. People talking about sports for people who love to talk about sports. It's just the dynamic will be changing. It's neither good nor bad. It just is.
Note to readers: This column has been updated to show Bonta Hill will move to the mid-morning, 10 a.m. to 2 p.m. time slot.