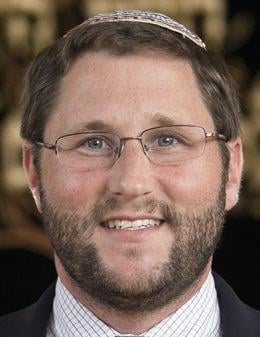 We are living in times filled with deep pain and heartache. If it wasn't enough to live through the COVID-19 pandemic, we have been reawakened to the pandemic of systemic racism that has been present in our country for generations. It is overwhelming and unbearable. As many of our faith traditions teach from the Book of Leviticus, "Lo Taamod al Dam Reyecha — Do not stand idly by the blood of your neighbor" (Lev. 19:16). Many of us are realizing we can no longer stand idly by.
Over the recent weeks and months, we have witnessed the brutal murder of George Floyd, a Black man, at the hands of four Minneapolis police officers. This horrific and unthinkable act of racism and bigotry is intolerable. When God said to Cain: "Where is your brother Abel?" And Cain said: "I do not know. Am I my brother's keeper?" Our answer must be: "Yes we are." Yes we are our brother's keeper. We must stand together and speak out against our country's history of systemic racism. We must speak out against racial violence and police brutality that led to the murders of George Floyd, Breonna Taylor, Ahmaud Arbery, Rayshard Brooks, Chinedu Okobi right here in San Mateo County, and countless others. We must say their names so their memories may endure forever as a blessing. We say their names to mourn those lives in solidarity and as allies with our Black brothers and sisters.
Yet, for people of faith, praying alone is no longer enough. Honoring their memories can no longer simply be in word only. It must come through action. For white people, it must come through deep and empathic listening. Through allyship with the Black and Latinx community. Through a commitment to unlearning and to understanding the injustices of racism, the rampant inequities that exist between people of color and white people. Through reflecting on white privilege and how that privilege has played a role in creating a world and institutions where bigotry and hate have become normalized. It is not enough to say that we are not racist. We must build a world that is anti-racist. We must affirm unequivocally that Black Lives Matter.
We must show up. We must use our voices thoughtfully, passionately and peacefully to catalyze change. We must also show up for our Black sisters and brothers. We must state that we see you. We hear you. We love you. And we will continue to be with you.
We must humbly listen without judgment. We cannot truly root out hatred and racism that have existed for more than 400 years until we are willing to hear the stories of the marginalized and persecuted. We must reach out to our Black and brown neighbors, to our Latinx neighbors, to our indigenous neighbors. We must elevate their voices.
We must learn. To understand the reality of white supremacy, white privilege and racism. In the same way that we have taught our country to hate and to spread racism and bigotry, we must now learn how to become anti-racist, uproot the seeds of racism so that we can plant anew.
We must invest in police reform. Retraining. Re-educating. Reimagining. Transforming our relationship with law enforcement that makes lasting change. We must advocate for our local leadership to invest in the health and wellness of the community. We must advocate for moral budgets at county and city levels that invest in programs to lift up the health and well-being of the Black community, of the Latinx community. Budgets that reflect our aspirations to value life, health, education and the common good, prioritizing the most vulnerable people among us.
Rabbi Abraham Joshua Heschel, after marching with Dr. King said: "Morally speaking, there is no limit to the concern one must feel for the suffering of human beings, that indifference to evil is worse than evil itself, that in a free society, some are guilty, but all are responsible." When we come out the other side of this pandemic, may we look back and stand proudly together celebrating that we took that responsibility seriously and recreated our world.
Rabbi Corey Helfand is the senior rabbi at Peninsula Sinai Congregation in Foster City and a member of the Peninsula Solidarity Cohort, a coalition of interfaith leaders working for the common good in San Mateo County. He is also a Global Justice Fellow with American Jewish World Service and clergy fellow with the Institute for Jewish Spirituality. Rabbi Helfand lives on the Peninsula with his wife and three children.