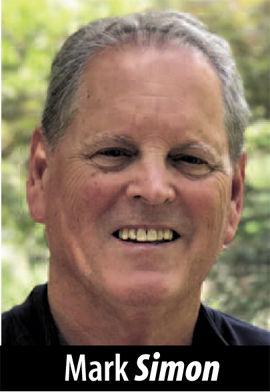 The No on Recall bus tour group, organized by U.S. Rep. Jackie Speier and including assemblymembers Kevin Mullin and Marc Berman and state Sen. Josh Becker, had one portable microphone with a modest speaker.
This was sufficient Friday morning at the tour kickoff at Westlake Shopping Center in Daly City and at Hillsdale Shopping Center in San Mateo. At the first stop, only No on Recall people were on hand. At Hillsdale, there was a handful of Yes on Recall people, but they were relatively low key.
At Sequoia Station in Redwood City, where the tour arrived late morning, however, there were a dozen or so Yes on Recall and three of them had their own bullhorns.
This highlights one of my long-standing lessons: Whoever has a bullhorn shouldn't.
At Redwood City, the Yes demonstrators waved signs at passing cars, and also in the faces of No on Recall people, and in the face of one loyal columnist who was just trying to take notes and a photo for the Daily Journal. Except that one Yes protester refused to step aside, and, in fact, tried to get in my way. To which I ultimately responded, "Get the bleep out of the way," only I did not bleep. I regret losing my temper.
Anyway, the Yes people with bullhorns yelled at the No people, including saying that masks are "part of a satanic ritual" and that people who wear masks are idiots and that mask wearers are "all a bunch of cult members," a particularly interesting thing to say in the presence of Congresswoman Speier. Other comments included that Gov. Gavin Newsom is a criminal and corrupt and other unspeakable things.
One man, standing on a low cement wall, repeatedly yelled through his bullhorn, "Yes on Recall" and "He's gotta go," and, a few times, "We don't want him now." The latter comment prompted another Yes demonstrator to say, "We never wanted him."
And that, it turns out, is the point.
The Yes on Recall side, if you read the statement presented in the voter pamphlet, simply disagree with Newsom on a number of issues. Some of the issues are big, such as his handling of the COVID crisis. But there is no grievance that rises to the level of malfeasance in office, violation of the law or other misconduct sufficient to justify the extreme action of the governor's removal from office slightly more than a year before he will face reelection.
As Assemblymember Mullin said at the Hillsdale stop, "The Republican Party knows they can't beat Gavin Newsom in 2022, so they are trying to shortcut the system."
I would offer you similar quotes from the speakers at the Redwood City rally, but I could not hear any of them over the shouting by the Yes on Recall demonstrators. It was clear their sole intent was to be disruptive.
And that, it turns out, is the other point.
This recall is entirely about mischief. The number of signatures needed to qualify the recall is 12% of the total number of votes cast in the last gubernatorial election. It is the lowest threshold of any state that has a recall law. The recall backers also were given an extra 120 days to gather signatures because of COVID.
This can only be seen as the tyranny of a political minority. The Republican Party holds no statewide office and the prospects, other than through recall, are not good. Registered Democrats outnumber registered Republicans 46.5% to 24.1%. Californians choosing no party preference are almost even with the GOP at 23.3%.
In San Mateo County, which used to be a repository of Republican officeholders, Democrats are 55.4%, Republicans 14.2% and NPP 25.5%. The party has stubbornly and effectively diminished its influence and its ability to win elections.
Meanwhile, as noted by Sen. Becker, the Legislature and the governor have passed a landmark budget, spending billions of dollars on early childhood education, housing and homelessness and public schools, catapulting the state from the bottom half of national spending on education to the top 5%.
Yes, Newsom frequently demonstrates a tin ear — his campaign ads seem to strike no meaningful chord. And it would be useful to hear him say once, and with feeling, that he understands people are angry and unhappy and that he shares their concerns.
This is dubious politics, not misuse of office. Quite simply, if the Republicans who qualified this recall for the election oppose his policies, maybe they ought to find someone who can defeat him in the next election rather than sow turmoil for its own sake.
Mark Simon is a veteran journalist, whose career included 15 years as an executive at SamTrans and Caltrain. He can be reached at marksimon@smdailyjournal.com.