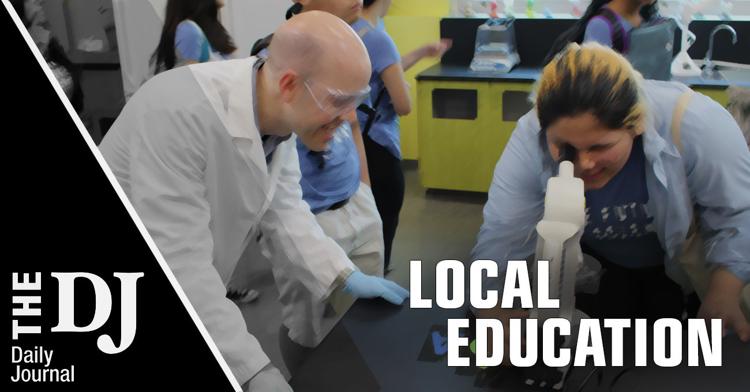 As the first school bell readies to ring at Menlo Park's new tech-centric high school TIDE Academy, the last-second decision to switch administrators raised eyebrows in the burgeoning school community.
Officials with the Sequoia Union High School District named Alison Silvestri principal of the school which is soon slated to open its doors to its inaugural class, replacing Shamar Edwards, who previously led an effort to plan and establish the school.
District administrators framed the turnover as a part of a comprehensive vision for launching the school, while letters recently sent to the school community signal a different version of the events.
"For the past five years, every change in leadership has been a part of a larger strategy aimed at leveraging different skills at different times for the sole purpose of being ready to educate our students on day one," said Superintendent Mary Streshly in an email.
TIDE Academy is expected to open later this month to a first class of about 115 students at a campus along the Bayfront in Menlo Park. The school's TIDE acronym, which stands for technology, innovation, design and engineering, will aim to weave core curriculum into a lesson plan emphasizing career technical education and project-based learning.
Edwards was initially referred to as principal at the school, but her role was later changed to executive director of Small Schools and Alternative Programs. Shortly afterward, Silvestri was named principal and Edwards took a job elsewhere as principal at Sunnyvale Middle School.
A message from Edwards to families planning to send their children to TIDE Academy illustrated some degree of discontentment with the administrative realignment.
"After the hiring of the new leader the vision for my role changed. I was removed from TIDE and it became evident that a partnership would not ensue as the school moved toward opening," she said in the statement.
The statement also suggested she sought other professional opportunities due to administrative differences.
"Heartbroken, I dug deep and ultimately elected to not dim the light that God has graced me with to work with children, so I will move on and accept what is out of my control. I have memories to last a lifetime and experience that will carry me forward," she said in the statement.
A community statement from Silvestri meanwhile painted her predecessor's departure in a different light.
"Having achieved all of her objectives, Ms. Edwards has decided that the time has arrived for her to accept a new challenge at a neighboring school district," said the statement. "Although saddened by her departure, the systems and procedures she has put in place will be the foundation that will ensure that TIDE Academy is successful from the moment our doors open."
Prior to her exit, Edwards replaced Mike Kuliga, who served as TIDE Academy principal as recently as 2018. Teachers Steven Wong and David Lai, who helped form the school's curriculum, have also recently departed, according to the letter from Edwards.
The apparent dysfunction was unsettling for Belmont resident Mark Goldstein, who is planning to send his son to the school partially due to the leadership and vision offered by Edwards, he said.
"As a parent, I feel blindsided," said Goldstein in an email.
District spokeswoman Ana Maria Pulido acknowledged the frustration around the issue, while pointing to the collective effort required to launch the new campus.
"We are also disappointed by the ED's resignation, we would have loved for her to be present for the official launch of TIDE. The development of TIDE has been a five-year journey, and numerous individuals have contributed to its coming to fruition. TIDE has never been about one person," she said in an email.
And as the final touches are placed on the campus in advance of welcoming new students, she requested the community's support through a period of transformation.
"This is an exciting time and we ask the community to trust the process and not be swayed by any negativity," she said.