Daily Journal correspondent
The Peninsula Symphony welcomed Emi Ferguson to the San Mateo Performing Arts Center for its concert Friday, March 22. This distinguished young flutist, known for her crossover as well as classical work, bridged the gap somewhat with her two concertos on the program.
For this concert, Ferguson reworked Antonio Vivaldi's Flute Concerto in D, Op. 10 No. 3, in the manner of Max Richter's work on Vivaldi's "Four Seasons," which was heard locally from the New Century Chamber Orchestra in February. She's given her Vivaldi concerto fuller orchestration, elaborated on her own flute part, and — since the concerto is titled "Il Gardellino" or "The Goldfinch" — added a section of wind solos borrowing birdsong from composers such as Messiaen and Prokofiev.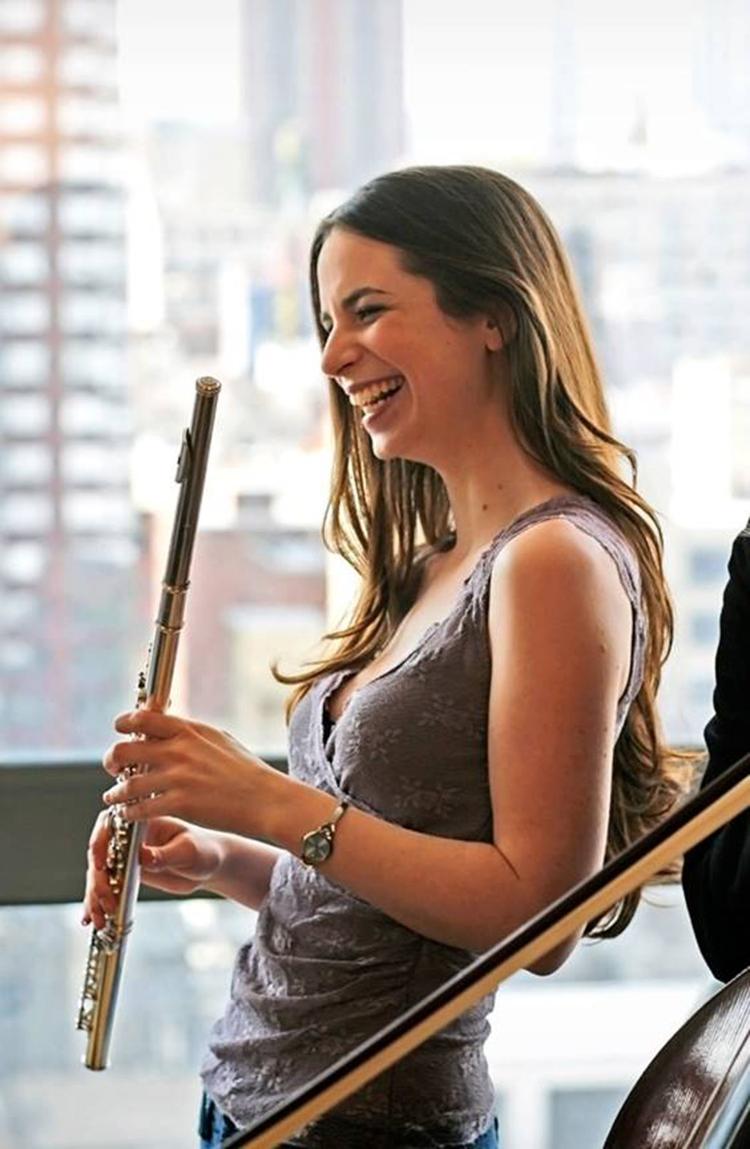 Vivaldi's original slow movement was replaced entirely with a new composition by Ferguson. Over languid oscillations from the orchestra, she spun a slow, continuous melody full of long-held notes demonstrating her impressive breath control. Flutists who specialize in long slow melodies tend to have a breathy tone, but Ferguson avoids that flaw. The slow movement and the duets with violin (concertmaster Debra Fong) in the finale were the highlights of Ferguson's performance.
Ferguson also played in a modest little piece by the German composer Carl Reinecke, his Flute Concerto in D, Op. 283. This pleasant though unmemorable work features gentle melodic lines for the soloist well suited for Ferguson's liquid, flowing tones. There's little in the way of brilliant display, and no cadenzas. In general it's quiet, conservative Romantic music in the mode of Robert Schumann, Reinecke's teacher. Reinecke lived a long time, and he was still writing like that in 1908, when he penned this concerto.
The concertos were conducted by music director Mitchell Sardou Klein. This year's new assistant conductor Hoh Chen stepped to the podium for a work by Ron Miller, a saxophone and clarinet player with the orchestra. Titled "Gears," it's inspired by the clockwork that runs London's Big Ben. In hearty, full-bodied tonal harmony, Miller outlines complex tick-tock rhythms in intensifying outer sections, separated by a slower middle, with melodies inspired by a bell's overtone series. The many wind solos, often in ad lib rhythm, were the best part.
Klein led the final work on the program, Antonín Dvorák's "Symphony from the New World" in E Minor, Op. 95. This was a bold, outspoken performance, full of booming horn calls and thunderous timpani beats. The rousing main theme of the finale made listeners want to march off somewhere, possibly to San Francisco to see if the orchestra there can play like this. Klein conducted with a strong emphasis on the clarity of the music, imposing vivid contrasts between the powerful allegros and the contemplative quiet sections. The Peninsula strings were at their best in this work, particularly in the soft conclusion to the slow movement.
The Symphony's final concert of the season, May 17-18 in San Mateo and Campbell, will feature the latest Irving M. Klein String Competition winner, Alex Zhou, in Tchaikovsky's Violin Concerto, plus mezzo Renée Rapier, veteran of both San Francisco Opera and Opera San Jose, in Mahler's "Rückert Songs."
Peninsula Symphony has also just announced its 2019/2020 season, which begins in October with pianist Joyce Yang in Rachmaninoff's "Paganini Rhapsody." The season continues with a Stanford choral concert in November featuring two modern masterpieces on Biblical texts, Stravinsky's "Symphony of Psalms" and Bernstein's "Chichester Psalms," a concert performance of Lerner and Loewe's "Brigadoon" in January, and a Holocaust memorial concert featuring the traveling Violins of Hope in March.