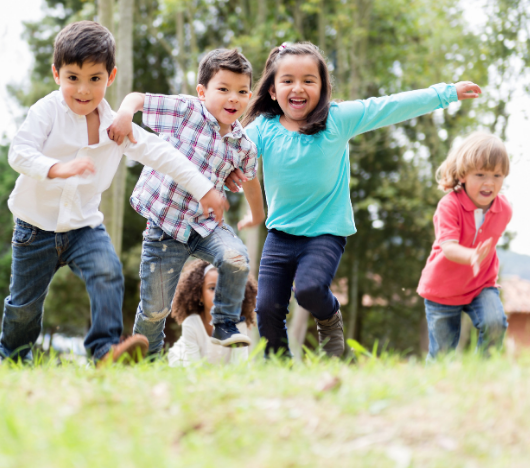 Set back on a quiet street, the Foster City Preschool and Daycare Center is a buzz of activity. A circle of sturdy tricycles were waiting for riders and a generous play area welcomes families. Colorful art projects fill the classrooms, and when I toured, math skills bingo was taking place in one class room, with brightly colored puffy balls instead of chips. In another classroom, kids were building with blocks and yet another, a farm scene was being set up.
The school opened in 1973 and has been serving the Foster City community ever since; the first preschool to offer full day care in the city. Today, the diverse community -- many families with two working parents -- rely on the teaching and love offered by the veteran staff. The school is open 6:30 AM - 6 PM, providing the many working parents the flexibility they need, living in the fast paced and pricey Bay Area. Many have long commutes and the early care is a life saver.
Started by Dr. James E. Gardner, a Psychologist and noted educational consultant, today the school follows mcuh of his curriculum and programs. For more than 45 years, the school has evolved and grown to serve the Foster City community. The program seeks to educate the whole child and focuses on academics, social and emotional development and play. The traditional work with the alphabet, shapes, colors and tracing words, to begin learning to read and write, builds a foundation. Art, music, performance and PE are all part of the kids day.
Foster City Preschool is located in a secure facility within the Parkside Elementary School grounds. The entrance gate has a digital pass-code based locking system to ensure the safety of your child. Teachers and staff have been educated in Early Childhood Development, trained in CPR and First Aid, and have received Community Emergency Response Training (CERT) training. All teachers have met and/or exceed the requirements of the Department of Social Services.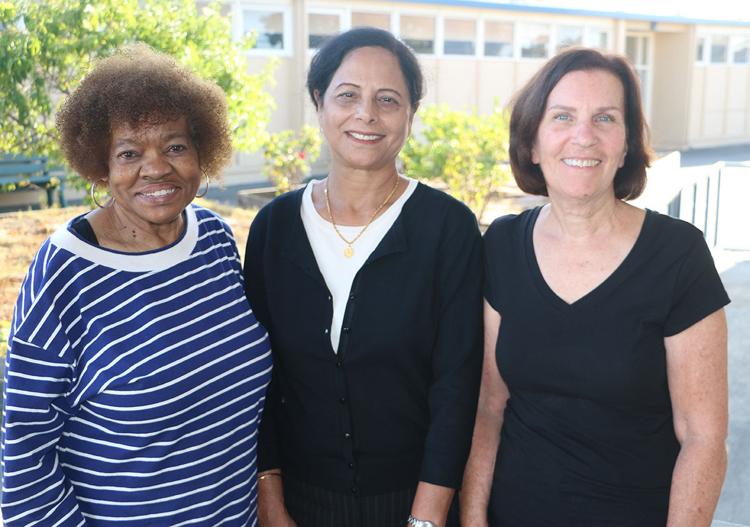 I met with Surinder K. Singh, the Administrator since 1985, Bettie Tillman, the Director since 1984 and Jan Pagan, the Assistant Director since 2006. Combined, these women have more than 75 years of early childhood education experience. The teachers are dedicated as well, and staff turnover is minimal; always a terrific indicator of a school that is well run. You can tell the seasoned and skilled Administrative team love what they do and really focus on each child. While we were chatting in the late aftenoon, an adorable little girl and her mom popped into the office. Her fancy barrettes were askew, presumably from a day well spent. She walked over to Bettie and asked for a -- seemingly promised -- sticker. Turns out, this little girl was having some trouble with behavior, and that day she had had a really good day! Bettie's grandmotherly warmth was unmistakable.
The school welcomes kids ages 2-6 and they accept kids who are not yet potty trained -- which is often an issue for preschools. Licensed for 96 kids, the curriculum is age appropriate and the faculty is there to nurture each child. The school offers a transitional kindergarten -- or TK-- for kids not yet ready for elementary school. The diversified curriculums for 2 and 3 year olds and 4 to 6 year olds focus on language development, gross and fine motor skills, arts and crafts, and music and science. There are computer and soccer classes, dance lessons, performing arts, children's entertainment, arts & crafts, and field trips. For those kiddos still in diapers, there is also a toilet training program. In my experience, kids do respond to peer pressure -- in a good way -- to master potty training. Both my boys learned at their daycare and it was a great relief to not have to struggle with it much at home.There are many current students with parents who were also students! Located in Foster City, some parents work in SF, others Silicon Valley and even a few local celebrities or sports figures have sent their kids to the school. 99% of alum go to college and Surinder and Bettie proudly noted how many have gone on to become doctors, lawyers and tech executives, among a wide variety of alum careers. Graduates come back to visit often, recognizing the importance of that strong early childhood education experience.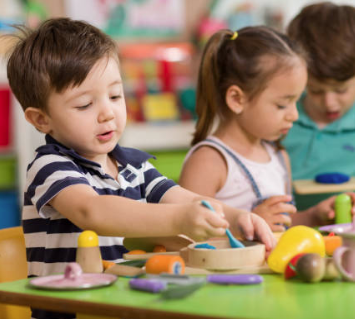 The tuition costs are competitive and include lunch and snack. Foster City Preschool and Daycare Center proudly partners with Tomatina restaurant of San Mateo to provide delicious and nutritious catered lunches for students. These hot lunches are prepared with only the freshest ingredients. A vegetarian lunch is offered upon request. Catered lunches are provided to all children attending the preschool at lunchtime, at no additional charge. The food is fresh and the kids eat family style. A typical menu includes a variety of Italian entrees and steamed veggies or salad, as well as fresh fruit and the occasional freshly baked cookies. The team says pasta with alfredo sauce and chicken on the side, is a big hit. Kids even prepare their own snack once a week in a cooking unit.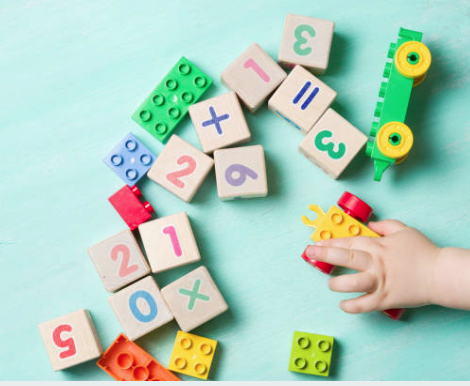 One parent says: "Both of our children graduated from Foster City Preschool and we couldn't be more pleased with our choice. The clean, bright, cheerful environment – not to mention the warm, healthy lunches – was the first of many reasons we were drawn to this school. From day one we were impressed by the professionalism of the teachers and staff, the structured curriculum and organized playtime. Both of our children loved the creative art, music and dance instruction – which provided a great balance to the academics. From a behavioral and academic standpoint, both of our children were well-prepared to enter Kindergarten because of the excellent care and instruction they received at Foster City Preschool."
Parking and pickup is easy. I remarked how nice it would be to have that walk to the car with my child to discuss their day. It's so easy these days to have our heads in our devices. To have that precious time, holding hands, with eye contact is priceless. Kids love to tell you about their day; you never know what great nuggets of information they will share.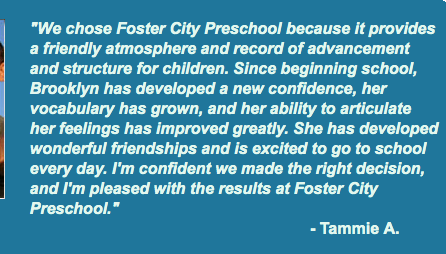 The Foster City Preschool and Daycare Center is a haven where kids can grow, learn and develop academically, physically and emotionally. They will feel loved and nurtured, and develop a love for school. The deep rooted and successful programs at the Foster City Preschool and Daycare will enable your child to meet the challenges of the adult world and thrive.