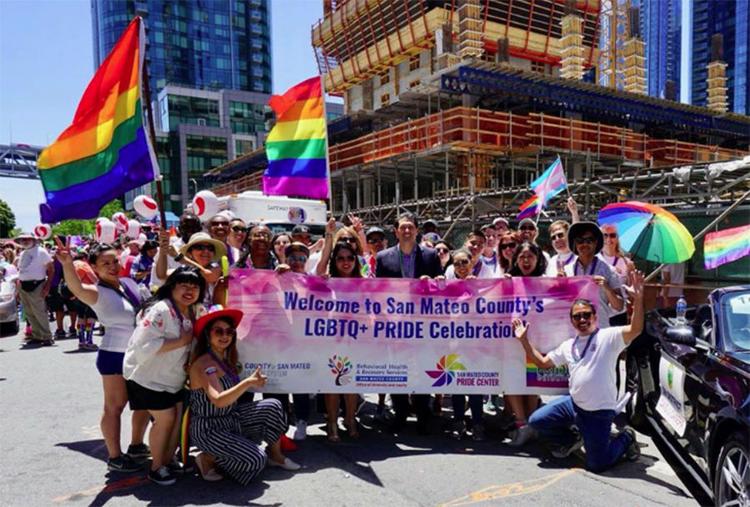 The San Mateo County Pride Center is proud to be partnered with the 7th Annual San Mateo County LGBTQ+ Pride Celebration, this Saturday 11AM to 5PM in Central Park, San Mateo.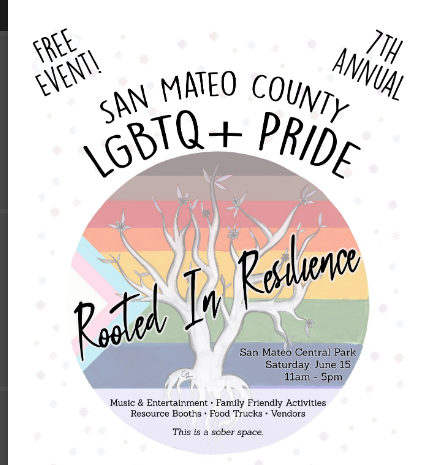 The Pride Celebration is an opportunity to champion inclusion and wellness for the LGBTQ+ folks and allies in San Mateo County.
This years event is particularly momentous as it is the 50th anniversary of the historic Stonewall uprising in New York and is themed "Rooted in Resilience".
Come out and enjoy the day's festivities, which celebrate LGBTQ+ Pride Month and support San Mateo's diverse community. Free and family-friendly, this weekend's festival will feature food trucks, entertainment, activities for all ages, as well as art and merchandise from local businesses. Enjoy live music all day with performances by DJ Lady Char, The B2_s, Jesús U. BettaWork, the West Bay Community Band, and more. There will also be over 50 local vendors and resource booths in addition to an STI/HIV testing truck. Don't miss out on this fun day in the park to commemorate the community's effort to build a safe space in San Mateo County for people of all gender and sexual identities. This event is welcoming and inclusive to people of all ages and is an alcohol and substance free space.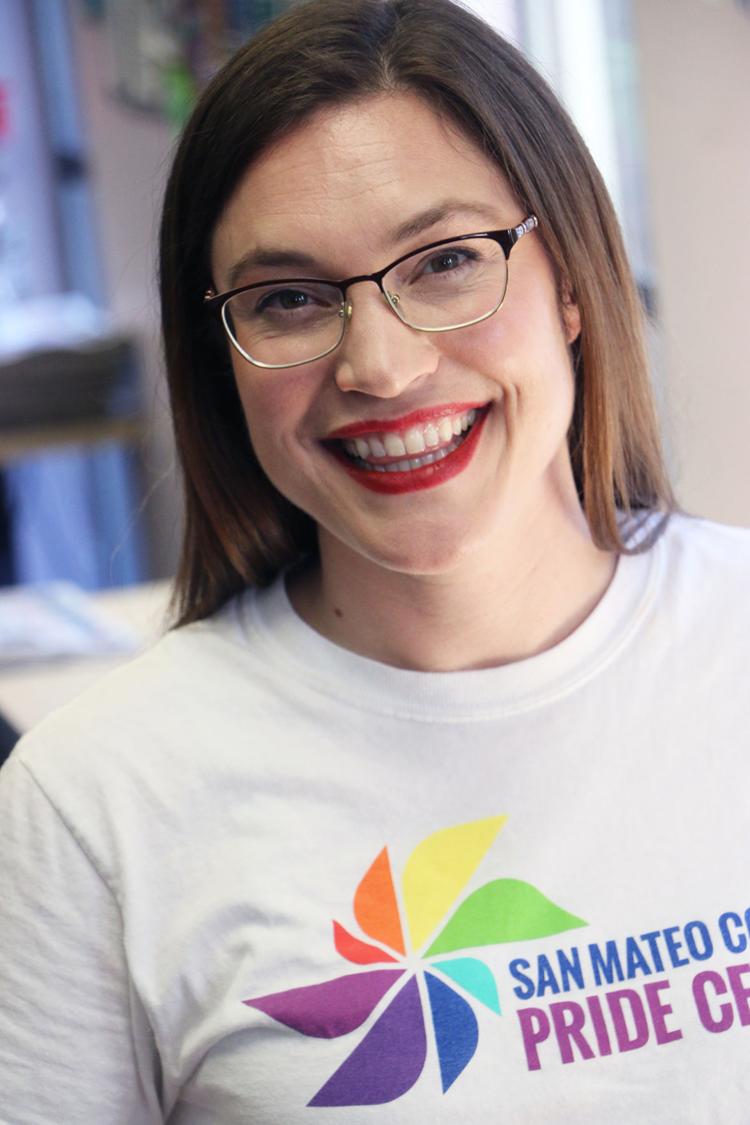 Organized by and for the local LGBTQ+ community, this weekend's Pride celebration is organized thanks to the dedication of countless volunteers and people like Lisa Putkey, the San Mateo County Pride Center Program Director. "I love San Mateo County's Pride Celebration because it is truly rooted in local community voices, needs, and dreams," said Putkey in regards to the upcoming festival. "From the grassroots volunteer organizers to the community groups present, we create an inclusive and safer space to uplift the queer and trans folks on the Peninsula."
In addition, this year marks the second anniversary of the San Mateo County LGBTQ+ Pride Center, which opened its headquarters near downtown San Mateo in 2017. Since its inception, the San Mateo County Pride Center has provided a plethora of services to thousands of LGBTQ+ residents of all ages with specialized programs for youth and older adults. The center offers a vast array of programs that support LGBTQ+ individuals and families, such as clinical services to help people face the unique challenges that are suffered in the LGBTQ+ community. These clinical and mental health services include individual counseling, family and partner counseling (Medi-Cal, Sliding Scale), peer counseling and mentorship, and case management.
A vibrant and resourceful community space, the San Mateo County LGBTQ+ Pride Center hosts educational workshops, affordable housing programs, training programs for local schools and health providers, regular drop-in hours, and meeting spaces. With crafternoons, book clubs, movie nights, and intergenerational dinners, the center is also just a fun and welcoming place for social gatherings. The center has many peer support groups such as LGBTQ+ Youth (10-18), Grown Folks (18-30), Coffee Break (50+), Queers on the Autism Spectrum (18+), Polyamory Peer Power (18+), Gaymer's Group (18+), Trans Social Group (18+), Gay Men's Group (18+), and more. You can even access various resources at the center by checking out a book at the LGBTQ+ library, using the computer lab and web based media center, and obtain more information or referrals you may need. Ensuring that the space is inclusive to all, the Pride Center is a substance and alcohol free zone.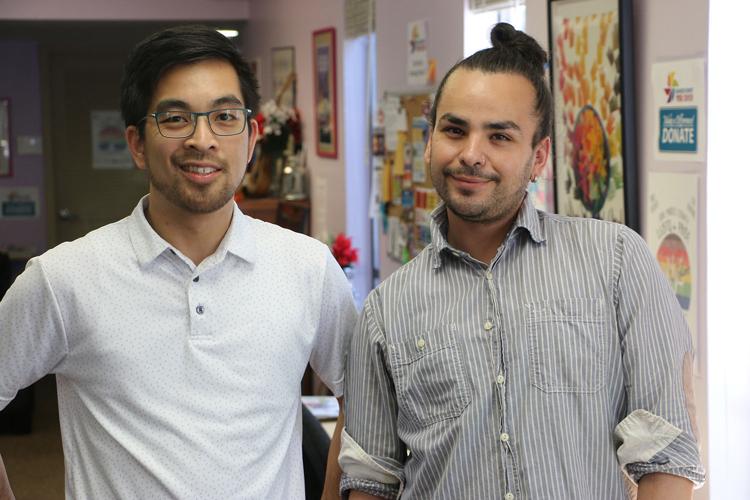 Beyond just providing help and social services to SMC's LGBTQ+ community, the center's mission is to provide a much needed safe space for people of all ages, sexual orientations and gender identities, and a place where community members can just hang out, volunteer, and thrive. A community force, the San Mateo County Pride Center is a creative collaboration between four partners agencies: StarVista, Outlet of Adolescent Counseling Services, Peninsula Family Service, and Daly City Partnership, all in partnership with San Mateo County Behavioral Health and Recovery Services. This weekend's pride celebration has been organized by the PRIDE Initiative, the San Mateo County Pride Center, and the County of San Mateo LGBTQ Commission.
For more information about the San Mateo County Pride Center or to donate to the center, contact the center at info@sanmateopride.org or 650-591-0133
Visit www.SanMateoPride.org for upcoming events, sign-up to receive updates, and be sure to check out the center at 1021 S. El Camino Real, San Mateo. Hours: Monday-Thursday 10am-7pm and Fridays 10-9pm.

Upcoming events hosted by the San Mateo County Pride Center
San Mateo County LGBTQ+ Pride Event: Rooted in Resilience. Saturday, June 15th: 11AM-5PM. San Mateo Central Park, 50 East 5th Avenue, San Mateo, CA.
Gay Pride Luncheon for Older Adults 50+. Monday, June 24th: 6:30PM-8PM. San Mateo County Pride Center: 1021 S. El Camino Real, San Mateo, CA.
Trans Social Group. Monday, June 17th: 6:30PM-8PM. San Mateo County Pride Center: 1021 S. El Camino Real, San Mateo, CA.
LGBTQ+ Youth Group Ages 10-18. Thursday, June 27th: 6PM-7:30PM. San Mateo County Pride Center: 1021 S. El Camino Real, San Mateo, CA.
A special thank you to this story's proud sponsors including, Annie Appleby of Yoga Force, Michelle Pappe of All State Insurance, 25th Ave San Mateo and Craig and Derrick of Reach and Teach, 25th Ave San Mateo.