The Women's Decathlon National Championships are returning to College of San Mateo, August 21-22.
This will be only the second standalone "annual" national meet for women to contest all 10 events of the decathlon, such as the men who competed just two weeks earlier at the Tokyo Olympic Games – determining the "greatest athlete."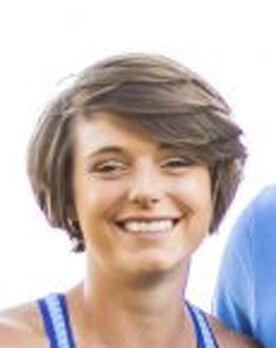 Jordan Gray set an American record of 7,921 points as CSM staged the first formal championship meet on June 22-23, 2019. She is expected to defend her title and hopes to become the first American to better 8,000 points.  
The Pandemic prevented most competition in 2020. Gray, however, did produce the season's "world leading" performance of 7,627 points, finally getting into a special competition in Marble Falls, Texas, on Oct. 3-4. She broke her own world decathlon long jump record, jumping 6.19 meters (20 feet, 3 3/4 inches).
Gray had set the former record of 6.18 while setting an American and North American area decathlon record in the 2019 competition at CSM. She ranks No. 3 all-time in the decathlon and hopes to challenge the world record of 8,358 points, set in 2005 by Austra Skujyte of Lithuania. Gray has already this year improved her individual long jump best significantly to 21 feet, 2 inches.
 Competition begins on Saturday, August 21, at 1 p.m., and at 11 a.m. on Sunday.  
 CSM has long been the USA base for the combined events. In 1964 then CSM student Pat Daniels (Connolly) was the first to compete in an Olympic multi-event competition, the pentathlon – as women were finally allowed to contest five events (compared to the 10-event men's decathlon). She finished seventh. 
Connolly still lives on the San Francisco Peninsula, in Half Moon Bay. The three-time Olympian remains an avid supporter of the women's decathlon. She was one of the youngest women ever to represent the USA in the Olympic Games, competing in the 800 meters in 1960 after her junior year at San Bruno's Capuchino High School.
Women currently compete in the seven-event heptathlon at world and Olympic meets. The women's decathlon is formally recognized by World Athletics, however, and annual marks are listed.
The decathlon adds two key field events for women, the pole vault and the discus throw to the existing menu of long jump, shot put, and javelin throw. The running event program changes from contesting the 200 and 800 meters to running the 100, 400, and 1,500 meters. The hurdles remain for both genders.
This championship meet in Silicon Valley is an open meet for interested qualified athletes. Two early local entrants are San Francisco's AnnaLee MacGregor and Hanna McPhee.
The Women's Decathlon Association is staging the meet, in conjunction with partner Parity, a leader in the movement for parity in women's sports. For further information, contact meet director Becca Peter, becca@polevaultpower.com.