"Get it in where you can fit it in" seems to be the mantra for some high school sports as they continue to slowly come back online. While some schools and districts are doing one thing, others are doing another.
Take volleyball, for example. As teams in the Peninsula Athletic League weigh a return to the court, the Sacred Heart Prep and Notre Dame-Belmont teams opened their abbreviated season Tuesday in Belmont.
But like a meteorite, the Gators and Tigers will shine brightly — but only briefly. Combined, the teams will play seven matches over the next three weeks.
"More than anything, we wanted to give the senior girls a chance to play a season. All of our kids already had spring commitments, so we did our best trying to get in a season," Frank Rodriguez, SHP's assistant principal of athletics said prior to the game. "I don't think any of us were expecting to play volleyball this year. All of a sudden, it was happening. [The players] were all for it, even if it was just a small three-game window."
With such uncertainty, the Gators didn't even get into the gym for a practice until last Thursday. Notre Dame-Belmont, on the other hand, had been practicing for two weeks. When the Tigers found out they would be playing, it made all the waiting and work worth it.
"I know for me, knowing [the practicing] was leading up to a game was something that really motivated me," said NDB senior outside hitter Abby Miller, a University of Pacific commit. "I was bummed when I found out it would just be four games, but I think we appreciate what we're getting."
Miller had a strong all-around match in helping lead the Tigers to a 25-16, 23-25, 25-9, 25-20 win over the Gators. Miller finished the match with a game-high 11 kills, while also adding three blocks for points and notching three service aces.
"Abby was solid," said NDB head coach Jen Agresti. "I know she can do so much more, so it was a good effort."
Ciara (pronounced "Kira") Mangan, gave a glimpse of what the future of NDB volleyball may look like as the sophomore possesses a hammer of a right arm as she finished with 6 kills, many of the booming variety.
"She's super athletic," Miller said of Mangan. "I remember watching her play JV and she just has a cannon."
Anee Guilhot, a senior setter for the Tigers, led a strong service game for NDB as she finished with 5 aces. Miranda Chan, another senior hitter for the Tigers, added 7 kills.
Sacred Heart Prep was paced by senior Sofia Wheeler, who finished with 7 kills. Sophomore Kellyn Zirn added 6 kills and junior Dani Parker picked up 5 kills.
Despite their lack of practice together, the Gators certainly gave the Tigers all they could handle. The first set was a back-and-forth affair. Every time it appeared Notre Dame had taken control of the game, SHP would go a run to get back in it.
With the Gators leading 6-5, a Miller kill tied the score at 6-all and gave the Tigers a sideout. Miller took over serving duties and the Tigers went on a 5-0 run for an 11-6 advantage. Miranda Chan had three kills during the run, sandwiched around a pair of SHP hitting errors.
When SHP libero Sarah Line absorbed a huge Miller attack to keep the ball up, Teja Ueligitone finished the sequence with a dump set to cut the NDB lead to 16-13. The Tigers were up 19-16 when they ended the game on a 6-0 run.
Game 2 was much like the first. The Gators controlled the first half of the second set, building a 15-9 lead following a Notre Dame serve into the net.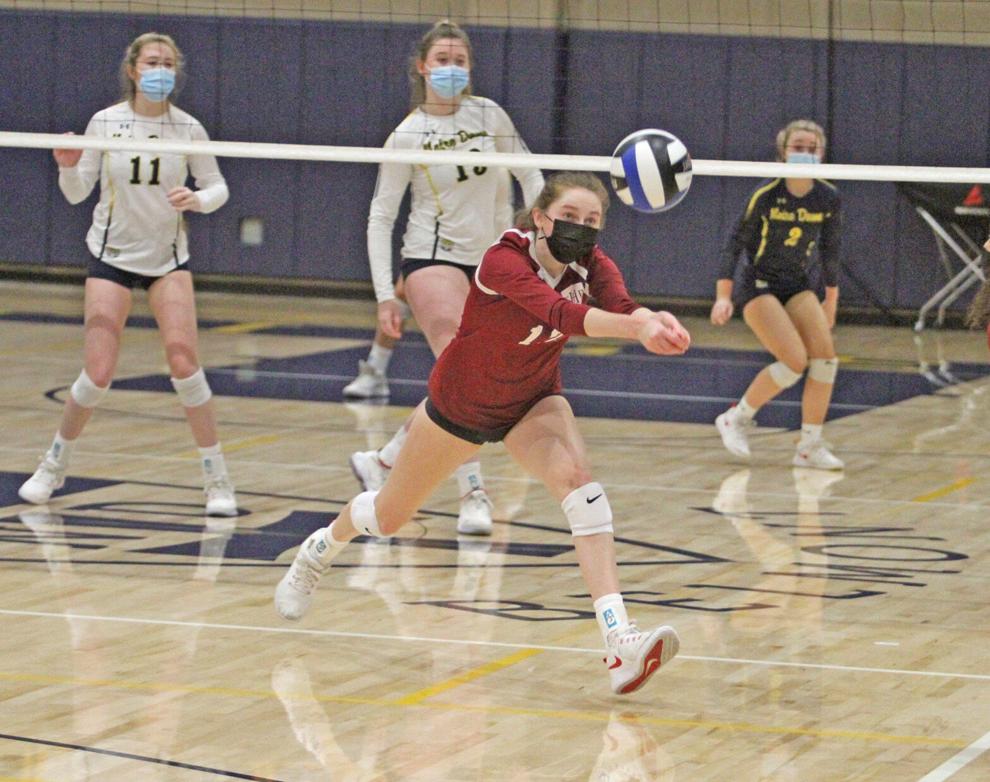 But the Tigers rallied. A SHP error, followed by a Miller ace and three kills from Mangan closed the Gators' lead 17-16. There were then four ties the rest of the way. SHP tied the game at 23-all following a NDB net violation and the Gators closed out the game with a kill from Clara Degois-Sainz and another NDB error.
That Game 2 loss seemed to light a fire under the Tigers, however, as they routed the Gators in Game 3. Notre Dame won 10 of the first 13 points for a 10-3 advantage. The Tigers were leading 10-6 when they went on to win 8 of the next 9 points to take a huge 19-7 lead. They then finished with a flourish, winning 7 of the final 8 points to take the game, 25-9.
It appeared the Tigers would do the same in Game 4 as they jumped out to an 8-0 lead. But the Gators did not fold. When Zirn notched a kill off the NDB block, the Gators were down just 12-10. It would be as close as they would get, however, as the Tigers kept them at arm's length before closing out the match with a 25-20 win.
"If definitely felt different," Miller said. "We didn't know what to expect, but we still played Notre Dame-Belmont volleyball."