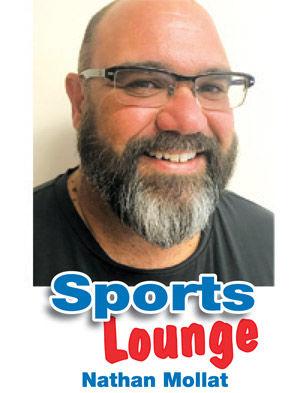 You may have noticed — or not — that my byline was missing from the pages of the Daily Journal last week.
Well, I'm back in the office now following an 11-day vacation to recharge my batteries as we are now a little more than a week away from the start of the 2019-20 high school season. Practices can officially begin Aug. 9.
Since my wife recently started a new job and thus had not accrued enough time to qualify for vacation time, my week-plus away from the office was actually a "stay-cation." We did manage a quick weekend getaway to Auburn, but the rest of the week it was the kid and I left to decide what we wanted to do.
I looked at it as an opportunity to do what I wanted to do instead of having to hold a family conference to decide on our activities. Monday was spent living my dream of being a race car driver as we hit the local go-kart track. Last year, it was a dune buggy afternoon at Pismo Beach, this year, go-karts.
While race car drivers may not be considered athletes in the traditional sense, they certainly have to be in shape to be a full-time, competitive driver. I was huffing and puffing halfway through my second race of the day, but still managed a couple of second-place finishes.
Tuesday was $5-movie-day at the local theater and the only movie that fit in my time frame was the buddy-cop movie, "Stuber." It was pretty formulaic, with former WWE wrestler David Bautista playing the rough-and-tumble cop and "Silicon Valley" star Kumail Nanjiani playing the mild-mannered Uber driver. Needless to say, I'm glad I spent only five dollars on the movie.
Wednesday I had big plans on catching the Chicago Cubs-San Francisco Giants matinee at Oracle Park — until I saw ticket prices. Dynamic pricing is alive and well, thanks to the Giants' recent run of success. The cheapest tickets I found were $48 in the third deck down the left-field line. Bleacher tickets were $84.
I didn't go. But I did the next best thing: I headed down to my local pub and watched the game there, spending a lot less money on much better beer and food.
Thursday I stumbled across a weird conglomeration of custom art framing store, art gallery — and pinball arcade. Apparently pinball is alive and well as most of two dozen games were of recent vintage.
The rest of my time off was pretty tame: date night Friday, a Santa Cruz trip Saturday, an afternoon of live music Sunday and then a mental prep day Monday to get ready to come back to work.
Now we enter the doldrums of summer, with not much going on until we run our annual football previews later this month.
Is there any coincidence between my vacation and the Giants going 7-3 during that time? It seemed every time I checked in on a game, the Giants were winning a one-run game in dramatic fashion.
Since I started my time off on Friday, I was hoping to leave the office early Thursday night — only to watch the Giants and New York Mets play nearly two games in a 16-inning, 3-2 Giants win. Friday night, on our drive to Auburn, I totally forgot the game was on. When I finally flipped on the radio, it was just in time to hear the Giants beat the Mets 1-0 in 10 innings. Out sightseeing Saturday, I missed an 11-4 loss, but got home just in time Sunday to watch Mike Yazstremski hit a walk-off home run in the bottom of the 10th.
After taking 3 of 4 from the Mets, the Giants followed that with a series win over the Cubs and then finished up my vacation with by winning 2 of 3 from the Padres.
I come back to the office Tuesday? Giants promptly drop a 4-2 decision to Philadelphia. Maybe I should take some more time off if the Giants are to make the playoffs.