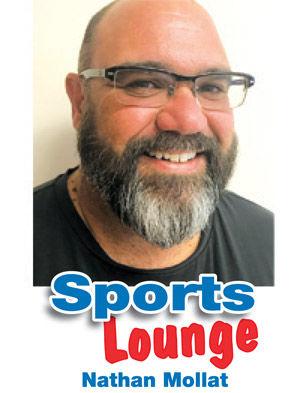 Despite seeing a bit of a resurgence in wrestling on the Peninsula over the last few years, it's always hard to know how strong some teams will be.
A lot of times, a team match can be one-sided but, in most instances, there is at least one individual dual that can have potential postseason ramifications. During the Half Moon Bay-San Mateo PAL dual-meet opener last Thursday, that "one" match was the potential heavyweight showdown among two of the best in the Central Coast Section — San Mateo's Soane Kolokihakaufisi and HMB's Caspian Grabowski.
Alas, the match never came to fruition as Grabowski and the HMB coaching staff had a decision to make — wrestle Grabowski against a guy that could have PAL and CCS ramifications, or, go to a tournament that will have state meet implications.
So while Kolokihakaufisi went on to a pin in short order in the final match of the Cougars' 57-18 win over the Bearcats, Grabowski was instead preparing to participate in the 12th annual Battle for the Belt in Temecula over the weekend.
Wrestling in one of the toughest tournaments in the state, Grabowski, ranked No. 3 in CCS and No. 23 in the state by CCSrank.com, took home an eighth-place finish during six matches against some of top competition California has to offer, going 3-3.
After a first-round bye, Grabowski opened with a too-close-for-comfort 3-2 decision in the second round. In the quarterfinals, he got a third-round pin of Wolfgang Homer, the 37th-ranked wrestler from Imperial High School in San Diego.
In the semifinals, Grabowski got a chance to see how he stacks up against the best — taking on the state's top-ranked guy at heavyweight, Bakersfield's Josiah Hill.
Hill dominated, recording a technical fall when he led by 18 points, 23-5.
Grabowski rebounded to win his first match in the consolation bracket with a pin in the second round before falling to Zion Longsine of Bonita High-LaVerne, 7-6, who is ranked 21st in the state. In the match for seventh place, Grabowski was handed a 7-1 loss by 16th-ranked Taven Avila of Monache High-Porterville.
Up next for wrestling's elite is the MidCals tournament hosted by Gilroy this weekend. 
You've no doubt heard that old football adage that offense wins games, defense wins championships.
After watching the success of the San Francisco 49ers and Tennessee Titans, especially, that saying may need to be amended.
In addition to defense, a strong rushing attack doesn't hurt either. So while NFL quarterbacks continue to put up video-game numbers during the regular season, a punishing running game is just as important as a stout defense when it comes to post-season success.
So it was no surprise to hear 49ers head coach Kyle Shanahan say at his post-game press conference following his team's 27-10 win over Minnesota Saturday, "We really believed the team that got over 30 runs would win."
Thirty carries. Not 30 points. Shanahan believes — as do nearly every football coach I ever talked to — that running the ball is the key to football success.
Rushing stats from 49ers-Minnesota?
The success of the running game is not really about the yardage, but what a strong ground attack can do to a defense mentally. I think you saw it in the third quarter when San Francisco embarked on an eight-play, 44-yard scoring drive. Eight plays. Eight runs and a touchdown that put the 49ers up 24-10 and all but demoralized the Minnesota defense.
The same can be said of Derrick Henry's performance in the Tennessee Titans' 28-12 upset of top-seeded Baltimore. The 6-2, 247-pound university of Alabama product almost single-handedly crushed the Ravens Super Bowl dream as he gouged the Ravens' defense for 195 yards and a pair of touchdowns on 30 carries. Henry was feeling so good he even threw a 3-yard touchdown pass.
Funny how a strong running game can make an average player like Tennessee's Ryan Tannehill look like a top quarterback in the league.
And yes, a successful run game applies to the video-game team that is the Kansas City Chiefs. For all the attention quarterback Patrick Mahomes receives, which is all well deserved, the Chiefs haven't abandoned the running game.
So while Mahomes threw for 321 yards and five touchdowns to rally the Chiefs from a 24-0 deficit into a 51-31 eye-popping victory, KC also outrushed the Texans 118-94. Chiefs running back Damien Williams finished with just 47 yards on 12 carries, two of which went for scores.
No matter what the level of football, from Pop Warner to the pros, there is another old adage football coaches abide by — run the ball and stop the run. Do that better than the other team and the chances of winning increase greatly. The 49ers and Titans, and to a lesser extent Kansas City, did that. It's no surprise they're in the NFL version of the final four.