The South City football program, once a Peninsula power, has now fallen to rock bottom.
Terry Stogner, Peninsula Athletic League commissioner, announced during the preseason PAL football coaches' meeting Monday evening that the school will drop the varsity program for the 2021 season.
The Warriors will continue with a junior varsity program with the goal of making a return to the varsity level for the 2022 football season.
"We knew there was a possibility of this happening," Stogner said. "I think they (school administrators) wanted to hang on until school started (to see if more kids came out for the team). When it became clear that wasn't going to happen, I got a call Monday morning (telling me the school's plan to drop varsity)."
Mills was in a similar predicament in the spring and it shut down its varsity program. It is scheduled to be back this fall.
Dion Evans took over the South City program in February 2020, just as coronavirus was gaining steam, and guided the Warriors through a four-game season in the fall.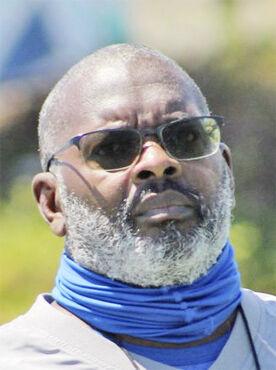 As has been the case for the last several years, the results weren't pretty. The Warriors were 0-4 and outscored 181-18 and are now mired in a 24-game losing streak. Their 36-6 win over El Camino in "The Bell Game" in 2017 was the last game won on the field by the Warriors (the 2017 season ended with a 2-0 forfeit win over Woodside in a season mired by wildfires).
In addition, the program has struggled with consistency. When Evans took over prior to the 2020-21 year, he became the fourth coach in four years.
But Evans said as this past spring season went along, more and more kids dropped off the team. He said following a 42-0 loss to Carlmont, six juniors left all their equipment and gear in the locker room, left, and never came back. When summer workouts rolled around, no rising juniors or seniors showed up.
"All of the (rising) juniors and seniors from last year, quit," Evans said.
By all accounts, the Warriors have players, just not nearly enough to safely field a varsity team. Evans said he has a number of freshmen and sophomores to work with on a JV squad, but believed it wouldn't be fair or safe to force kids, without the proper preparation or experience, to play at the varsity level.
Evans said he told the South City administration in July that the best course of action was to drop the varsity program for the season and concentrate on preparing JV players to be ready to play at the varsity level next season.
Evans said the administration asked him to wait until the start of the school year before making a decision. The thought being that once school started, more kids would be interested to play.
Evans said he went to the school's orientation day and picture day to drum up support and interest in the South City football program.
"Zero. zero signups," Evans said. "So I'm telling administrators, 'I have done everything you have asked and more. There is no interest. Let's honor the kids who really want to play. Let me concentrate on JV. They will be the varsity team next year.'"
Stogner said he got a call Monday from South City administrators who told him that it was dropping the varsity program and would field only a JV squad. Stogner said there is PAL by-law that states a varsity team must be fielded first before a JV team can play, but said he is waiving the rule for the greater good of South City football.
"The only way to survive is to have a viable JV season. To get a year's worth of experience going into next year," Stogner said. "Once you drop a sport (completely), it's hard to come back."
A few minutes after Stogner announced to the coaches that South City would put its varsity program on hiatus, Evans apologized for the late announcement. He realized it put the other teams in the PAL's Lake Division in a bind because it will be almost impossible for teams to fill that slot on their schedules at this late a date. Stogner said South City would remain on the schedule and that the rest of the Lake Division teams will receive a 2-0 forfeit win.
But Evans was embarrassed about how late the announcement was.
"I knew some of the guys in there (the meeting) would be salty," Evans said. "I knew that it was unfair for the coaches in the league to find out [Monday] when they could have found out July 6."
Evans said he was somewhat relieved when he found out the school administration went along with his recommendation. Now he's ready to get back to work.
"Why am I staying? I made a commitment to the (now sophomores) on Zoom meetings," Evans said. "If you're going to bring a dead tree back to life, you have to cut some limbs. … There are now no limbs, but there are some roots.
"I can't quit because these kids need to see a coach who cares and doesn't quit."