Sacred Heart Prep head football coach Mark Grieb said he won't let the Gators' Week 2, 40-0 loss to Half Moon Bay define his team or its season.
The loss was nothing more than a teaching moment and consider that lesson learned. The Gators are a good team and Friday's game against Terra Nova in the Peninsula Athletic League Bay Division opener proved it.
The Gators scored on the ground, through the air and on special teams as they scored five touchdowns in the first half on their way to a 42-10 win over the Tigers.
"If we come out and are not prepared to play, we'll get beat," Grieb said. "In terms of preparation and their effort, it showed up [Friday]."
SHP (1-0 PAL Bay, 4-1 overall) put together one of its best performances on both sides of the ball. The Gators racked up 329 yards of offense and, contrary to perception, they actually picked up a majority of their yards through the air. Junior quarterback Teddy Purcell sliced and diced the Terra Nova defense when given the opportunity and while he didn't throw a lot — just 11 attempts — Purcell was highly accurate. He completed eight passes for 194 yards and had touchdown throws of 4, 67 and 11 yards.
"Teddy is no game manager," Grieb said. "He's the most accurate guy I've ever worked with (at SHP). … He has a great ability to throw accurately."
It was the Gators' running game that helped open up the air attack and Tevita Moimoi was the tip of the spear. The senior rushed for a game-high 117 yards and two touchdowns on 17 carries as the Gators rushed for 135 yards as a team. He was a battering ram on the Gators' game-opening scoring drive and, once the defense was softened up, he gouged the Tigers for scoring runs of 28 and 9 yards.
Moimoi also spearheaded a defensive effort from his linebacker spot, along with J.P. Frimel, as the Gators held Terra Nova (0-1, 3-2) to just 119 yards of total offense.
Grieb said Moimoi always feels like he has to do everything, so they focused on him just doing his job and trusting his teammates.
"We told him to just go out and play," Grieb said. "When he's playing in his comfort zone, he's a phenomenal player."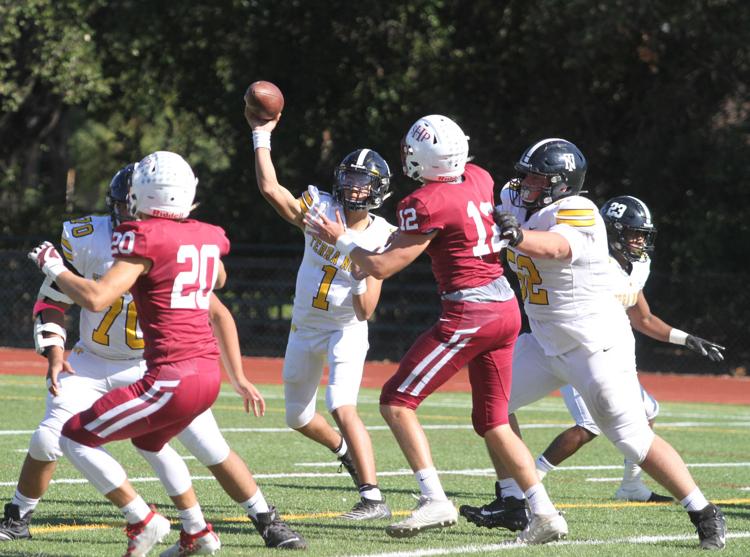 Terra Nova's chances took a big hit, however, when starting quarterback Raphael Bendo was knocked out of the game and taken away by ambulance early in the second quarter. Trailing 21-0, Bendo dropped back to pass from his own 10-yard line and was hit high on the chest as he released the ball, with his head bouncing off the artificial turf.
That brought sophomore Dominic Gordon into the game to take over. Gordon, the younger brother of former Terra Nova starting quarterbacks Anthony and Nate Gordon, came in and helped guide the Tigers to 10 points. He led a eight-play drive to the SHP 18-yard line before settling for a Michael Giannini 35-yard field goal late in the second quarter. In the fourth, Gordon threw a 1-yard touchdown pass to Nathaniel Bendo in the back of the end zone.
Gordon finished the game 10 for 15 for 76 yards and the score. Running back Jalen Camp added 93 yards on 21 carries but, other than that, it was all Gators.
SHP showed it was ready to go when the Gators took the opening kickoff and marched 73 yards on 13 plays. Moimoi had seven carries for 36 yards, Tatafu Mahoni picked up a first down on fourth-and-4 midway through the drive and Purcell capped it was a 4-yard touchdown pass to Frimel, who finished with two catches for 23 yards.
The Gators scored again a little more than a minute later when their defense forced a three-and-out on the Tigers' first drive and Dante Cacchione took the ensuing punt 48 yards to the house for a 14-0 lead.
Terra Nova picked up a first down on its next drive before stalling out right around midfield, getting a 55-yard punt that was downed at the SHP 2-yard line.
On the ensuing drive, Purcell hooked up with Bryant Gavello for 22 yards on third down to end the first quarter. After a 2-yard run from Moimoi, Purcell found Beck Anderson along the right sideline that he turned into a 67-yard score.
Purcell dropped back to pass and when his first read wasn't there, rolled to his right. Anderson was running an out and was a step behind his defender. On the run, Purcell lofted a ball toward Anderson. The Terra Nova defender got a hand on the ball, but Anderson stayed with it, hauled it in and went the distance to put the Gators up 21-0 two plays into the second quarter.
"[Purcell is] such a great decision maker," Grieb said. "He's good when things break down. He has a great sense for the game."
After the 30-minute injury stoppage and Giannini's field goal for Terra Nova, the Gators scored their fourth touchdown of the half. The big play on the drive was a 19-yard catch from Purcell to Frimel, with an additional late-hit penalty tacked on. Three plays later, Moimoi bolted into the end zone from 28 yards out to go up 28-3.
The Tigers fumbled the ball away two plays later deep in their own end and two plays after that, Moimoi went up the middle from 9 yards out to give SHP a 35-3 lead at halftime.
The Gators rounded out the scoring on their first drive of the third quarter when Purcell found senior wide receiver Everett Banks for his first varsity touchdown catch.
"First year playing football. … He's a matchup problem," Grieb said of Banks. "We have multiple guys who can make plays."