Has there been a better back-and-forth football rivalry on the Peninsula in recent years than Serra-St. Francis?
Since St. Francis won 33 straight regular-season matchups against Serra from 1973 to 2005, neither team has won more than two straight years in West Catholic Athletic League play. The trend continued Saturday at Freitas Field as Serra claimed victory over its rival for the second consecutive season.
This one was special, though, and in more ways than one. The Padres reveled for a 49-7 win, the most points they have ever scored in a single game against St. Francis, while junior quarterback Dominique Lampkin was a perfect 10-of-10 passing for 154 yards and three touchdowns.
More than this — with no postseason this year due to a shortened schedule because of the coronavirus pandemic — Serra head coach Patrick Walsh was passionate about equating Saturday's victory to a championship moment.
"It's sad we won't be able to hang a banner with this group," Walsh said. "This sort of game feels like a banner in a sense because it's something I can talk about forever. When everybody has everything (in future years) — and we have our homecomings and our night games and all those things — I can always fall back on this experience with this group of kids and say: These kids had nothing, and they played for everything. And that's what I'm most proud of today."
Walsh communicated that pride with distinguished gravitas Saturday. And his Padres followed suit, playing nearly every down as though a championship hinged upon the outcome — starting with the opening play from scrimmage.
The Padres (3-0) lined up at the 28-yard line and promptly struck with a bit of razzle-dazzle, as senior wide receiver Isaiah Crump took a backwards pass near the sideline, then heaved a spiral downfield to a wide-open Kai Lim for a 72-yard touchdown.
"I just saw Kai open; it was just perfect," Crump said. "I just threw it, Kai led him a little bit, and then he was off to the races."
It was the first time in his life Crump threw a pass in an organized football game. But it wasn't supposed to be. Last week in Serra's 49-10 win at Sacred Heart Cathedral, the Padres ran the same play, but Lampkin's backward bubble pass was off-line, resulting in a fumble.
"It worked perfect today," Crump said of Saturday's reprieve. "It worked just as planned. So, it was good."
Serra went on to score 42 points in the first half. Overall, the Padres outgained the Lancers in total offensive yards 392-227. Serra racked up 316 of those yards in the first half.
"We didn't execute very well last week at all against Sacred Heart," Walsh said. "Our hearts and minds weren't in the game. We talked a lot about that this week. We had a really tough practice week. … I believe you get what you earn. And we earned that first half."
The Lancers (1-1) couldn't get much going in the way of offense, with their quarterback platoon of left-hander Keller Gammons and right-hander Joshua Perry completing just 2 of 10 passes for 43 yards in the first half.
"We watched film on both quarterbacks and seen what we needed to do," Serra defensive end Ryan Mahe said. "We recognized what patterns they put out, what number they are, what they can do — whether they're a left-hand or right-hand quarterback — we just made sure we did what we needed to do."
And the Serra defense, in spending as little time on the field as possible, continued to give the ball back to its red-hot offense.
Midway through the first half, the Serra offense had a rare misfire on a halfback option play when freshman running back Jabari Mann lofted an interception to St. Francis junior Nicolas Andrighetto. But St. Francis was soon forced to punt from its own 21, and a botched snap saw Serra senior Ziggy Tai recover a fumble at the 5-yard line. On the next play, Lampkin jaunted to the end zone on a QB keeper to put Serra up 14-0.
Lampkin went on to have a modest rushing performance, carrying just five times for 14 yards and a score. But it was St. Francis' preoccupation with keeping the crafty junior from finding the open field that gave the other weapons in the Padres' arsenal license to do damage.
"When you have a dual threat quarterback like that, it puts a lot of pressure on them," Walsh said. "It's basically a wildcat quarterback … it's really tough to defend. So, then something else is probably going to open. … The coverage is pretty full here at Serra these days."
Junior running back Hassan Mahasin proved to be the most diverse weapon. He ran for touchdowns of 20 and 5 yards in the first half and added a 3-yard scoring reception from Lampkin with 2:36 to go before halftime. Mahasin also nabbed a 12-yard touchdown catch late in the third quarter. He totaled eight carries for 62 yards and two TDs, and three catches for 21 yards and two more scores.
Lampkin's most prolific throw of the afternoon came in the second quarter, and really showcased the Serra offensive front, as linemen Nathan Elu, Watson Latu, Isaac Guggenheim, Dominic Barsi and Andrew Azzopardi gave their quarterback all the time in the world in the pocket. The result was Lampkin airing it out downfield for wide-open tight end Christian Pederson to haul in a 54-yard scoring pass.
St. Francis earned its only score midway through the second quarter on a 4-yard scoring run by senior Adonis Hernandez, who carried 13 times for a team-high 61 yards.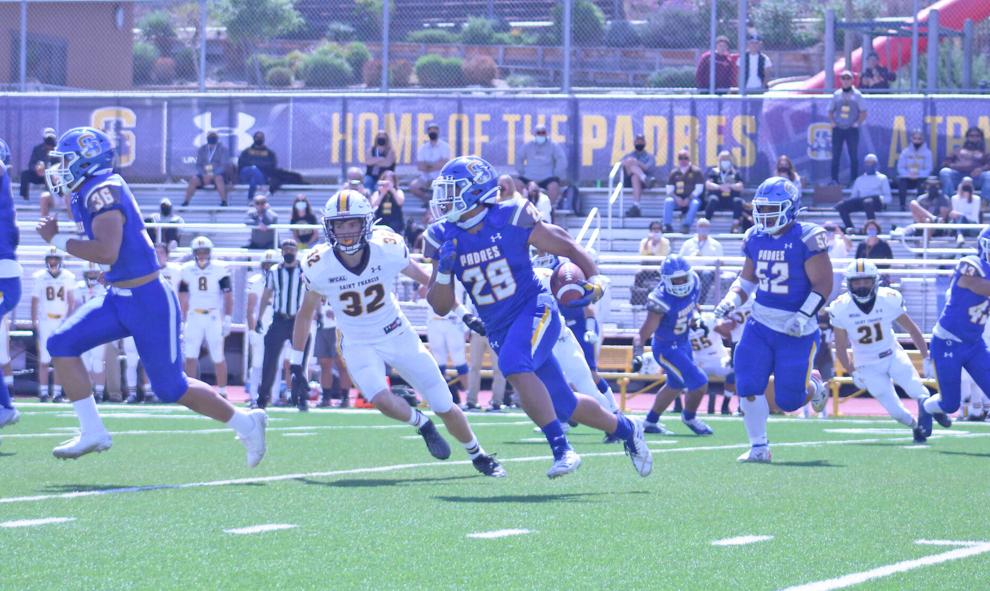 The most points Serra had previously scored against St. Francis was in 1968 when the Padres won 45-27 in the season finale to finish off a perfect 6-0 run in league play. St. Francis still has bragging rights with the most points scored by either team in head-to-head play, defeating Serra in 1993 by a score of 63-6.
Serra is now one of two undefeated WCAL teams, along with St. Ignatius. The Padres are in a unique position as they are the only WCAL team with five games on their schedule. Because of COVID protocols, teams can only play teams from their own county, or from a bordering county. So, only Serra can play both teams from Santa Clara County and San Francisco County. Santa Clara County teams and San Francisco County teams are not allowed to play against each other. No other WCAL team has more than four games scheduled this season.