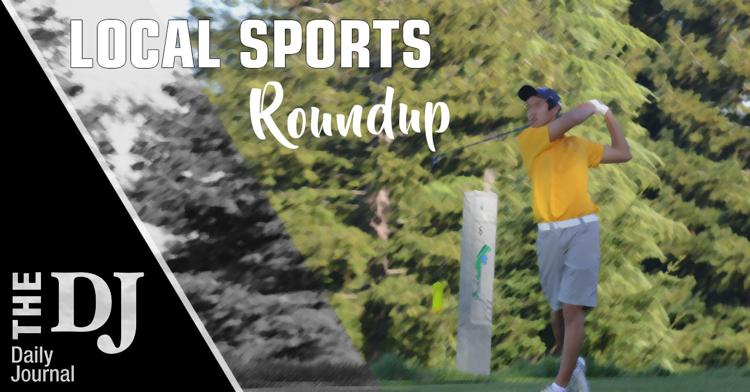 Hillsdale 58, Carlmont 48
A 22-point third quarter carried the Knights to their second win in a row as they beat the Scots in PAL South Division play.
Calvin Mader-Clark led the way for Hillsdale (2-1 PAL South, 10-4 overall) finishing with a game-high 21 points, including four 3-pointers. Oliver Crank added 11 for the Knights, while Junior Cotton chipped in with 10.
Carlmont (1-2, 6-9) got 12 points from both Abram Guldbech and Joseph Seaman.
The Panthers had five players score in double figures as they slipped past the Dons.
Burlingame (2-1 PAL South, 11-4 overall) was led by Miles Klapper and Jacob Yamagishi, who both finished with 13 points. Will Uhrich, Sean Richardson and Taylor Clark all added 10 points apiece.
Aragon (2-1, 6-9) was paced by Jace Jeremiah, who finished with a game-high 19 points. Matt Mukai added 14 while Murphy Caffo finished with 13.
The Wildcats held off the Vikings in a low-scoring PAL South Division game.
Isaiah Minor led Woodside (2-1 PAL South, 11-2 overall) with 11 points, while Dylan Barnwell added 10.
Mills (0-3, 3-12) is still looking for its first win in division play.
Menlo-Atherton (3-0, 12-3) stayed undefeated in PAL South play as the Bears routed Capuchino (0-3, 2-11).
Menlo-Atherton 58, Capuchino 39
The Bears outscored the Mustangs 32-12 over the second and third quarters to coast to the win and reach the .500 mark on the season.
Alyssa Faberowski led M-A (3-0 PAL South, 7-7 overall) with 17 points. Malia Latu added 12 and Catharine Chai finished with 11 for the Bears.
Mills (2-1, 10-5) beat Woodside (0-3, 9-4) 60-34; Sequoia (2-1, 10-5) routed San Mateo (0-3, 3-10) 38-17.
Half Moon Bay 53, El Camino 44
The Cougars (3-0 PAL North, 10-4 overall) nailed six 3s to remain unbeaten in PAL North Division play. Junior guard Ben McKnight hit two 3s to score a game-high 15 points, while Michael Hourani and Mykola Edgier each scored 11. El Camino was paced by senior Christian Vianna, who totaled three 3s for 13 points. El Camino (1-2, 5-9) has now dropped 13 straight in head-to-head play with Half Moon Bay, last defeating the Cougars during Elijah White and Michael Smith's senior season of 2012-13.
Jefferson 76, Terra Nova 32
The Grizzlies (2-0 PAL North, 7-7 overall) jumped out to a 23-8 lead in the first quarter and never looked back, fueled by a game-high 15 points by junior Isaiah Cruz. Kingsley Uzoma added 13 points and Saif Fara added 11 for Jefferson. Jordan Salgado paced Terra Nova (1-2, 5-10) with 11 points. With the win, Jefferson remains one of three unbeaten teams in PAL North Division play, along with Half Moon Bay and Westmoor.
The Rams (2-0 PAL North, 5-9 overall) doubled up on Oceana, highlighted by a 23-8 run in the third quarter. Three Westmoor players scored in double digits, paced by senior Jasiah Cox's 14 points. Nathan Cote added 13 and Carlo Pulido scored 12. The Sharks (0-3, 1-12) were led by Devean Dimicali's 12 points.
Menlo 47, Woodside Priory 43
The Lady Knights won their 10th straight, jumping out to a 16-8 lead in the first quarter and holding off Priory down the stretch. Menlo junior Avery Lee totaled 20 points and Coco Layton added 12, while sophomore center Sharon Nejad grabbed 13 rebounds. Next up, Menlo travels next door to rival Sacred Heart Prep Thursday night for a 6 p.m. tipoff.
Half Moon Bay 56, El Camino 35
Freshman guard Alli Dioli scored a game-high 15 points to lead the Cougars (3-0 PAL North, 12-2 overall) to their 10th straight win. Five of those 10 wins have come against PAL teams, including non-league games against San Mateo and Burlingame from the South Division. El Camino (1-2, 6-5) senior Alyssa Ikuma scored a team-high 11 points.
Terra Nova 41, Jefferson 35
The Tigers (2-1 PAL North, 4-10) trailed by 4 at the half but went on a 12-3 run in the third quarter to take down Jefferson (0-2, 8-6). Kapua Wong Hin paced Terra Nova with a game-high 17 points, including three 3-pointers. Junior forward Anna Julian added 10 points. Jefferson was paced by Kristy Flores and Symantha Hom with eight points apiece.
The Rams (2-0 PAL North, 7-5 overall) held Oceana to single digits in both halves to remain one of two unbeaten teams in the PAL North Division, along with Half Moon Bay. Teuila Tuiasosopo singlehandedly outscored the Sharks with a game-high 16 points, while Izabella Nodar added 11. Oceans (1-2, 6-9) was led by sophomore Samantha Edwards with eight points.
Menlo-Atherton 1, Terra Nova 0
The Bears made Alex Kraft's first-half goal stand as the they topped the Tigers.
M-A (3-1-1 PAL Bay, 4-4-3 overall) stays hot on the heels of first-place Woodside with the win, while Terra Nova (0-5-1, 2-8-1) is still in search of its first Bay Division victory.
The Panthers are still looking for their first Bay Division win, while the Ravens have yet to lose in division play after they played to a scoreless tie.
It was the third tie in league play for Burlingame (0-2-3 PAL Bay, 5-2-4 overall). Sequoia (2-0-2, 3-0-5) still has not lost in Bay play.
South City 4, San Mateo 1
The Warriors scored all five goals as they stayed undefeated on the season.
Not only did South City (3-0 PAL Ocean, 10-0-1 overall) score four goals of its own, the Warriors were also responsible for the only goal for San Mateo (0-3, 2-4) on an own goal.
Fatima Waldo-Garvia and Bianca Gonzalez each had a goal and an assist to lead South City. Alexandra Arouxet-Jara and Iliana Sanchez rounded out the scoring for the Warriors, with Melissa Cuevas and Lilian Nasrah each picked up an assist.
The Knights rebounded from their loss to South City a week ago to double up the Vikings.
Olivia Baer scored twice to lead Hillsdale (2-1 PAL Ocean, 7-2-3 overall). Paige Hardman added a goal for the Knights, who also got a pair of assists from Stella Marcisz and one apiece from Chase Nestor and Nina Schmeier.
Kiara Bettucchi and Paige Hensley scored for Mills (1-2, 3-6). Alexandra Dedes and Rachel Lam each had an assist for the Vikings.
Capuchino 3, Half Moon Bay 0
The Mustangs kept pace with South City atop the Ocean Division standings by shutting out the Cougars.
Capuchino (3-0 PAL Ocean, 8-2-2 overall) was led by Jaeda Flores, who had a goal and an assist. Nina Konidaris and Monserat Reynoso rounded out the scoring for the Mustangs.
After a two-goal first half, the Colts poured it on in the second with four more in the win over the Sharks.
Rachelle Vargas netted a hat trick to lead El Camino. Rachelle Panoringan and Diannia Flores also had goals for the Colts. Andrea Moreno, Now Diep and Grace Motupaka each assisted on a goal for El Camino.