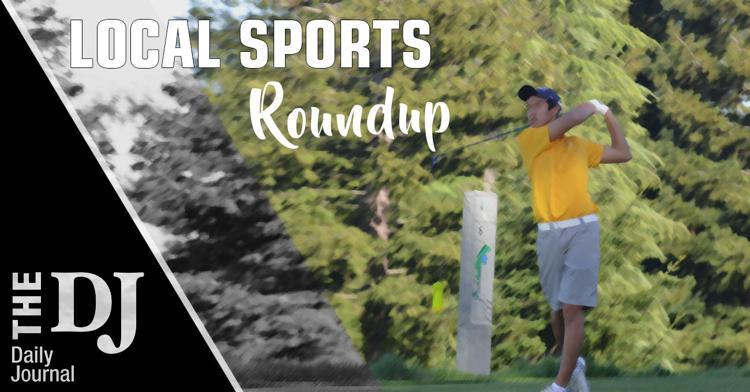 The Dons won three of the four singles matches and then pulled out a doubles with from Aarti Subramanian and Kasandra Rascon to top the Cardinals in a non-league match in San Francisco.
Jessica Fu, Christina Wu and Celine Wen, along with Subramanian and Rascon, all won their matches in straight sets.
Half Moon Bay 227, El Camino 279
Daniela Benito shot a 40 to lead the Cougars to the PAL Ocean Division win over the Colts at Half Moon Bay Golf Links.
Mitzi Hernandez added a 41 for HMB.
Mariana Lim shared low-score honors for El Camino, finishing with a 52.
Capuchino 229, South City 243
Erika Vasil shot a 42 to lead the Mustangs to the PAL Ocean Division victory at Mariner's Point in San Mateo.
Vasil finished one shot ahead of South City's Tristan Lamina-Lee, who fired a 43 for the Warriors.
Valentina Valentine-Nassi added a 39 for Capuchino, while Audrey Garcia carded a 46 for South City.
Mercy-Burlingame 248, Castilleja 290
The Crusaders topped the Gators in a West Bay Athletic League match at Crystal Springs Golf Course.
Brooke Barron shot an even-par 36 to lead Mercy. Maya Zeidan followed with a 43 and Anais Ko finished with a 46 for the Crusaders.
Castilleja was led by Kelly Yu, who carded a 44.
Terra Nova 3, Half Moon Bay 1
The Tigers took down the rival Cougars in a non-league game, 25-12, 22-25, 25-16, 25-12.
HMB was led by Mia Etheridge and Sarah Hawkins, who had six and five kills, respectively. Kylie Martini paced the Cougars offense, finishing with 17 assists, while Susy Gutierrez and Natalie Inglis led the defensive effort for HMB by combining for 36 digs.
Menlo-Atherton 3, Presentation 0
The Bears swept the 2018 DIII state finalist, 25-22, 33-31, 26-24.
Natalie Grover led attack for M-A (6-2 overall), finishing with 12 kills. Olivia Lang added nine, while Marit Hoyem and Semiajah Ix-Su had eight kills apiece. Solie Cecil and Mariah Grover combined to pump out 41 assists.
Natalie Grover also had a big showing defensively as she teamed with Bella Shermis to finish with 12 digs each. As a team, the Bears came up with nine blocks and had seven service aces.
Sacred Heart Prep 5, San Mateo 2
The Gators used a sweep of the three doubles matches to take the non-league match from the Bearcats.
San Mateo managed a split in the four singles matches. Megan Stretch was dominant in a 6-3, 6-0 win at No. 1 singles, while Jully Huang picked up a 6-4, 6-3 decision at No. 4 singles, moving from part of the No. 1 doubles team in 2018.
Annika Van Zandt and Christy Thompson set the tone for SHP as they dropped only two games in a 6-1, 6-1 win at No. 3 doubles.
Sara Quinlan had a strong showing at No. 2 singles for the Gators, posting a 6-2, 6-1 victory.
San Mateo 242, Burlingame 267
Lindsey Huang posted a 4-over 39 to lead the Bearcats to the PAL Bay Division victory over the rival Panthers at Poplat Creek Golf Course.
Zoe Pang added a 47 for San Mateo, while Sage Tulabing carded a 48.
Burlingame was led by Jodi Chui, who shot a 5-over 40.
Sequoia 220, South City 242
Claire Williams shot the low round of the day of 41 to lead the Ravens to the PAL Ocean Division win at Mariner's Point in San Mateo.
Jordan Schwarz added a 45 for Sequoia, while Noelle Barganier shot a 50 for the Ravens.
South City was led by Audrey Garcia and Maggie Cai who each fired 46s.
Notre Dame-SJ 249, Sacred Heart Prep 263
Hannah Lesti shot a 48 to lead the Gators, but it wasn't enough as they fell to the Regents in a WBAL match at San Jose Muni.
Alexandra Hull added a 50 for SHP (0-3 WBAL, 0-3 overall), while Neha Lalia finished with a 51.
NDSJ's Elise McCarty earned low-score honors, finishing with a 46.