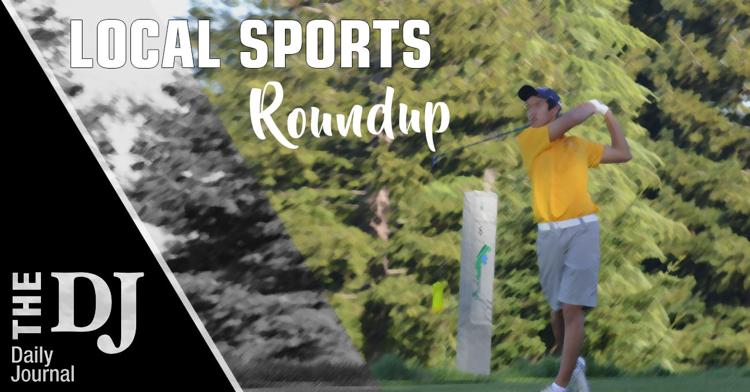 The Bulldogs completed the season series sweep of the county rival Colts, scoring a season high in the process.
Jackie Luong (Washington-SF) scored a game-high 24 points, shooting 6 for 8 from behind the 3-point line. Denzel McCollum (Serra) finished with 18 points and 8 rebounds. Bobby Arenas (Riordan) added 17, Desai Lopez (St. Francis) chipped in with 12 and David Paterson (Fremont-Oakland) 10 for the Bulldogs.
Cañada (1-10 Coast Conference North, 3-20 overall) was led by Joseph Gault (Palo Alto), who finished with 18 points. Walter Brandon (Mack-Oakland) added 14 and Diyar Yuksel (Burlingame) chipped in with 11.
The win keeps CSM (6-5, 12-13) in a fourth-place tie with Chabot in Coast North, one of the strongest conferences in Northern California. The Bulldogs are still in the running for a playoff spot with three games remaining in the regular season.
Capuchino 71, San Mateo 31
The Mustangs used a 24-point third quarter complement a 32-point first half as they pulled into a three-way tie for fourth place in the PAL South.
Capuchino (6-5 PAL South, 12-11 overall) was led by Bailey O'Mahoney, who finished with a game-high 11 points.
Alyssa Corpus scored 10 points to lead San Mateo (0-11, 3-18).
The winner of Friday's Mills-Capuchino rivalry game could have a big impact on the Central Coast Section Division III bracket seedings.
The Ravens held the Vikings to single-digit scoring in all four quarters as they steadily pulled away for the victory.
Caitlin Dulsky scored 19 and Alexis Jackson added 11 for Sequoia (7-4 PAL South, 15-8 overall), which with a win over Carlmont Friday will wrap up third place in the division.
Chloe Tam led Mills (6-5, 14-9), finishing with 10 points.
The loss drops the Vikings into a tie with Capuchino in the standings and Friday's rivalry game winner will have the higher seed in the CCS Division III bracket.
The Dons win, coupled with Burlingame's victory over Menlo-Atherton, gives Aragon the PAL South Division title.
Aragon (10-1 PAL South) holds a two-game lead over the Bears with only Friday's regular-season finale to be played.
The Dons scored 14 points in both the second and third quarters to control of the game. Lala Lautaimi led Aragon with 9 points. Lydia Manu finished with 8.
Carlmont (4-7, 14-9) got a game-high 13 points from Donya Khonsani.
Burlingame 48, Menlo-Atherton 45
The Panthers outscored the Bears 13-9 in the fourth quarter to pull out the win and end M-A's chances of catching Aragon for the PAL South championship.
Ava Urich poured in a game-high 22 points to lead Burlingame (5-6, 14-9).
Linnea Lindblom scored 10 points to lead M-A (8-3, 13-10).
Hillsdale 46, Woodside 35
The Knights held the Wildcats to just 15 points over the last three quarters in a PAL South game.
Hillsdale (6-5 PAL South, 14-8 overall) was led by Bailey Fong, who had a game-high 10 points.
Woodside (3-8, 13-9) got 8 points from Emma Kinder.
Westmoor 56, Terra Nova 43
The Rams clinched second place in the PAL North with the win over the Tigers, earning the division's second automatic CCS berth.
Westmoor (9-2 PAL North, 14-7 overall) outscored Terra Nova (6-5, 8-14) 33-17 in the middle two quarters to take control of the game.
Teuila Tuiasosopo scored a game-high 26 points to pace the Rams. Kapua Wong Hin led the Tigers with 14.
Menlo-Atherton 2, Half Moon Bay 0
The Bears clinched at least a tie for the PAL Bay Division title with two first-half goals against the Cougars with one game remaining in the regular season.
Jose Bailon and Will Dimarkol scored for M-A (9-3-1 PAL Bay, 28 points, 9-4-4 overall), with Anthony Commissarris and Miguel Tostado earning assists.
The Bears hold a three-point lead over Carlmont going in Friday's game against third-place Burlingame. The top three finishers earn automatic bids into CCS.
The Scots kept alive their division title hopes by getting past the Panthers in a goalfest.
Carlmont (7-2-4 PAL Bay, 25 points, 9-4-5 overall) led 3-0 at halftime, but Burlingame (6-4-3, 21 points, 9-6-3 overall) answered with three in the second half. Noah Chang-Lineberg provided the game winner for the Scots, off an assist from Tomas Ronderos, who finished with a goal and two assists. Gabe Anson and Patrik Dufault rounded out the scoring for the Scots, who need a win and a M-A loss Friday to finish as co-champs with the Bears.
The Dons ended the Ravens hopes of slipping into the top-3 as they scored two goals in each half.
Aragon (5-7-1 PAL Bay, 16 points, 6-8-4 overall) got two goals and an assist from Kevin Marroquin. Alexis Villanova and Wilson Duan rounded out the scoring for the Dons, with Epi Rodriguez, Roman Misner and Ajay Paramasvian each picking up an assist.
Hillsdale 2, South City 1
Breen Mee scored in each half to lead the Knights past the Warriors.
Hillsdale (5-6-2 PAL Bay, 17 points, 9-5-2 overall) also got an assist from Shay Quock.
South City falls to 5-7-1 (16 points) in division play and 6-10-2 overall.
The Colts scored three times in the first half to take control in the win over the Wildcats.
Alexis Diaz netted a hat trick for El Camino, with Jacob Dienla picking up two assists and Brandon Campanelu earning the third.
Dylan Bernard had two assists to lead Woodside, which got goals from David Ruiz and Amelio Amezcua.
Capuchino 6, Terra Nova 1
The Mustangs scored three goals in each half to beat the Tigers.
Omar Esquivel had a big game for Capuchino, scoring twice and assisting on third, while Jose Lepe added a goal and an assist. Jose Chavolla, Fernando Nungaray and Miguel Monge rounded out the scoring for the Mustangs.
Capuchino 56, San Mateo 49
The Mustangs outscored the Bearcats 17-2 in the fourth quarter to pull out their first PAL South victory of the season.
Anthony Contreras scored a game-high 15 points to lead Capuchino (1-10 PAL South), with Patrick Volkman adding 13. San Mateo (4-7) was led by Aiden Nolet and Jackson Chew, who each scored 14 points.
The Scots' win and the Dons' loss means both must win their regular-season finales Friday to qualify for CCS with .500 PAL records.
Carlmont (5-6 PAL South) was led by Timothy Netane's 15 points. Abram Guldbech added 11 for the Scots who must knock off second-place Sequoia Friday to reach the .500 plateau in league play.
Aragon (5-6) got 13 points each from Murphy Caffo and Will Tong. The Dons need to beat rival Hillsdale Friday night to qualify for CCS.
The Ravens led 29-13 at halftime on their way to the win over the Vikings.
Gabe Munguia scored a game-high 13 points to lead Sequoia (9-2 PAL Bay). Mills (2-9) got 11 points from Jaden Tung.