The San Mateo boys' tennis team, and its visiting opponent Mountain View, were among 16 teams to play in the first Central Coast Section postseason since March 2020 as the first round of the CCS team tennis tournament kicked off.
But much like everything over the last 14 months, there was just enough weirdness to know everything wasn't quite right.
San Mateo, for example, was only the third-best team in the Peninsula Athletic League's Bay Division, but received the league's automatic bid into the CCS tournament after the top two finishers — Menlo-Atherton and Carlmont — were forced by the Sequoia Union High School District to opt out of the playoffs.
Mountain View wasn't supposed to be there either. Up until Thursday night, the Spartans tennis team thought their season ended as the Santa Clara Valley Athletic League also opted out of sending teams to CCS — until the league's board of managers changed their mind Friday night.
Neither team was at full strength and amid a hectic week of finals and AP testing, the two hours of tennis might have been an actual respite.
San Mateo, however, may have wished the SCVAL had stuck to their original plan because the league is among the strongest in CCS. So it came as no surprise that the Spartans came away with the 4-3 victory, extending a season they thought ended more than a week ago.
"Friday night, I was, like, 'This sucks.' But then my dad told me we got into CCS," said Mountain View's Santiago Montgomery, who won his No. 1 singles match 6-1, 6-1.
"We were already planning our end-of-year celebration. It feels like I haven't fully acknowledged I'm playing CCS. It just feels rushed."
San Mateo's Andre Khmelnitsky admitted things were just as hectic for him and his teammates.
"This week is going to be crazy," Khmelnitsky said, rattling off all the tests and finals for which he has to prepare.
"You have to have a schedule."
What the Bearcats didn't schedule was to be without standout freshman Nicholas Throgmorton, who went undefeated through seven matches this season, including wins over both M-A and Carlmont.
That moved all the Bearcats singles player up a spot and had head coach John Daquioag insert Kaden Chang into the No. 4 slot.
Regardless of who was playing where, Daquioag knew one thing for certain: the Bearcats needed to win at least one singles match.
San Mateo never found it. While the Bearcats swept the three doubles matches, they could not find a way to notch that one singles win.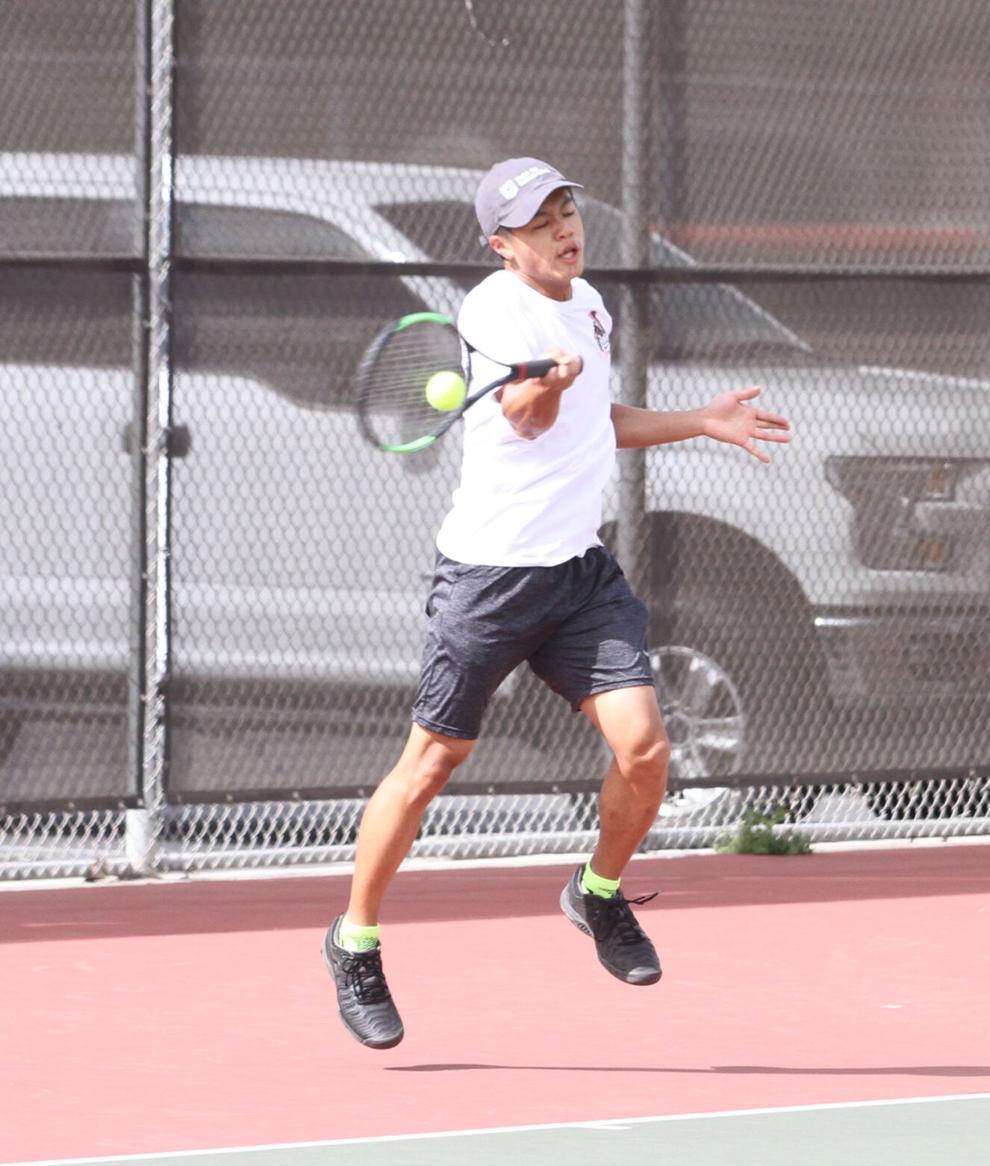 Their last chance came at No. 2 singles. San Mateo's Caleb Chan got off to a strong start, taking a 4-1 lead in the first set. But Mountain View's Aiden Shiu won the next five games in a row to win the set. Shiu continued his strong play in the second set, winning the first five games to take control to make it 10 straight games won on his way to a 6-4, 6-1 victory that sent the Spartans into the second round Wednesday.
Montgomery gave Mountain View a quick 1-0 lead with his win at No. 1 singles, but Khmelnitsky and his partner Kevin Zhang tied the match score at 1-all with a 6-3, 6-1 win at No. 1 doubles.
"We've been playing doubles since my freshman year," the junior Khmelnitsky said of his partnership with the senior Zhang.
"We work well on the court together."
Mountain View followed with wins at No. 4 and No. 3 singles for a 3-1 lead and the Spartans were looking to put the Bearcats away early as the No. 2 and No. 3 doubles matches were trending Mountain View's way.
But the San Mateo doubles team rallied, especially at No. 3 where Connor Dam and Ronit Jambekar trailed 4-1 in the opening set. But the San Mateo duo found their game. Dam and Jambekar won five games in a row to win the first set 6-4. They parlayed that momentum into the second set and won that one going away, 6-2.
The No. 2 doubles team of David Joseph and Zach Tuzar also found themselves down in the first set, trailing 5-4. But the Bearcats stayed alive, eventually pulling a 7-5 opening set victory.
Like their teammates, Joseph and Tuzar continued their dominant play in the second set, posting a 6-2 win.
"It was a great match," Daquioag said. "It came down to the last match."
In other CCS tennis tournament action, Westmont sent Aragon to a 5-2 defeat, while Stevenson slipped past Burlingame, 4-3.
The Dons won two of the three doubles matches, but they were overwhelmed in the singles matches as the Warriors ended Aragon's season.
Aragon's win came at No. 2 doubles, where Yossi Moff and Amitat Smlya needed three sets to get back Gavin Rose and Shasta Reiisieh 6-2, 5-7, 7-5. Andrew Cheng and David Harris had an easier at No. 3 doubles for the Dons, winning 6-4, 6-0.
In the four singles matches, however, Aragon managed to win only eight games over eight sets.
"Our team, all year long, has been winning because of our depth," said Aragon head coach Dave Owdom. "They had three singles players who I know are very good."
There are still two San Mateo County teams still alive in the team tournament. Crystal Springs, the No. 6 seed, will take on Leland in the second Wednesday at Hillsdale beginning at 4 p.m. The Chargers knocked off St. Francis, 6-1.
Top-seeded Menlo School will host Harker 4 p.m. Wednesday. The Eagles dispatched Lynbrook, 6-1.