Isaiah Salinda, a Serra and now Stanford graduate out of South San Francisco, is hoping to improve on a semifinal finish in 2018 at the 119th annual U.S. Amateur golf tournament, being played this week at Pinehurst Resort in North Carolina, home of the famous Pinehurst #2 course.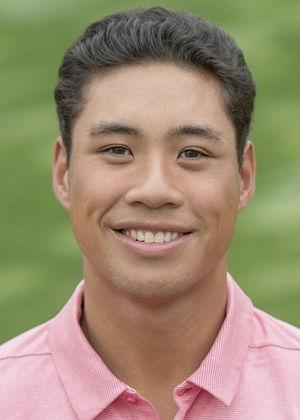 So far, so good for Salinda, who after two rounds of stroke play qualified two shots above the cut, advanced to the round-of-32 after beating Travis Vick of Houston, Texas 1-up in the round-of-64 Wednesday.
Salinda will face Van Holmgren of Plymouth, Minnesota in the round-of-32 Thursday morning. Last year, Salinda advanced to the semifinals before falling to Devon Bling, 1-up.
Salinda, 22, who helped Stanford to the NCAA team championship this past spring and is ranked in the top-50 world amateurs, got off to a hot start, jumping out to a 3-up lead after the first four holes.
But Vick steadied himself and got back in the match by winning holes Nos. 7 and 9 to be 1-down at the turn.
Salinda pushed his lead back to 2-up with a par and Vick double-bogey at No. 11, but Vick rallied. He won holes Nos. 14 and 15 to square the match and when Salinda bogeyed No. 16, Vick had a 1-up lead.
But Salinda dug deep. His par on the par-3, 180-yard 17th evened the match and he won it with a birdie on the par-4, 458-yard 18th.
Salinda qualified for the match-play portion of the tournament after a tie for 28th after two rounds of stroke play. His two-round total of 143 was two strokes above the cut line. Salinda started his tournament Tuesday on the Pinehurst #4 course, firing a 2-under 68. He was even after the first four holes before he dropped to 1-over after a bogey on the 487-yard, par-5 5th. He responded with a par at No. 6 before back-to-back birdies on a pair of par-4s got him to 1-under. He added a birdie at No. 10 to go to 2-under, but gave it back with a double-bogey on the par-3, 179-yard 11th hole. He bounced back with a birdie at No. 12 and birdies at No. 16 and No. 17 got him to 3-under before notching a bogey on the finishing hole for a 2-under 68.
Salinda came back on Wednesday and teed off on the 11th hole of the famed Pinehurst #2 course, struggling to a 4-over 75.
He started well enough with a birdie on his opening hole, No. 11. But immediately dropped two strokes with a double-bogey at No. 13. He dropped another stroke at No. 17, one more at No. 2 and added another double on the par-4, 498-yard No. 4. His bogey at No. 7 put Salinda at 6-over.
He salvaged his round and earned a spot in match play with a birdie on the 613-yard, par-4 10th.
Salinda's former Stanford teammate, Brandon Wu, took medalist honors during the stroke play portion of the tournament, posting rounds of 65 and 72 for a two-day total of 137.
Wu, who became the first amateur to qualify for the U.S. and British Opens in the same year for the first time since 1967 and was the No. 1 seed going into match play, was bounced by Kentucky's Austin Squires, 2-up.