Not all winless teams are the same. Take the Burlingame football team, for example. The Panthers are 0-3 after opening the season with a gauntlet of the Peninsula Athletic League's best.
Half Moon Bay, Sacred Heart Prep and Menlo-Atherton are a combined 7-1 this season and were 25-9 in 2019. These three teams combine to average 30 points per game but, against the Panthers, they were all held to season lows.
"It's been tough and we knew that coming into it," said Burlingame head coach John Philipopoulos. "We saw [the schedule] and said, 'Here we go.' We were going to be going through the wringer."
The Burlingame defense has kept the Panthers in all three games. Now if they could just get their offense going. After scoring 10 points in a 19-10 loss to Half Moon Bay in the opener, the Panthers have been shut out the last two weeks — 19-0 by SHP two weeks ago and 21-0 to M-A last week.
"We just need to clean some things up," Philipopoulos said. "I think our kids know what they're getting into. They've been around the block. They're Bay Division vets, having played freshman and JV in the Bay Division. They know what it takes to be successful week to week."
The schedule would say the Panthers get a bit of a breather this week as they take on a Terra Nova team that will be seeing its first action since losing 14-13 in the 2019 Central Coast Section Division IV championship game to King's Academy.
But teams take the Tigers lightly at their own risk. The teams met twice last season — with the Tigers winning both by a total of 11 points. Terra Nova beat Burlingame 29-25 in the regular season and 14-7 in the CCS Division IV semifinals.
"Our kids will play well," said Terra Nova head coach Jason Picolotti. "We're always excited to get back out there, but at the same time, we're so far behind (preparation wise). Burlingame is a good team."
Burlingame, however, will have plenty of incentive to play well. Philipopoulos said no player currently in the program has beaten a Terra Nova football team — at any level. The last time the Panthers beat the Tigers was in 2016, a 17-10 decision.
The seniors on this year's team were in eighth grade that year.
"I feel like we're ready to go out there and compete," Philipopoulos said.
Philipopoulos said the emergence of Will Uhrich, who moved from safety to linebacker, and Kyle Sieben, who has bounced between the secondary and defensive end, has given the Panthers' defense a presence.
"[Uhrich] has been outstanding," Philipopoulos said. "[Sieben offers] a little bit of everything. … He's multi-faceted."
While the Tigers will be making their season debut, they won't be doing it without weapons. Leading the offense is the third of the Gordon brothers — junior Dominic Gordon joins older brothers Anthony and Nate Gordon to start at quarterback for the Tigers.
Gordon got some seasoning last season, appearing in five games. He started in a 47-23 loss to M-A in 2019, completing 18-of-37 passes for 223 yards, with three touchdowns and a pair of interceptions.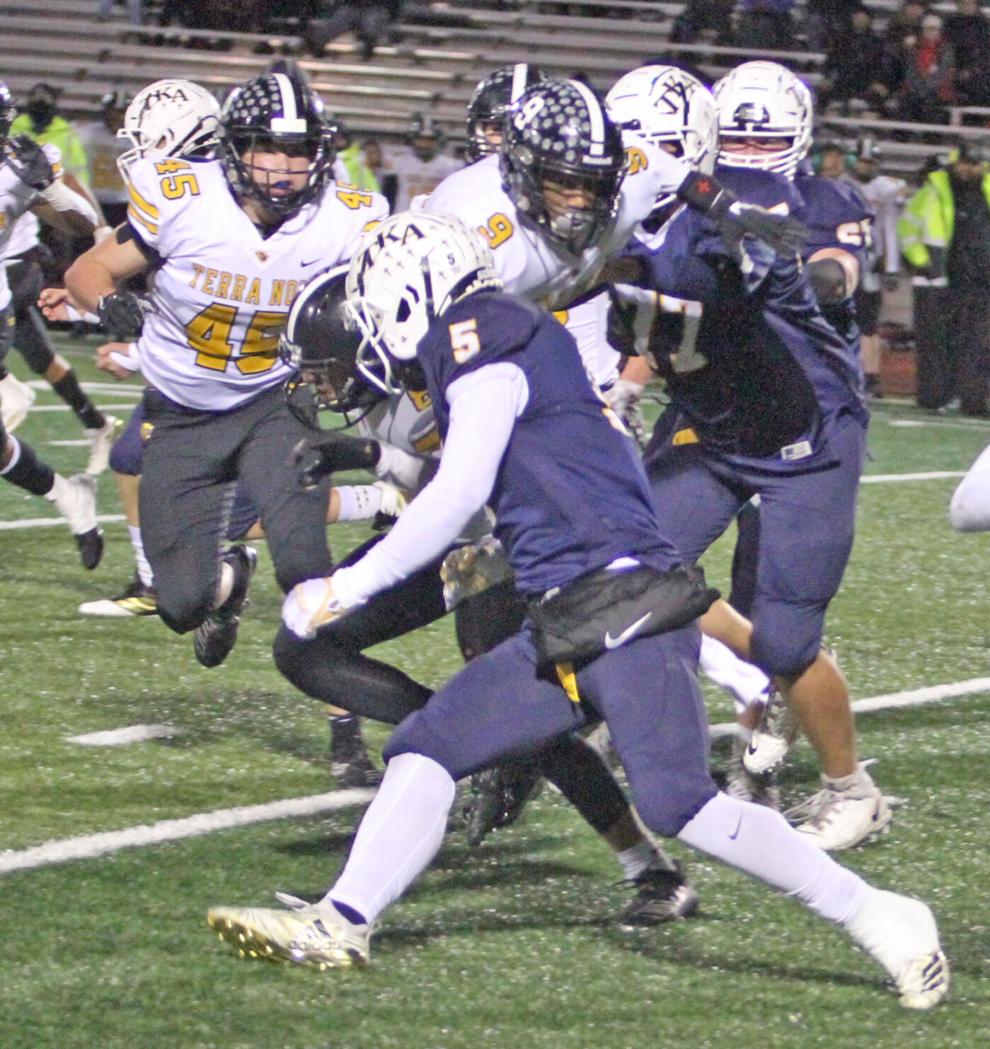 Picolotti said the running game will be by committee, but he is high on his offensive and defensive lines — especially senior Luke Avery, who will play both ways. In 2019, Avery was third on the team with 54 solo tackles and had three sacks.
"Up front, we're good on both sides (of the ball)," Picolotti said.
Picolotti is simply hoping his team plays well enough over the next two weeks, culminating in the annual "Skull Game" against Half Moon Bay April 16.
The game was originally canceled last month, but with Jefferson agreeing to bow out of its game with the Tigers, Terra Nova was able to get the Cougars back on the schedule.
"I hope the kids look at it like I do," Picolotti said. "In my thinking, we get tuned up for two weeks and be ready to go for Half Moon Bay."