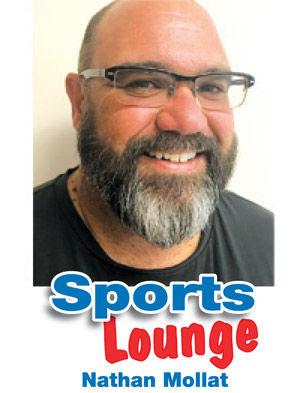 In September, I received a press release from the executive director of the National Federation of High School Sports, extolling the virtues of high school football.
"High school football is thriving, not dying" the headline crowed.
Apparently the NFHS did not talk to anyone in San Mateo County, where the sport is most certainly not thriving. Forfeits have become commonplace for PAL varsity football teams the last several seasons, along with thin roster numbers. Rosters in the mid-20s are commonplace.
It's one thing when it's a team in the Lake Division having to forfeit, which most people simply chalk it up to well, of course, they're not that good.
But when a team like Aragon forfeits a game — as it did with Friday's game against Menlo-Atherton — people are going to sit up and take notice.
"Here is the question I asked (Aragon head coach Steve Sell), 'If you were in the Ocean Division, if you were in the Lake Division this year, would you still have a tenable program?' The answer was, 'Yes,'" said Terry Stogner, PAL commissioner. "The [issue] was, getting beat up week after week for five weeks."
Injuries have become much more problematic in the PAL especially because the simple fact of the matter is, the dropoff between a starter and his replacement is oftentimes steep. Teams simple don't have enough experienced football players to make up for the injuries that will crop up throughout a season.
A common theme I've heard from several coaches over the last few seasons is: not only are most of the public schools seeing fewer football players coming onto campus, they are seeing fewer athletes, in general, walking the hallways. Time and again, I've heard from coaches who double as physical education teachers say the kids they watch perform in PE are simply not athletic.
"I remember when they said, all kids were doing was playing 'Madden' (video game)," one local coach told me recently. "(Right now) I wish they were playing 'Madden.'"
The dearth of experience or even knowledge of the game is becoming problematic. Many kids are coming into football having little to no experience whatsoever. Not only are they not playing as youngsters, they're not even watching the game on TV so they are not even learning about it in general. Woodside head coach Justin Andrews told me that was one of the factors he considered before forfeiting a game to Burlingame earlier this season. Not only were the Wildcats low on numbers because of injury, many of the remaining players simply were not ready to safely play a full varsity football game.
The biggest reason is the changing face of the Peninsula population. San Mateo County is no longer the bedroom community of San Francisco, where many blue-collar workers chose to raise families. Those old generations are moving out and the families moving in are more affluent, probably more educated and most likely grew up without sports and athletics being central to their upbringing. Many parents simply see the violent nature of football and say, "Nope. I can find other, safer activities that teach the value of team, and winning and losing."
This is not a new phenomenon. In fact, as I was getting ready to hang up following my interview with Stogner, I told him, "You know, I think we've had this conversation before."
And we have. The small football rosters are nothing new and while the PAL has done a good job of grouping teams competitively, sometimes there is a sacrificial lamb that simply cannot hang with the big boys. The discrepancy is especially stark this season as in the PAL Bay as M-A, Sacred Heart Prep and King's Academy are well ahead of the other three teams in the division.
A couple years ago there were rumors of a merger with the Santa Clara Valley Athletic League, but that went nowhere quickly. There still appears to be some back-channel talks still ongoing, so it's clear that there is concern about football — and not only in the PAL.
"We've gotten to the point where we've talked about getting rid of JV football and just having freshmen teams. The whole idea is getting freshmen playing freshmen and having them return to the program as sophomores," Stogner said. "We're just trying to throw ideas out there."
This is not to say there are not football players and athletes on the Peninsula. There are pockets of football players around the county — the East Palo Alto kids who go to Menlo-Atherton, for instance, or the two programs on the coast, Half Moon Bay and Terra Nova, where sports are ingrained in the community.
But most of the rest of the programs are struggling with numbers, perception and experience.
"If we keep going the way we're going, there will be kids who say, 'Uh, no thanks," Sell said when it comes to deciding on whether to play football in high school or not.
More and more, kids and parents are coming to that conclusion. To paraphrase Sell, when the risk is getting hurt and embarrassed on the field, there simply is not enough of a silver lining to override that.